Chesapeake Yacht Club past commodores, also known as the Silver Stars, are pleased to announce the successful continuation of the Educational Assistance Program for 2020. This program was originally established in 2015 and designed to assist high school and college students who work or live in Shady Side and to local institutions providing education and training. Through the support from Silver Stars and the club's membership, over $26,000 in awards have been distributed to deserving local students and institutions since implementation of this program. This year $10,800 were awarded to recipients.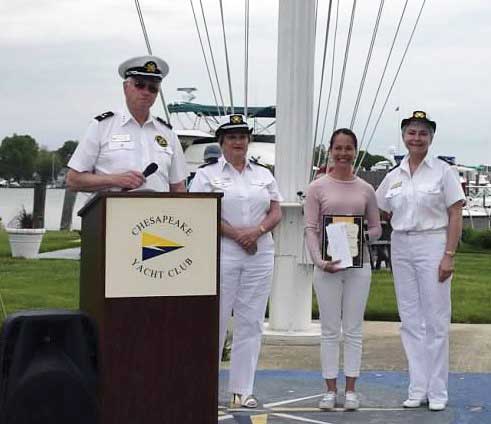 This year's committee received and reviewed applications. Congratulatory letters and checks were mailed to the 11 awardees on May 24.
Please join us in congratulating this year's award winners: Andrew Ladd, a junior at the University of Maryland, College Park; Alexander Hutchins, a junior at Virginia Tech; Carson Simmons, a Southern High School graduate who will attend Salisbury University this fall; Elinor Markham, who has completed her freshman year at the University of Pittsburgh; Riley Christian, who has completed his Associates of Applied Science in Architecture, LEED Green Associate Certificate and CAD Certificate at Anne Arundel Community College and will attend the University of Maryland; Shiloh Christian, a junior at Southern High School this coming fall; Emily Kasprzyk, a sophomore at the University of Maryland, College Park; George Carney, a junior at Salisbury University; Robert Farley, a sophomore at Anne Arundel Community College; Nolan Irey, a junior at Centre College in Danville, KY; and Sara Ladd, who will attend the University of Maryland, College Park.  
Chesapeake Yacht Club (CYC) is located in Shady Side, MD, less than 30 minutes from the Beltway and centrally located on the Bay. CYC offers the finest sail and powerboating experience. CYC is a gated club with a general manager, chef, professional staff, and dockhands. Marina facilities can accommodate small run-abouts through 70-foot yachts including catamarans. Members enjoy a casual, family, and pet-friendly environment featuring social activities, organized cruising, and regattas, along with a diverse youth program oriented to different ages. For more information visit chesapeakeyachtclub.org.