The Chesapeake Oyster Alliance (COA) in partnership with Chesapeake Bay Trust announces that over $115,000 in new grants were recently awarded to 13 different oyster-related businesses and organizations  to enhance efforts to add more oysters to the Chesapeake Bay.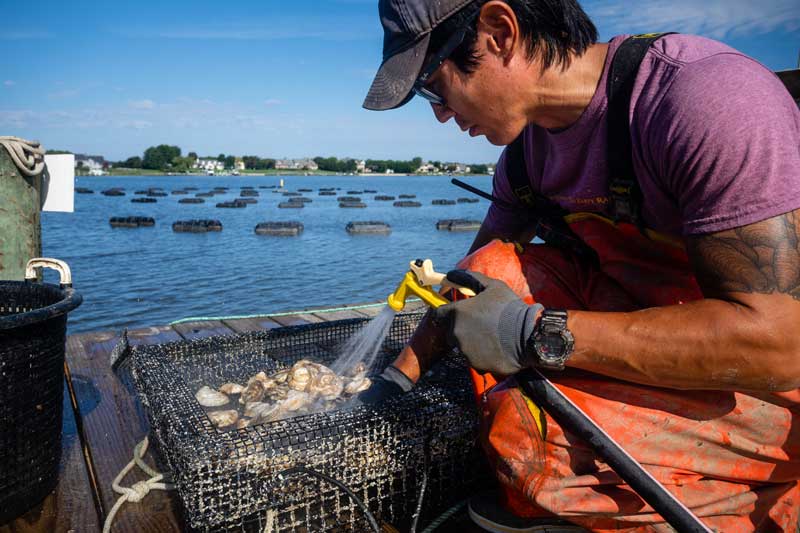 The Oyster Innovation Grants were given to eight different Maryland entities and five in Virginia that are working on projects to boost oyster aquaculture production and oyster restoration in the Chesapeake. Oyster aquaculture supports local businesses in the region and brings private investment to the overall effort to add more oysters to the Bay. Oysters are natural water filterers that build reefs, which serve as needed habitat for marine life such as fish and crabs. 
"The Chesapeake Oyster Alliance is proud to award these grants to so many different and deserving organizations this year," said Tanner Council, COA manager. "The funding will accelerate efforts to bring back Chesapeake Bay oysters from tragically low population levels by growing aquaculture businesses, supporting restoration, and furthering research. This program is designed to drive innovation in the oyster sector, and magnify the amazing work happening across the Bay to help COA and its partners reach the goal of adding 10 billion oysters to the Bay by 2025." 
COA, which was founded by the Chesapeake Bay Foundation in 2018, is a coalition of more than 90 non-profits, academic institutions, oyster growers, and other businesses committed to adding 10 billion new oysters to the Bay by 2025. 
Maryland Oyster Grants
The Maryland grants include $10,000 to Orchard Point Oyster Co. in Stevensville to further research into synthetic oyster shells. The synthetic shells are being developed using non-toxic, organic materials and could be used in place of natural oyster shell as a base to grow new oysters. Oyster shell is becoming increasingly rare and more expensive due to aquaculture and restoration demand.  
"Winning an innovation grant allows us to pursue the important task of developing a long-term solution to the oyster shell and substrate supply crisis, which will be critical in supporting efforts in restoration, aquaculture, and the public fishery," said Scott Budden, partner of Orchard Point Oyster Company. "There is even hope that the results will benefit coastal regions outside of the Mid-Atlantic. The oyster has supported us, and this is a way we plan to give back to the oyster."  
COA awarded an $8000 grant to The Phillips Wharf Environmental Center in Easton to help residents raise oysters in cages over the course of a year and measure their growth. The data will help researchers evaluate whether specific areas are more suitable for oyster growth. 
The St. Mary's River Watershed Association received $10,000 for water quality monitoring efforts to support oyster restoration in southern Maryland. 
Solar Oysters in Baltimore received a $9760 grant to develop a new spray wash system to clean the oyster cages that rotate through the water column on the specially-designed solar-powered platform built by the company.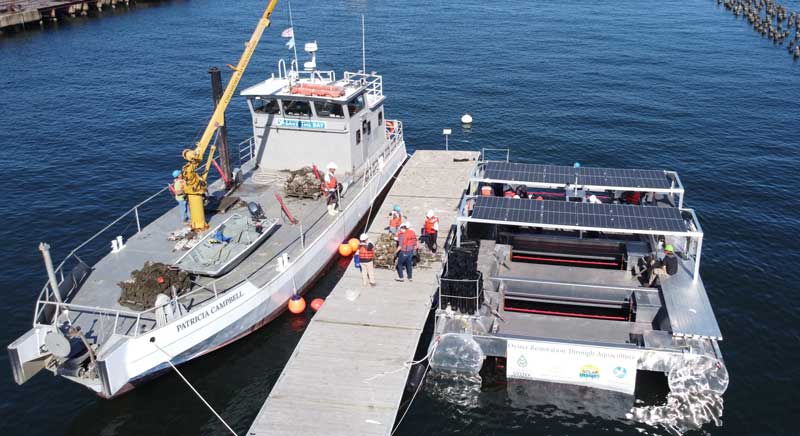 Also in Baltimore, the Waterfront Partnership of Baltimore, Inc. was awarded a $10,000 grant to grow its oyster gardening program—dubbed the Great Baltimore Oyster Partnership—that serves underserved communities in the city by teaching students and adults how to raise oysters. Oysters raised as part of the program are later added to the Fort Carroll oyster sanctuary just outside Baltimore Harbor. 
ShoreRivers, the Easton-based environmental organization, received a $10,000 grant to increase its education outreach efforts focused on the value of oyster restoration. The multi-step education campaign will educate residents about how ongoing efforts to increase oyster populations in the Chester, Choptank, Miles, and Wye rivers on the Eastern Shore are improving water quality and providing more opportunities for fishing, paddling, and viewing wildlife. 
Annapolis Aquaculture will use its $10,000 grant to develop more efficient ways to clean oyster cages that rest on Bay bottom. These underwater cages are prone to plant growth and can be fouled by various underwater organisms, so aquaculture operators have to lift the heavy, oyster-filled cages out of the water to periodically clean the cages. Improving this process would reduce the amount of time and labor that businesses spend on this process. 
Rounding out the Maryland grants, Owings Mills-based Black Girls Dive Foundation, which teaches minority students how to scuba dive, received a $4200 grant to develop a marine science program based on the Severn River that includes field experiences such as underwater oyster monitoring. 
Virginia Oyster Grants
COA innovation grants were also awarded to the following Virginia organizations: 
Friends of the Rappahannock was awarded $3438 to pilot curriculum in school districts in the Northern Neck and Middle Peninsula focused on the science of oysters, oyster aquaculture and oyster restoration.   
Portsmouth Public Schools received $9995 to develop a hands-on educational program that includes performing an oyster float experiment, raising oysters, collecting oyster data, exploring oyster habitats, and building oyster reefs. Students will educate residents about the value of oysters through the development of scientific public service announcements.  
The Accomack-Northampton Planning District Commission on the Eastern Shore will use its $10,000 grant to fabricate artificial reefs designed for oyster colonization and marine habitat. 
Long Creek Oyster Co. in Hampton Roads was awarded a $10,000 grant to help purchase an oyster sorter to ensure small oysters stay in the water for longer periods of time to filter more water and aid restoration efforts. 
Barretts Neck Seafood LLC in Suffolk received $10,000 to turn the Lion's Paw Oyster Restoration Education Sanctuary into an outdoor living classroom where students will have the opportunity to participate in hands-on learning about oyster aquaculture. 
"Friends of the Rappahannock (FOR) is excited about this new oyster innovation grant to support oyster-themed environmental education programs in the Rappahannock River watershed," said Jen Sagan, Oyster Restoration specialist with FOR. "This grant will enable more students to learn and participate in oyster restoration programs offered by FOR and our Chesapeake Oyster Alliance partners." 
The Chesapeake Bay Trust handled the grant request and award process to ensure an independent selection process.  
COA has been working toward its goal to add 10 billion oysters to the Bay by 2025 since 2018. In that time it has recorded about 4.7 billion oysters added to the Chesapeake.  
Oyster population levels in the Bay have dropped to about one percent of historic levels due to pollution, diseases, and overharvesting. Ongoing restoration efforts and a growing oyster aquaculture industry can bring back the species from the brink of collapse and increase oysters' natural ability to provide habitat and filter water.
This is the second year COA has provided funding for oyster-related grants. In 2021, COA and the Bay Trust distributed over$127,000 in oyster innovation grants to 13 different organizations.