On November 14, Senator Chris Van Hollen, Congressman John Sarbanes, other political figures, and non-profit leaders, including Dunn, gathered at the Burtis House next to City Dock Annapolis to announce the release of a draft of legislation for a Chesapeake National Recreation Area (CNRA).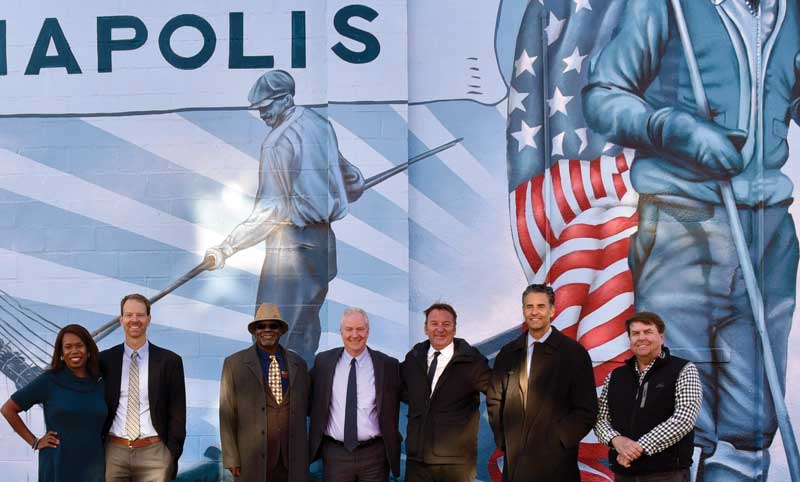 Joel Dunn, Chesapeake Conservancy president, said, "This park would not be one continuous locale, but rather a collection of areas that celebrate the many stories of the Chesapeake from those of American Indians, to Black history, to watermen, just to name a few." Thanks to a working group of lawmakers, community leaders, and nonprofits, this idea is coming closer to fruition. 
The concept is not new. The idea of creating some sort of National Park status to protect and enhance recreational opportunities on our nation's largest estuary has brewed since the 1980s. In Congressman Sarbanes's words this project "will direct more resources to the Bay, improve public access, and promote environmental stewardship." 
According to the CRNA web page, it "would utilize a collection of partnerships with states, localities, and private entities with the intent of highlighting the diverse landscape and national significance of the Chesapeake Bay." The idea is to increase access and strengthen stewardship in the region, as well as "spurring economic growth." 
The proposal also outlines what it will not do. In short, the CNRA will not change your fishing, boating, or safety regulations; acquire your property (unless you voluntarily sell or donate it); or impose regulations on your waterfront property.
The CRNA does aim to increase diverse access to the Chesapeake. Senator Van Hollen's office noted: "[It] will highlight the stories that often go untold—those of Indigenous peoples; free and enslaved Blacks; the role the Bay played in the earliest days of the Maryland and Virginia Colonies; the key part the Bay has played, and continues to play, in the region's economy; and the story of watermen and -women…"
The first sites within the CNRA would be Burtis House, Whitehall Manor, Thomas Point Shoal Lighthouse, and the North Beach of Fort Monroe. More would be added in time. Through the draft of legislation, the National Park Service (NPS) will be permitted to acquire (by voluntary sales or donations) or partner with those four sites. 
Whether you like this idea or not, make sure to let your voice be heard. Find the CRNA map, fact sheet, guiding principles, discussion draft, proposed sites' background, and form for public comment at vanhollen.senate.gov/cnra. The CNRA working group will accept public comments on the proposal through February 12, 2023.
As regional boaters, you have a unique view and experience on the Bay. Please share it with lawmakers to make it a better place.