When my three youngest sons were ages six, eight, and 11, and our black lab Cleopatra was more youthful than she is today, one of our favorite pastimes was throwing a tennis ball from our floating dock and watching all four take a flying leap into the water and swim to see who could reach the ball first.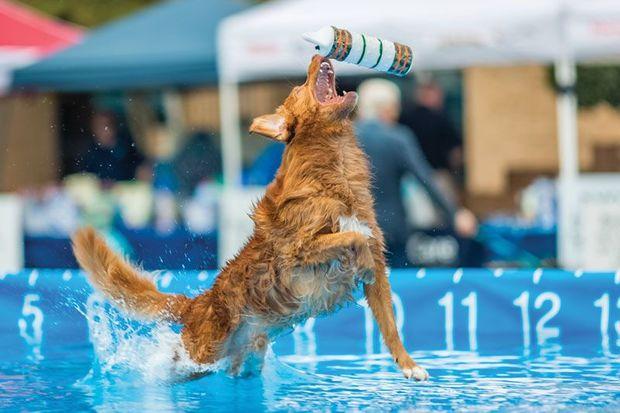 Usually Cleopatra won, because she could jump farther than the boys. Even in her youth, Cleo probably wasn't anything special, but some dogs really are remarkable dock jumpers. You've seen them; they can leap great heights or distances, or swim like Michael Phelps. For these special canines (and their proud owners), DockDogs offers a competitive venue to show off skills and have fun. At DockDogs contests, canines compete in categories such as Big Air, Extreme Vertical, and Speed Retrieve. They hold more than 300 events each season across the US, Canada, and a few events in Australia. DockDogs comes to multiple spots in the Chesapeake region, setting up their large competition pool at local events such as the Virginia Beach Neptune Boardwalk Bash, the Easton (Maryland) Waterfowl Festival, and Kingstown Farm, Home & Garden in Chestertown, MD. The large pool is moved around the country by staff members who travel with numerous DockDogs rigs. Each pool holds 28,000 gallons of water. Filling it with a garden hose may take one to two days, although a water company or local fire department can fill it within a few hours. DockDogs was started by Grant Reeves as a filler act on the ESPN Great Outdoor Games in 1999. They have grown from 20 teams to over 30,000 registered teams. The organization is based in Medina, OH, and works closely with B.A.A.R.K, a non-profit organization. Affiliate clubs and facilities are located throughout the U.S. Club members (both human and canine) enjoy fun and camaraderie. For contact information about a club near you, email 
[email protected]
. Find out more at
chesapeakedockdogs.com
.