As you read this, Scott and Teri Miller and their Portuguese Water Dog, Charlie, will be headed south for the season aboard their comfortable 58-foot Kadey Krogen trawler Miller Time. Here they share a little about their journey.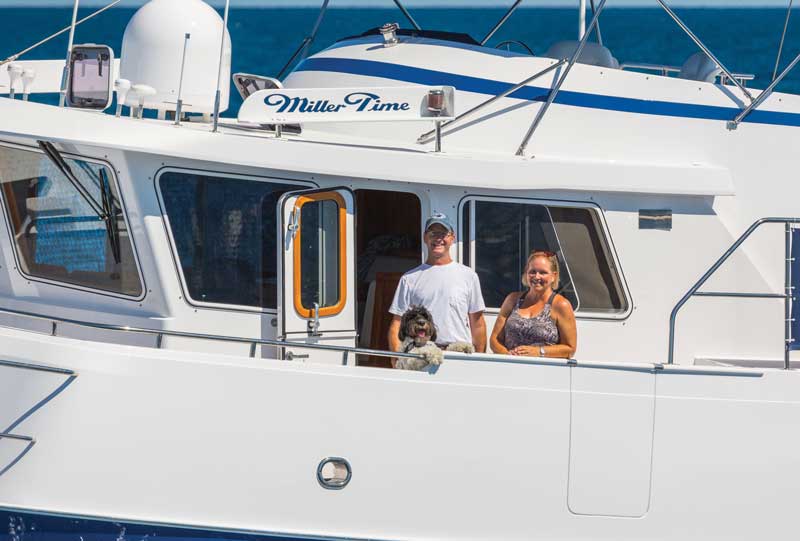 Set the stage with last year's trip
Last year, we set out to go to Florida and ended up staying in Charleston. Logistically it made sense. We had two weddings being planned for this year and a new grandbaby on the way. Charleston seemed like a good base from which to navigate all the travel needed for these family life events. We already knew the town and loved the feel and comfort. We stayed at the City Marina and enjoyed the company of close friends and a great town. This year we are determined to get farther south. Teri doesn't want to make snow angels on the bow this year!
Last year we learned some difficult lessons from leaving our house unattended for a lengthy time period. We will do things a bit differently this year. This year, we will have someone regularly inspect inside the home. Last year we had a few issues at home when we returned (mice/water leaks) that could have been caught a bit sooner, and therefore easier to resolve, if we'd had someone checking things. Last year we learned how to utilize a mail handling service.  That worked wonderfully, and we will continue this service. The biggest thing we learned is that you must go farther than Charleston if you want to get away from the cold!
How to manage work and life, and still go south
This fall, I had foot surgery and an especially intense work schedule during the best travel time for heading south. We weighed the decision of going or not going to Florida. Ultimately we decided to not let these circumstances delay our desire to spend more time living aboard. In order to fulfill our plans of being in Florida this winter, we brought on a captain to deliver Miller Time to her first Florida stop. Mike Warren is an experienced Kadey Krogen owner and captain, with many deliveries under his belt. Our confidence in him made the choice to go forward with wintering in Florida plans much easier. 
This year's itinerary
Our plans are to meet the boat in St. Augustine, FL, in early December. We will cruise down to Fort Pierce for the remainder of December and the month of January, and then cut across through Lake Okeechobee and up to St. Petersburg for February and March. If time permits, we will make our way up the panhandle to Pensacola for March/April before heading back to the Chesapeake Bay. We hope to do some exploring between the three major planned stops and visit other areas along the Florida coast.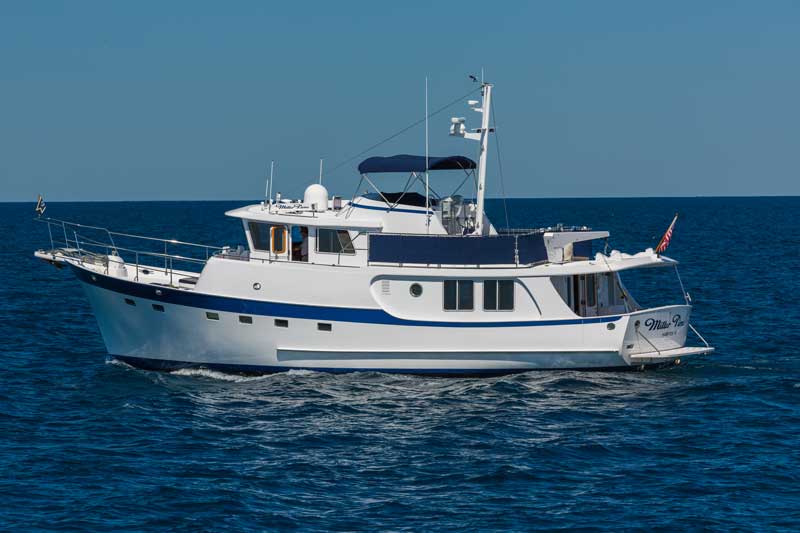 What are you most looking forward to?
I most look forward to simplicity when on the boat. I enjoy time on the boat, working the projects, spending time with our buddy boats along the way, and meeting new people. I work full time, often needing to travel, but having something productive or meaningful to do after work or on weekends is something I enjoy.
The more we are aboard Miller Time, the more we appreciate the dichotomy of her environment. Onboard we enjoy being simultaneously challenged and relaxed, active and at rest, quietly secluded yet in the company of an amazing community.
It's not so scary out there
Our boating experience started almost 30 years ago with sport cruisers in the Potomac River, out of the Occoquan River, up to DC, and out to the Chesapeake Bay. Once we realized the Bay wasn't that scary, we moved from sport cruisers to a Silverton 48 convertible and cruised to the Abacos for three months. This is when at least one of us realized they could live on a boat long term. As we did more trips around the Chesapeake, up to Baltimore and down the ICW to Florida, we realized we wanted a boat that was more suited to living aboard. The style, fit, and function of the KK58 was perfect for our plans, so we began the search to find the one priced right for us.  
We now own a Kadey Krogen 58, a 2002 with twin John Deere 154-hp diesel engines. We have owned Miller Time since January 2017. Upon taking ownership, we put her on the hard for a complete refit for paint, electronics, hydraulics, running gear, stabilizers, and soft goods. Buying a brokerage boat we could afford allowed us the ability to renovate, make it our own, and begin partially living aboard now, while I still work full time.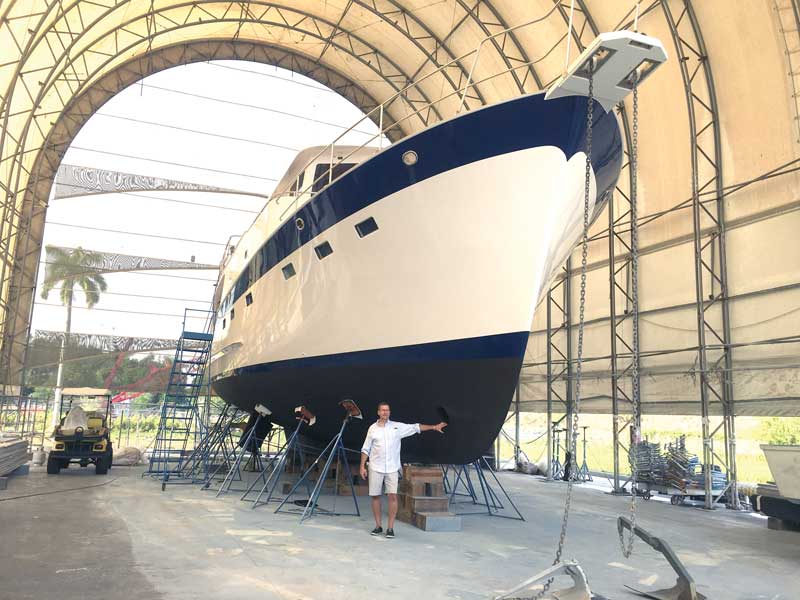 Returning to the Bay
Our return to the Chesapeake will be around June. We love cruising the Bay, and there is no better place to be in the summertime. Once we return, we want to go up to DC and spend the month at Capital Yacht Club, so we can spend time with our granddaughters (and kids). Next we will be off to New York City to spend time with our daughter and her husband. 
As Told to Beth Crabtree by Scott Miller
---
For more cruising tales, on the Chesapeake Bay, the ICW, Great Loop, and even in the Caribbean, visit our Cruising page.