First launched eight years ago by our sister publication, SpinSheet Magazine, the Century Club challenges boaters to log 100 days on the water within the calendar year on any type of vessel. Although most of the members are sailors, there are a handful of them who log all of their days on the water by powerboat, canoe, kayak, or paddleboard. Two official 2021 Century Club members share their journeys: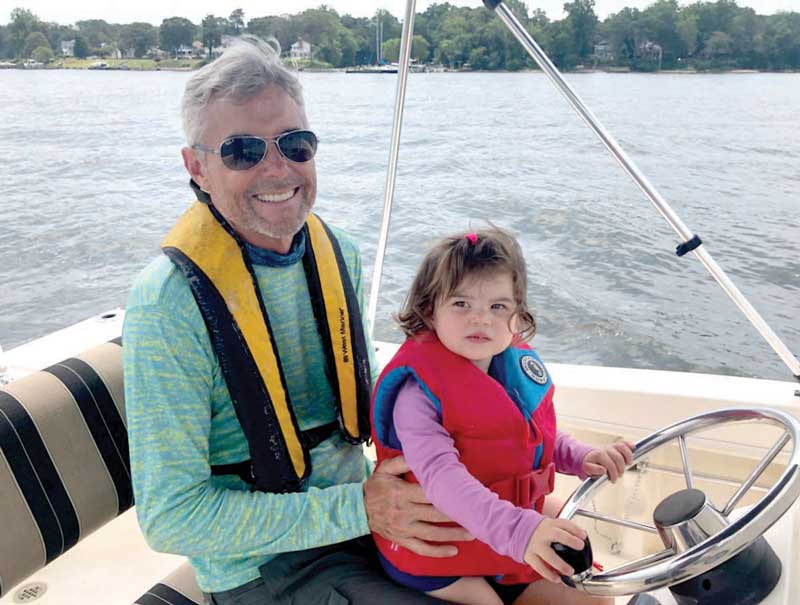 Mike Pitchford: 106 Days
PropTalk readers may recognize Mike's name because of the articles he wrote about the construction of his Legacy 32 and his New England cruise (see page 85). He joined the Century Club during Covid and has once again reached his 100 days in 2020. 
What kind of boating have you done to reach 100?
Most of what I have logged is powerboating on our cruising boat (our Legacy 32 and outboard runabouts in both Annapolis and our condo in Florida). We have kayaks in both locations which get some use. I also have a small sailboat (O'day Daysailer) and rowboat for exercise in Annapolis. 
Top three memorable days thus far in 2021? 
My first offshore day in the Legacy, bringing her back from Florida for the summer. The passage was Jupiter Inlet to Cape Canaveral, all very easy. I had my usual ICW crew with me, my college roommates/fraternity brothers, always fun. Passing through New York Harbor and Lady Liberty on the way to our New England cruise this summer on the Legacy… Celebrating my wife's birthday with friends in Greenwich, CT, towards the end of our New England cruise. 
Memorable wildlife sightings? 
Always amazing wildlife on the ICW, including a bear swimming across the Alligator River Pungo River Canal. The most memorable was the humpback whales just a mile off Barnegat Bay Light, offshore New Jersey. 
Has it been a challenge to log so many days? 
The challenge was making sure I logged all the little things (a morning exercise row or ride over to our friends on the creek in the runabout). I did not have to give anything up to make it happen.   
What have you learned or gained from the experience? 
The boats and getting out on the water are a big part of my life. By the time the year is over we will have traveled maybe 4000 miles on the Legacy and spent 60 nights onboard.   
Words of advice to anyone who aims to reach 100 days on the water in 2022? 
As we have all heard: a bad day on the water is better than a good day in the office.  
Eric Packard: 107 Days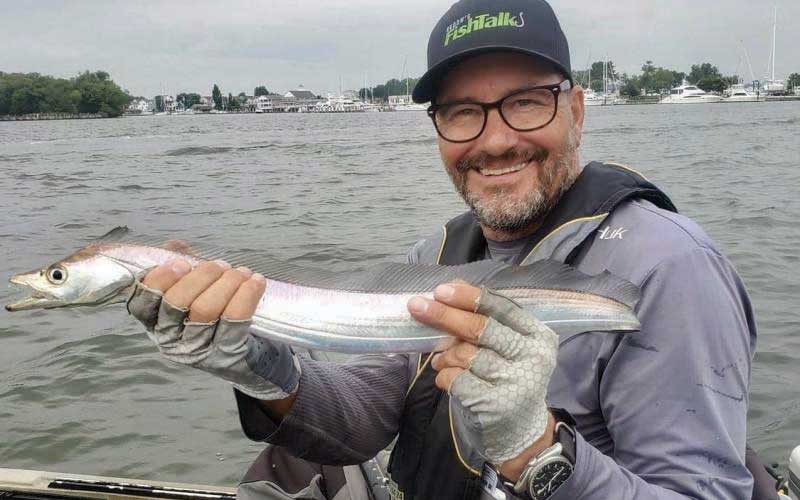 Eric Packard had been fishing more than 100 days per year for a few years when FishTalk editor Lenny Rudow told him about the Century Club. This is his fourth consecutive year in the club. At print time, he had reached 107 days, mostly by kayak fishing. 
What were your top three most memorable days in 2021? 
Helping friends catch fish that they had not caught before. Getting my friend Beth Versak on her first cobia. Getting friend Lenny Rudow on his first cutlass fish. And getting friend David Rudow on his first red drum! Bonus getting friend Shawn Pagano on his first snakehead. 
Memorable wildlife sightings?
Watching dolphins swim by in the Patuxent River. 
What have you learned or gained from the experience?
The love of nature and the love of fishing. And that it's not so much the fishing but the hunting of fish. Figuring out the puzzle as to where they may be and what will they eat on any particular day. 
Words of advice to anyone who aims to reach 100 days on the water in 2022?   
Plan ahead and keep good records of your days out. It's always fun to look back over the prior years to compare notes.
To learn more about the Century Club and see the leaderboard, visit spinsheet.com/century-club.