Chesapeake Beach Park was a small, family-oriented amusement park that flourished on the shores of the Chesapeake Bay from 1946-1972 in Chesapeake Beach, MD. The park included a carousel with a menagerie of hand-carved animals, a Ferris Wheel, a train, and several kiddie rides. Enhancing the grounds was a large salt-water swimming pool, an open-air ballroom, an arcade, a bingo hall, and a large covered picnic porch with a scenic view of the Bay.
A sand beach was complemented by a nearby bath house, and there were a couple of snack bars, including The Beachcomber. Numerous picnic groves were located throughout the park, hosting family reunions as well as large company picnics. The Farmers' Picnic was always a highlight of the season. The park was open from Memorial Day to Labor Day. Every Sunday, Tiny Meeker's German Band from Washington, DC, strolled around and entertained the visitors in the park. A host of costumed characters performed throughout the park on weekends, including an Indian, Davy Crockett, a clown, balloon man, and stilt man.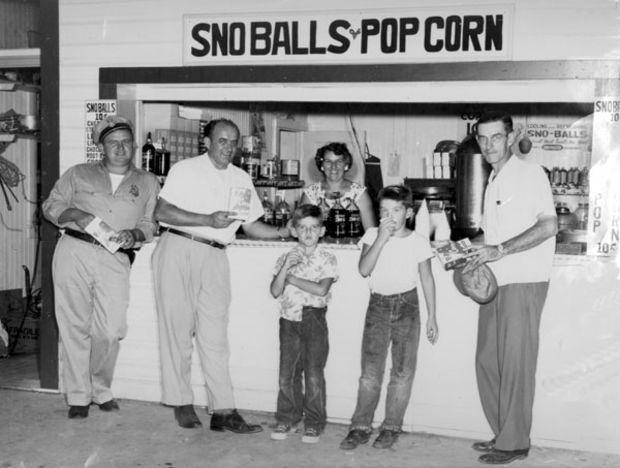 The ballroom overlooked the Bay, and the pool and was the scene of large dances and celebrations. Big Bands of Tommy and Jimmy Dorsey, Benny Goodman, and Woody Herman performed in the ballroom. The Bay Breeze Ball was an annual event sponsored by St. Anthony's Catholic Church. The Rod 'N Reel Restaurant and Marina were part of Chesapeake Beach Park. The restaurant and marina survived the sale of the park when it closed in 1972 and is now known as Chesapeake Beach Resort and Spa, including a hotel and the Boardwalk Café. The carousel was purchased and moved to R. M. Watkins Regional Park in Largo, MD, and continues to delight young and old!
by Joan Kilmon