Cruising season is here, and who doesn't want to spend weekends exploring the Bay? For Tracey and John Garcia, weekend cruising is a passion. The couple cruises out of Hartge Yacht Harbor in Galesville, MD, aboard their 31-foot Ranger Tug Lone Star Ranger. This is their third Ranger Tug, and they will typically choose a destination within three to four hours cruising time. Tracey is the captain and also the chef. Some weekends they cruise on their own; other times they travel in a convoy or meet up with their cruising friends at a predetermined destination. Here's how they do it.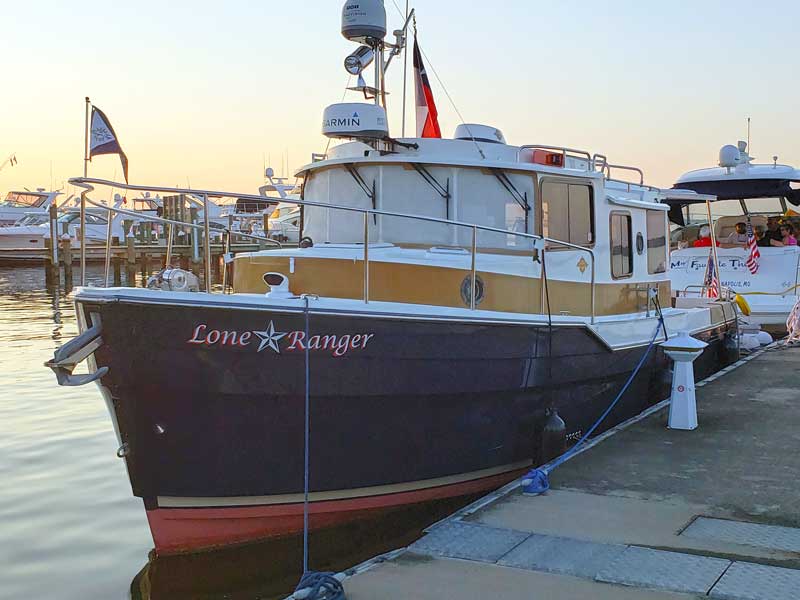 Provisioning
We typically treat weekends out on the boat as a vacation, meaning our goal is to relax and enjoy our time out on the water, so we don't cook a lot while visiting our favorite marinas or towns. For the times we do cook, I plan menus and bring recipes. For a more substantial meal, our best advice is to prep as much as possible before leaving. We keep basics on the boat in the fridge or cupboards. At our home I have canvas totes in which we place items that need to go to the boat, and as we come across things, we put them in the totes to ensure they go with us. The fridge in our boat is not very large, so we invested in a Yeti cooler that is secured to the swim platform of our boat. In the heat of the summer, the ice lasts all weekend.
We have a Keurig and always have half and half aboard for our coffee. We also have basic kitchen tools, such as measuring cups and spoons, utensils, small pans and pots in the galley, as well as K-cups (coffee, tea, hot cocoa, apple cider), stevia drops (in place of sugar), olive oil, balsamic and white vinegars, sriracha, salt and pepper, Old Bay, and other basic spices.
We have a gas-powered Magma grill that we take onshore to use. Most marinas have grills available, too. We have a small toaster oven and an electric skillet, which I use in the cockpit so that the cooking smells aren't inside the boat. Sometimes we bring soup along and heat it up in the microwave for a quick dinner. We have friends who prepare their meals (soups and stews, pasta dishes, roasts) at home, and then warm them up in a crockpot while underway (many of the Ranger Tugs and Cutwaters have generators that allow you to use the power outlets while underway) or when they arrive at their destination. Last year I made Musubi in the boat for our Hawaiian Luau themed rendezvous. It was quite a production and a team operation with John helping me out.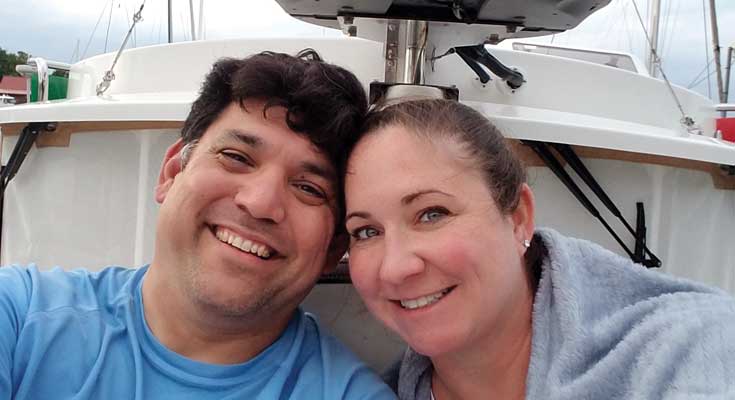 Our Boat is our Second Home. 
We have a set of towels dedicated to the boat, and we keep several beach towels and blankets onboard. The bed has sheets and a comforter. We also have an electric blanket for the colder parts of the season. In the off-season we spend weekends using the boat as a base to explore Annapolis and the surrounding areas. We just use the facilities at our marina.  
On the boat, we each keep a couple extra shirts, underwear, sleepwear, extra swimsuits, shoes and socks, wind pants, and several jackets, including our heavier Helly Hansens and rain jackets. I always have Benadryl, pain relievers, tummy relievers, itch relief cream, and bite relief cream in the medicine cabinet. I have my cleaning supplies for inside the boat, and John keeps his boat cleaning supplies in the compartments in the cockpit. We save the little desiccant packs and place them in the containers we keep tools in to prevent rust.  
For the Dogs
We keep an airtight container of dog food for our two Labs, Shiner and Pearl. We also keep canned chicken, canned pure pumpkin, and mini rice cups, which are invaluable for upset doggie tummies. In addition to a human first aid kit we also have one for the dogs. We use special dog towels and have super absorbent mats to catch all the excess water. We keep Nature's Miracle onboard for doggie mishaps. When we cruise with a group on weekend trips, we don't raftup, due to the dogs. They have not really gotten the dinghy concept (although we do dinghy when we visit St. Michaels and River Marsh).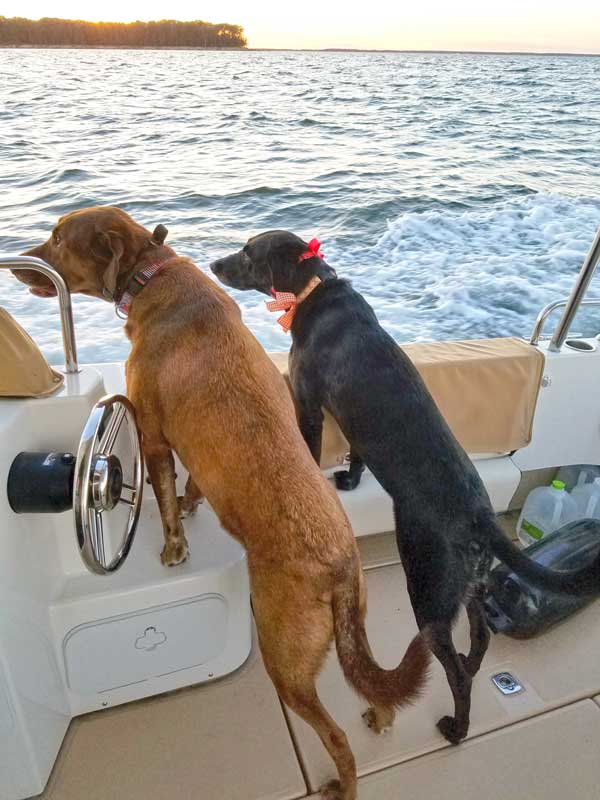 More Tips
We keep charts and maps onboard as well as maintenance and trip logs, which are good to help remember places we liked and things we did. We use weather apps, and if there is a small craft advisory we don't go out; we hang out on our boat at a marina and read a book, watch a movie, or play games—or just relax and enjoy the boat! Another good habit is to complete a Float Plan and share it with family, friends, or neighbors. We always let our next door neighbors know when we are going and when we expect to be home. Marinas get busy in the summer, so make a reservation, and for new cruisers, we suggest beginning with shorter trips, then venturing out on longer cruises. 
Our Top Destinations:
St. Michaels, MD (Harbor Inn and Marina) Chesapeake Bay Maritime Museum, restaurants, shops, events, and festivals. The inn has bicycles and a shuttle. Patriot tour boat is a great excursion on the Miles River. 
River Marsh Marina (Cambridge, MD, Hyatt) three pools, spa, restaurants on site and in town (Uber!), water toys for rental at Blackwater Adventures.
Spring Cove Marina (Solomons, MD) Calvert Marine Museum, bikes to ride to Solomons Island, best ship store. Quiet and peaceful, and the staff is amazing. 
Herrington Harbour South (North Beach, MD) we feel like we're vacationing on an island—two options for dining, a store for provisions, pool, and beach front. 
Haven Harbour (Rock Hall, MD)
Mears Great Oaks (Chestertown, MD)
 Interview by Beth Crabtree