The Bay and its tributaries have more than 11,000 miles of shoreline, but with much of it under private ownership, public access to the Bay has been more restricted than one might expect, and certainly more limited than most boaters would like. But the issue has been brought to the forefront in local discussions around the Bay, and progress is being made.
Mention "water access" and most boaters will conjure up images of a boat ramp, but "access" is defined more broadly in this context. While the term certainly may mean a boat ramp, kayak launch, or swimming beach, boaters and anglers aren't the only ones looking to get to the water. The shoreline is a destination for hikers, bikers, and artists, too, so "access" is defined in a way that includes water views from a trail or picnic spot.
Other terms to know are "thick" and "thin." When it comes to water access, thick usually means the site has launch areas for trailerable or cartop boats, and thin means there could be a beach or simply a water view. The Chesapeake Bay Program (a regional partnership, which includes federal and state agencies, local governments, non-profit organizations, and academic institutions) is working to add 300 more access sites by 2025, which will bring the total to 1439 sites in the Bay's watershed. As of 2015 (the latest date for which data is available at print time) 108 sites have been added. Ninety percent of these sites are in Maryland, Virginia, and Pennsylvania. The density of access points varies greatly by locality.
Mike Lofton, chair of the Anne Arundel County Public Water Access Commission (AACPWAC) says, "Anne Arundel County, MD, has a lot of catching up to do compared to some other counties. Just across the Bay, in Queen Anne's County, they have about a dozen ramps, piers, and beaches, and a well-working system." AACPWAC includes officials from the county and city, as well as citizens appointed by the county executive. Among others, its members are a riverkeeper, kayakers, trailerable boat owners, a river association president, and a charter boat angler.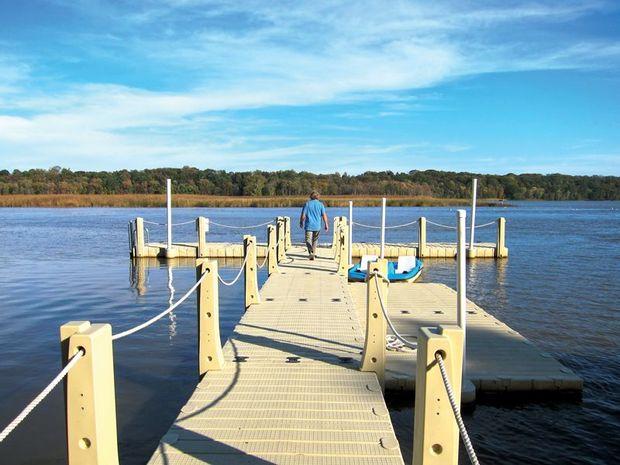 Lofton says, "We're working to ensure robust, convenient access for all types of people, and we've made several recommendations to the county executive. They include a system of road signs (such as you might currently see for golf courses or wineries), and a new, easy, interactive website (aacounty.org/departments/recreation-parks/parks/water-accessibility). The website has just been launched, and we hope it will be a useful tool. We welcome feedback on the content and format."
In Anne Arundel County the next county-operated trailered boat ramp will be at Discovery Village in Shady Side, MD, where construction of a pier, ramp, and parking is scheduled to begin in December 2017 and be completed by June 2018. In the meantime, a new canoe and kayak launch will open there in October. This launch joins 17 other county-owned small launches that do not require a permit.
In Virginia, the Department of Conservation and Recreation (VDCR) and the Department of Game and Inland Fisheries (VDGIF) supports local jurisdictions in developing a strong system of water trails and access. Here again, "access" is defined broadly. "Water access in Virginia involves both motorized and non-motorized watercraft, fishing piers, bank fishing, beaches and natural water bodies suitable for swimming, natural area access, places to view the water, as well as water trails and blueways (Virginia outdoor recreation professionals use "water trails" and "blueways" synonymously)," according to the Virginia Department of Conservation and Recreation website.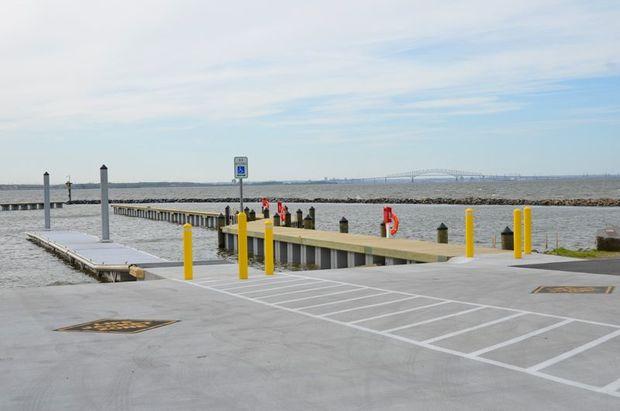 Viginia's Department of Conservation and Recreation credits the number of public access points to its many partners. While DGIF owns, operates or cooperates approximately 230 facilities, more than 90 are on local property, and approximately 55 are at bridge crossings and terminated roads at the water's edge, which are managed in cooperation with the Virginia Department of Transportation.
Virginia also has at least three public access authorities, including one each in the Northern Neck, Middle Peninsula, and on the Eastern Shore. Created by the general assembly over the past 15 years in response to rapidly increasing private ownership and limited public access to Virginia's shoreline, these entities have the authority to identify, protect, or provide access. They may also issue debt, acquire property, and build facilities.
The Middle Peninsula Chesapeake Bay Public Access Authority has an online reservation system for reserving public shoreline fishing, waterfowl hunting, crabbing, boat slips, and other public outdoor recreational opportunities on the Middle Peninsula. (mppaa.virginiainteractive.org) To further address the challenge of adequate public water access, VDGIF and the Virginia Tech (VT) Department of Fish and Wildlife Conservation are collaborating on a three-year study to examine boating access issues across the Commonwealth. The study is about halfway completed. This month (April) the study's authors will begin the process of researching and writing the draft boating access management plan, which should be available for public comment early in 2018. (dgif.virginia.gov/wp-content/uploads/boa-study.pdf)
No matter where you live, those who want public access are encouraged to actively promote it and work with county officials. Promoting access can take many forms. It can be as simple as contacting your local municipal leader or county council person. It can also take the form of supporting the local players who do much of the heavy lifting. Riverkeepers come to mind. Supporting them financially and participating in their events is a good way to put your money (and time) behind new public water access sites.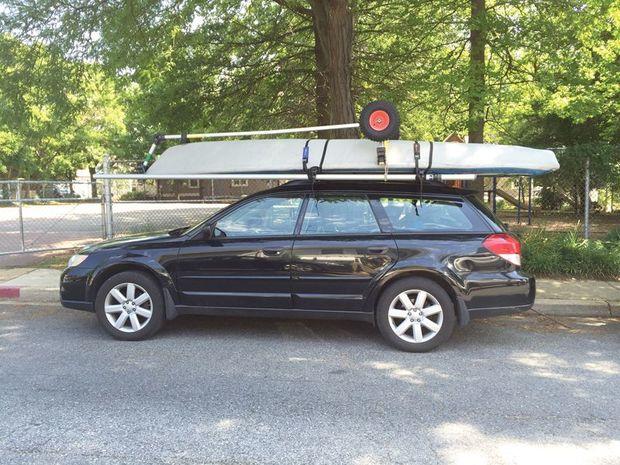 Water Access Provides
(Source: The Chesapeake Bay Program)
A place to exercise and relax
A platform for family bonding
A source of creativity
Historical perspective
Increased tourism
Engaged citizen stewards
Increased conservation understanding
Improved quality of life and public health
New Water Access Sites
Between 2011 and 2015 (the latest date for which statistics are available) 108 new water access sites have been added on the Bay, of which 90 percent are in Maryland, Virginia, and Pennsylvania. Information about the Chesapeake Bay Watershed Public Access Plan can be found at chesapeakebay.net.
Find Points of Access Here:
In Maryland: dnr.maryland.gov/boating/Pages/water-access/boatramps.aspx In Virginia: dgif.virginia.gov/boating/access
What You Can Do To Help
Contact your state and local government representatives, and tell them you want public water access to be a priority in the budgeting process.
Volunteer for a riverkeeper or join your local river association. Support their fundraising efforts. Participate in and promote their events.
Support state and local planning efforts to include public access sites in comprehensive land use and outdoor recreation plans.