The Chesapeake Bay scored a D+ in the Chesapeake Bay Foundation's (CBF) 2018 State of the Bay Report. Since 1998, CBF's State of the Bay report has been tracking the health of the Chesapeake Bay and providing insight into the progress—or lack thereof—being made.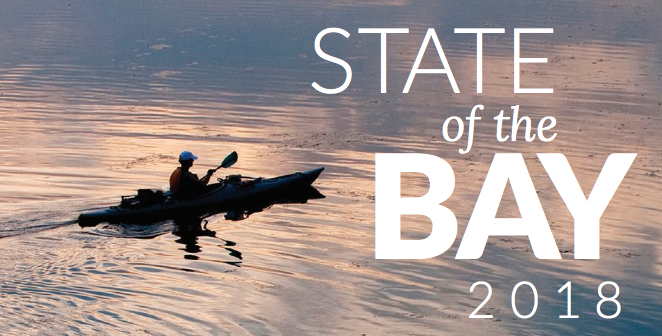 In its 2018 report, CBF states:
Experts agree that the science-based Chesapeake Clean Water Blueprint is our last chance to Save the Bay. Since the Blueprint's beginning in 2010, the Bay has been improving. But as this year's State of the Bay shows, progress is never a straight line.

Simply put, the Bay suffered a massive assault in 2018. Extraordinary weather flushed enormous amounts of nitrogen, phosphorous, and debris—mostly from Pennsylvania, but also from other regions—off our lands and into the Bay. As a result, the State of the Bay score fell one point to a 33.

Still, there are heartening signs that the Bay is building resiliency. Bay grasses remain intact and recent studies indicate an improving trend in underwater dead zones over the long term. But the system remains dangerously out of balance. And new challenges like climate change and a federal administration attempting to rollback fundamental environmental protections are threatening success.
2018 Pollution Indicator Scores
Nitrogen: 12 F (-5 from 2016)
Phosphorous: 19 F (-9 from 2016)
Dissolved Oxygen: 42 C (+2 from 2016)
Water Clarity: 16 F (-4 from 2016)
Toxics: 28 D (no change from 2016)
2018 Habitat Indicator Scores
Forest Buffers: 57 B (no change from 2016)
Wetlands: 42 C (no change from 2016)
Underwater Grasses: 25 D (+1 from 2016)
Resource Lands: 33 D+ (+1 from 2016)
2018 Fisheries Indicator Scores
Rockfish: 66 A- (no change from 2016)
Oysters: 10 F (no change from 2016)
Blue Crabs: 55 B (no change from 2016)
Shad: 10 F (-1 from 2016)
To read the full State of the Bay report for 2018, click here.