Choosing the right marina is a very important decision. Perhaps you are looking for an amenity-laden resort-style marina, or one that is simply close to your home. Regardless of what draws you to a Chesapeake Bay marina, it's the people who run them who really make the difference. You can learn a lot about a place by simply asking the people who work there a few questions.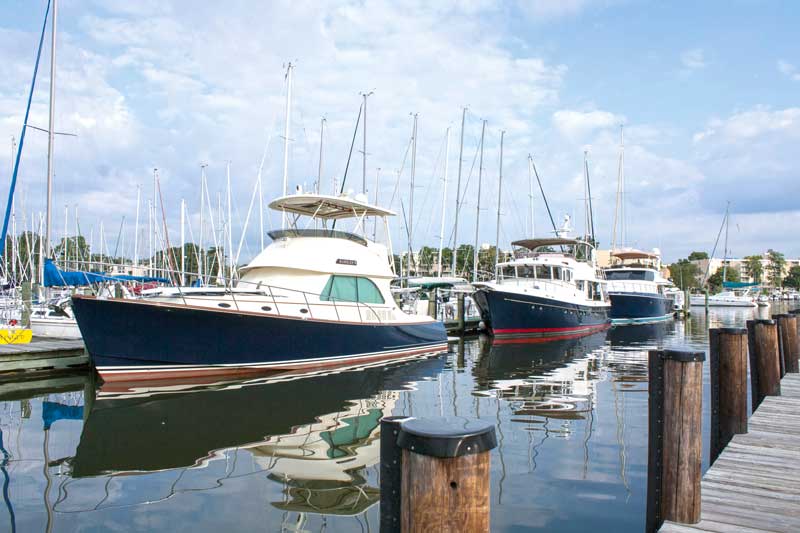 ---
A Mini-Vacation for Customers
Seeing people enjoy their boats and the marina is such a great feeling," says Melissa Clark of Hidden Harbour Marina in Deale. "It's like we're able to offer them this little getaway, like a mini vacation."
Melissa came to her position from a 9-to-5 land job. She was longtime friends with the Weaver family who ran the marina. As they renovated and expanded, they asked her to run the place. "I come from a family of boaters and watermen and have been boating on the Chesapeake all my life, but I had never run a marina. I told him this, and he smiled and said, 'You'll figure it out.'" And she did; the year she started they managed to get Clean Marina status within a few months and win Clean Marina of the year. 
Clark says, "There is so much paperwork. We have quarterly reports, permits to keep up with, water sample tests. It's a lot." 
Is it all work and no play? 
"There's always a boat to get out on the water between my family and my boyfriend," says Clark. "We are always on the water, it's our happy place." 
---
A Very Rewarding Career
Kurt Harder is the owner of Tome's Landing Marina in Port Deposit, MD. Previously in the Harley-Davidson business for 20 years, Harder wanted to make a change and started the process of buying the marina in 2018. "I searched from Key West to Boston for a marina that fit all of my criteria," he says. "This one hit those criteria and had the right bones."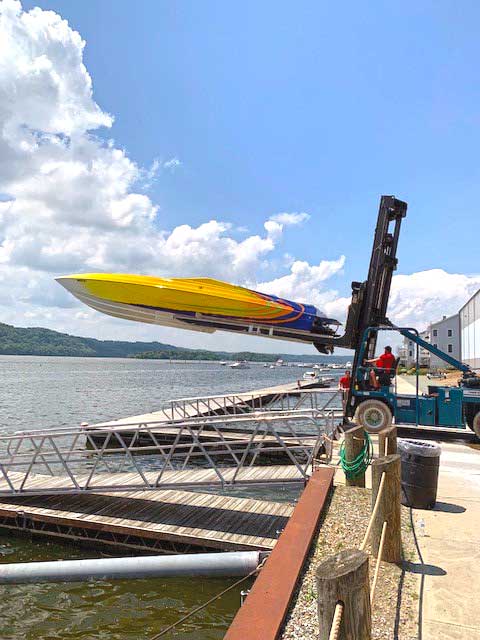 Tell us about Tome's Landing Marina.
Tome's Landing Marina is the largest and cleanest boatel in the Upper Chesapeake Bay. The care that we take in these boats is over and beyond what you might expect. Our staff provides a white glove, red carpet level of service from the moment the member arrives on property. Members and their guests arrive with all of their gear, we pick them up in golf carts and transport them and their gear to their boat. The same is true, in reverse, for when they come off the water at the end of the day.  
We are a full-service marina—striving to do everything for the members and their guests. Customers can request, mid-week, a complete exterior wash before they take their boat out that weekend. Additionally and automatically we wash the hull, below the rub rail, of every boat, every time they come out of the water to maintain that beautiful pearl white shine without the line of discoloration caused by the minerals, sediment, and dirt in the Bay. Caring for the members' boats allows for control of what eco-friendly chemicals we use to clean the boats to better protect the environment, including the mighty Susquehanna River. And all of this is at no additional charge as these services are included in their membership. 
Anything new at the marina?
After purchasing the marina, potable water was piped to the piers, we introduced the golf cart valets, added Adirondack chairs with umbrellas so people could just hang out and enjoy the beautiful surroundings of the Susquehanna River. We want members and their guests to have a world class experience; we want them to be wowed.
We have planned five phases of enhancements for the marina facility. Phase I has been completed. Phase II will be completed this year in 2020, then phases III, IV, and V will be completed consecutively in the years 2021-2023. All has been carefully planned to enhance the experience for the members and their guests.
Tell us about Thunderboat Row.
Thunderboat Row is where high performance boat maven, Don Aronow, started some of the world's best high performance boat companies. Over 50 years ago on NE 188th St in N. Miami, FL, world renowned  brands, the likes of Formula, Donzi, Magnum, Cigarette, and Apache, at one time called Thunderboat Row their home. Many of our members are owners and great enthusiasts of high-performance boats and keep them at our boatel, so we have a section dedicated to those boats that we call Thunderboat Row. Performance is our expertise and we are the Mid-Atlantic's exclusive high-performance dealer for Donzi, Fountain, and Baja high performance boats.
What's the best thing about your job?
The marina business can offer a very rewarding career for our staff. Success is not easy; it takes discipline and hard work and I am fortunate to have a staff of professionals that take their positions very seriously. The credit of our success is possible due to the wonderful staff at Tome's Landing Marina. They do everything they can to not only meet but exceed members' expectations. It's hard work and at the end of the day they know they earned their money, but they love it. My favorite aspect of my job is seeing the expressions of success on the faces of the staff when they know they have exceeded a member's expectations; it's priceless.
Favorite thing about your location on the Susquehanna River?
We have very deep water, no low bridges nearby, and zero no wake zones. Some rivers have very long no wake zones, and that is no fun on a hot day, but not us. The end of the Susquehanna River and the gateway to the Chesapeake Bay is only about a mile and a half down river from us, and once boaters enter the river from the Bay, it's freshwater, which cleans out the briny brackish water their boats encountered while on the Bay.
But what's really special is the view. A lot of marinas overlook industry; when you look out from our piers you see nothing but nature. You can watch bald eagles swoop down and catch fish right out in front of the marina; it's awe striking. I don't know any other marina that has a view like that.
---
Best Kept Secret on the Bay
Brian Conner is the owner of Rhode River Marina in Edgewater, MD, one of the older marinas on the Chesapeake. Brian leased the property from the former owners, the Behlkes, when he was just 20 years old and purchased it shortly thereafter.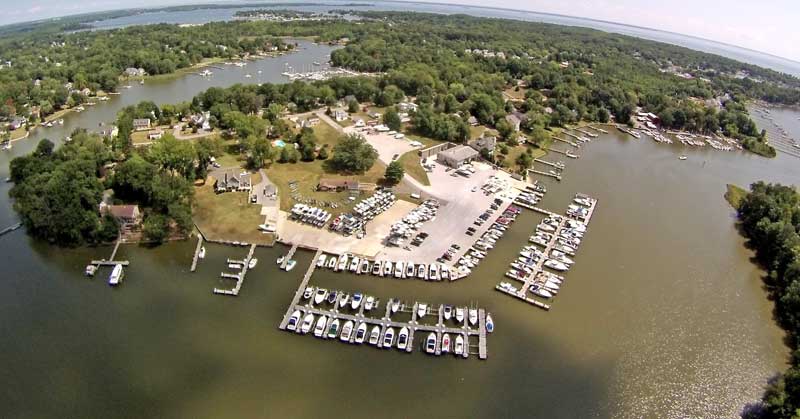 What's new at the marina this year?
We are working diligently to put in a pool for our customers, members, and family and friends. We hope to have that up and running by mid-summer. We've also taken on new boat lines this year: Crownline, Finseeker, and Sea Fox. We're gearing up with additional technicians and have added a parts person for our busy ship's store. We are also adding a second location for Rhode River Boat Sales. Currently Rhode River Marina and Rhode River Boat Sales are located at the same place. Our second location for Rhode River Boat Sales will be 2824 Solomons Island Road, at the foot of the South River next to Yellowfin in Edgewater. We hope to be there by March 1 and are working diligently on renovations.
Describe a typical day for you at your marina.
I've been in business since I was 16; I purchased the marina around age 20 and it has become my home. My two sons work here, and my wife Sue runs the office. We are a full-service marina; a one-stop shop. I run the service department so on a typical day I'm organizing employees, technicians, yard workers, communicating with customers on a daily basis, taking service orders… One thing that sets us apart is that all our work orders and slip contracts can be found online: it's all electronic. All our pricing is available online. We built our business on service and are constantly improving upon that every day.
I also wear multiple hats. Pretty much everything you see at the marina I've had my hand in: I've built piers, done dredging work, concrete…
Favorite thing about your marina's location?
We are very centrally located on the Bay, so boaters don't have to go a long way to get to so many places. If it's rough on the Bay, you can do a full day of boating on the West and Rhode Rivers. We are known as one of the best hurricane holes on the Chesapeake because we are so protected.
It's just a beautiful body of water. We're not surrounded by industry, it's a very farm-like setting. We are just across from Camp Letts and the Smithsonian Environmental Research Center. We don't have the boat traffic that some other rivers do so you can go out and anchor and swim or go waterskiing, and there are beautiful islands and restaurants nearby. Our location is one of the best kept secrets on the Bay.
What's the best part about your job?
At 20 I started with zero. I quit school at 16 and have got to where I am today. Mr. Behlke gave me the opportunity of a lifetime. The best part about it is being self-employed, the freedom of it, and having my own vision. I get to work with people on a daily basis from all walks of life. Every day is different; there's always a new task, a new surprise. It's very interesting work. It takes the right people and the right leadership.
---
No Typical Day at Work
Steuart Chaney of Herrington Harbour Marinas has been in the marine industry for 40 years. Here's a bit about his career path and what's new in his neck of the woods in North Beach and Tracys Landing, MD, on Herring Bay: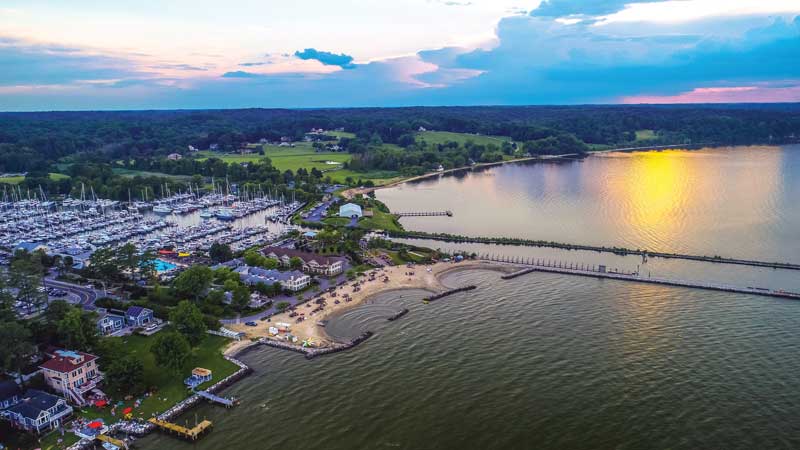 Before entering the industry, were you a boater?
In the typical understanding of the word boater, I was not. I had an old wooden crab boat in Galesville. 
What does a typical day look like for you? 
I guess there's not really a typical one. I normally end up in my office, even on the weekend. It's like working on a farm—you never run out of work. I'm always working on a multitude of different things: permits, contracts to build things; we do a lot of the building ourselves. Everything is different depending on the season. There are winter projects and improvements you can't do in the summer. 
Right now we're working on a number of organizational tasks. For example, they do mobile pump outs here—it's gotten very popular because our rates are so low. It's gotten time consuming. Melissa Kapper (office manager) sends an email every week to our customers. We're implementing a process to get our customers to tell us when they want their pumpout. We're also doing a lot for transient business. We're trying to make those two processes more efficient and better for the customer. 
What do you wish more customers knew about what you do? 
We were the first no-discharge zone (on the Chesapeake). We did shoreline restoration, well before it became something that people were doing. We have low-profile bulkheads that give a buffer between water and movement of people on shore. That allows us to create a marsh and habitat for wildlife, and it collects storm water and sediment, too. 
What do you love about your job and/or your customers?
The job is very rewarding. We use long-term thinking in the way we do things. What I love is that I work every day inside and outside, not stuck in an office. I love the fact that we have seasons. We are able to please so many of our customers. We get so many compliments. They say, "This is the best marina I've ever been to." It instills in you the drive to do even better. You do better; people love it. The seasons add to the diversity of what we do. I also love that you're not being controlled by other people telling you to do it this way. Our entire staff is included in decisions. Everybody should have a job like this!
Anything new and exciting going on now or in the near future at your marina?
We're building a bathhouse. We always do a pier; remove one and put in new structure. Electricity is changing, so we have to constantly change that, too. At Herrington Harbour North, we're doing pathways and eco-trails. There are paver walkways, with signs about what you can see as you walk around the harbor… Every once in a while, we put up something about the history of Herrington Harbour and people find that really interesting, so we're going to get out more about that. 
---
A Generational Marina
Ed Harwood serves as the general manager of Bowleys Marina in Middle River, MD. In August of last year, Bowleys celebrated the grand opening of the $3.2M improvement of its pier facility, the largest rebuild effort in the marina's history.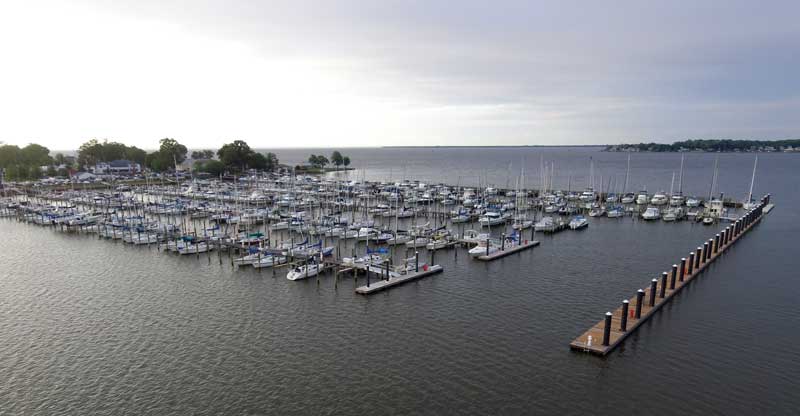 Anything new at your marina this year? 
We are purchasing a self-propelled hydraulic yard trailer and will offer winter storage to non-members this fall. We are currently installing three 15,000-pound Magnum boat lifts and an additional five PWC Docking Platforms. We will now have 12 boat lifts and 13 PWC Docking Platforms. We also just rebuilt our boat ramp dock, and the restrooms are currently undergoing a full rehab. Walls and floors are being tiled and new partitions and fixtures have been installed.
What's the best part about your job? 
I truly enjoy interacting with Bowleys Marina members. They are very supportive of the staff. We have members that are new each year as well as members who have been here since 1981. I call Bowleys a "generational" marina. Many have spent their entire boating life at Bowleys. It's very informative and interesting listening to everyone's opinion.
Favorite thing about your location?
At the mouth of Middle River, there are no height restrictions, and we have deep water on approach. We also have great sunsets daily. We are located at the end of a peninsula in a rural setting with10 acres of ample green space for members to enjoy.
What are some things you've learned on the job?
I've learned how to be diplomatic when dealing with opposing views. Since my arrival in 2007, we have either had active capital improvements underway or we've been in the planning stage. Everyone has an opinion, especially when relating to multi-million dollar projects. It normally takes months if not years to come to a consensus on the scope of the next project and budget. We have completed about a quarter of the marina rebuild and are currently planning the next phase.
Describe an ideal slip holder. 
Someone who has fun and appreciates the staff and the facility.
What do you wish slipholders knew about your job? 
June, July, and August are the easy months. Launch and haul outs demand all hands in the spring and fall. Winter is filled with projects for the crew, and the office staff is renewing leases, preparing board of directors' elections documents, mailings to members, annual financial audits, member meetings, and boat shows. There is no down time at Bowleys Marina. 
---
People Come to Our Marina to Enjoy Themselves
Joanna Haaland had strong ties to boating before she started as the office manager at Bert Jabin Yacht Yard in Annapolis. She grew up boating in northern Michigan and always had summer jobs at marinas in her youth.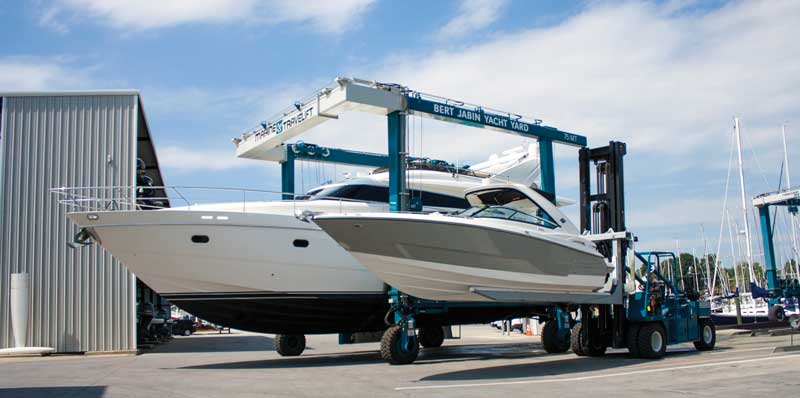 "I love this job because of the lifestyle," says Haaland. "I love the people and being on the water. I can't imagine not being within sight of boats and water."
"A big part of my job that nobody realizes is education," says Haaland. "We have a lot of people who are just getting into boating, or maybe are not as familiar with how things work than those of us who grew up on the water. Things that we might take for granted need some extra time and care, like having lines and fenders ready. But I love teaching people the ropes"
Haaland admits there are many characters you meet running a marina. "We joke that we should have a reality TV show with the characters that come through and the day to day shenanigans. Our latest challenge are the local foxes. They are walking the docks at night and getting on people's boats."
Nothing bothers Haaland more than an unhappy customer. "People come out here to enjoy themselves, and I like being a part of that," she says.
---
Always Something New to Be Learned
Jim Sharkey of Safe Harbor Zahniser's Yachting Center in Solomons grew up surrounded by boats and water in Annapolis and has been in the marine industry for 45 years.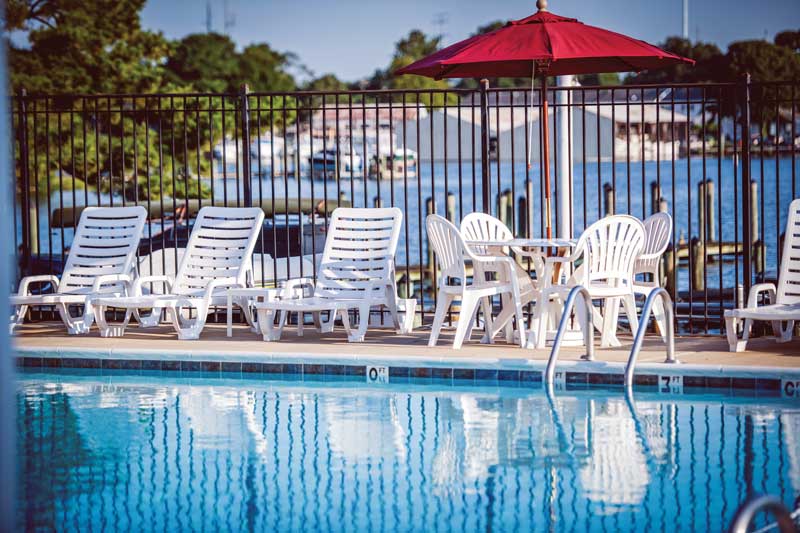 When it comes to marina work, he says, "For the most part, very few days end up being the same. This is what I like most about what I do. I am fortunate that we have a very talented team here at Safe Harbor Zahniser's, and I enjoy interacting with the other team members to make us what we are."
Most of his customers think he's working the water every day, but it's not always true. "Much like everyone else, I am sitting behind a computer or on the phone. There is a lot of administrative coordinating that goes on behind the scenes to provide customers with a place they can enjoy. The nice thing is I can look out of the window and see the water or hear the clanging of masts."
Sharkey loves "The challenges the industry brings. There is always something new to be learned. I work with customers from all walks of life who are passionate about the same thing: boats. That is what makes the job fun and interesting."
What's new? "In March of 2018 Zahniser's joined the growing family of Safe Harbor Marinas. As Safe Harbor continues to grow, I see more reciprocity opportunities for our annual members boating on the Chesapeake or while transiting other areas north and south." 
---
Helping Clients Achieve Their Boating Dreams
We asked Charlie Petosa, of Hinckley Yacht Services in Annapolis, a bit about his job as general manager: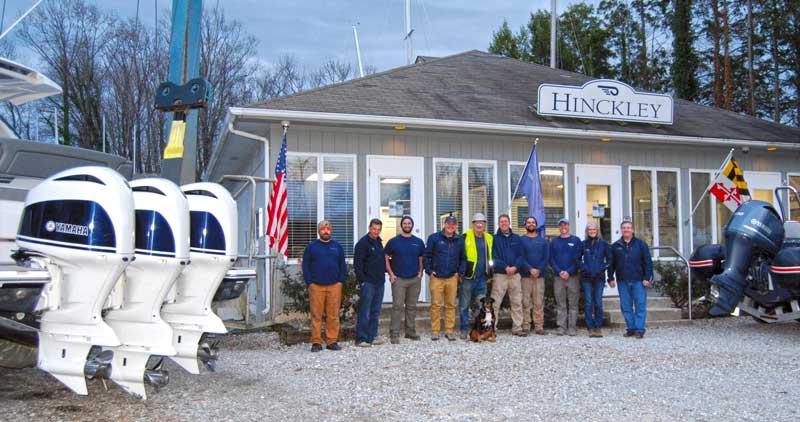 What does a typical day at work look like for you? Or are they all different?
On any given day I am focused on a few main priorities which are: making sure our team is working to provide the highest level of service to our existing clients and performing the very best quality of work on their boats; working on developing our team to keep up with the current technologies; and focused on educating the market about everything we offer here at Hinckley Annapolis. This not only includes the services we have been providing for years, but also selling and servicing outboard-powered sport boats, Seakeeper stabilizers, and offering full electronics upgrades. 
What do you love about your job and/or your customers?
Talking with clients about their boating dreams, and helping them achieve those dreams and working with the team to ensure that everything we do ultimately improves a client's boating experience. I also love walking our docks, yard, and shops which gives me a chance to stay up to speed on all of our projects, large and small. I enjoy seeing projects progress and quite often learn from our technicians and clients how we can do even better. 
Anything new and exciting going on now or in the near future at your marina?
On the marina side of the operation the facility is in better shape than ever. Everything from the dock ladders to the docks to the picnic tables have been recently maintained or replaced. On the service yard side of the operation, we are currently painting a Friendship 40 which we are very excited about. This spring we will start offering day launch service for those boaters who do not want to keep their boat in the water, but do want the convenience of driving up to the docks, jumping onboard, and going boating. We are expanding our mobile service offering, with emergency service available seven days a week and on weekends and holidays throughout the boating season! 
---
Don't forget to check out our comprehensive Marina Directory, featuring an interactive map, list of amenities, and more.