Even though the official start of fall is still a month away (September 22), it's not too early to start thinking about
fall fishing
tournaments on the Chesapeake Bay.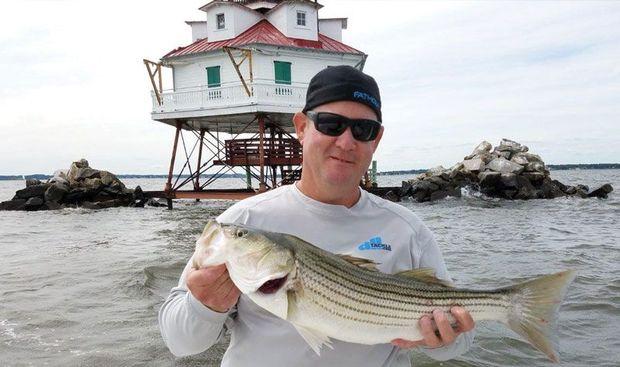 Today is the last day to register for the Maryland Saltwater Sportfishing Association's (MSSA) first annual
Summer Classic
, which takes place tomorrow, August 26. Registration is $250 per boat and there are five weigh stations around the Bay: Sandy Point State Park, Rod N Reel (Chesapeake Beach), Calvert Marina, Tolchester Marina, and Knapps Narrows.
Labor Day White Marlin Tournament: September 1-3
Presented by the Ocean City Marlin Club; open to non-members and members get free entry. Pick two of three days to fish - must have fish to the scales between 5:30 and 7:30 p.m. at Sunset Marina.
4th Annual Huk Big Fish Classic: September 8-10
Rescheduled from earlier in the summer. Scales open at 4 p.m. Friday through Sunday at the Talbot Street Pier in Ocean City, MD. Vendors open every day in the Big Fish Village at 3 p.m. Kick off party Thursday September 7 from 4-8 p.m. at M.R. Ducks. Awards banquet Sunday, September 10, 8:30 p.m. at The Angler.
10th Annual BRRC Rockfish Tournament: September 9
Captains meeting September 6 at 6:30 p.m. at Brewer's Landing in Essex, MD. Must check-in by 3 p.m. at Weaver's Marine in Essex the day of the tournament. Presented by the Back River Restoration Committee and all proceeds go directly towards cleaning up Back River and the Bay.
MSSA Mid-Atlantic Flounder Tournament: September 16-17
Captains meeting September 15 at Atlantic Tackle in Ocean City, MD. $10,000 tournament payout. Fish both days; no limit on fishing location (coastal bays and ocean). Three weigh stations: Indian River, DE; Ocean City, MD; Chincoteague, VA.
Huk/CCA Red Trout Tournament: September 29-October 1
Catch and release tournament in Crisfield, MD. Anglers will photograph their fish with a CCA measuring stick. Powerboat, kayak, and youth divisions.
Maryland Rockfish Open: October 14
Register before October 13. $400 for four anglers ($500 after October 1). Captains meeting October 12, 6 to 8 p.m. at Mike's Crab House South, Riva, MD.
4th Annual Little Havana's Rocktober Cup: October 21
Presented by the Coastal Conservation Association of MD. Stay tuned for details.
Rocktoberfest: October 21-22
Ocean City's only 24-hour rockfish tournament. Prizes awarded for heaviest rockfish, flounder, trout, tautog, and an open category. Concludes with the awards banquet around an Eastern Shore bonfire and pig roast on the beach at Fish Tales.
Fish For a Cure: November 4
Annapolis, MD. All proceeds support the Cancer Survivorship Programs within the Geaton and JoAnn DeCesaris Cancer Institute at Anne Arundel Medical Center.
MSSA Chesapeake Bay Fall Classic: November 17-19
Fish two of three days. Weigh stations: Sandy Point State Park, Rod N Reel, Breezy Point Marina, Calvert Marina, Point Lookout State Park, Kentmorr Marina, Knapps Narrows Marina, Taylor's Island Campground.
Mid Atlantic Rockfish Shootout: December 7-9
Leave from any inlet in Virginia. Weigh-In at Rudee Inlet at the Virginia Beach Fishing Center, or King's Creek Marina in Cape Charles. Lines in at 8 a.m., lines out at 2 p.m. Make sure to consult fishing regulations by season at 
eregulations.com/maryland/fishing
.