A lot of Chesapeake Bay boaters choose to charter in the Caribbean, especially the British Virgin Islands (BVI), due to its relatively close location and ease of use for newbie charterers. But what about other US charter locations? We recently caught up with Lee Chapoton, marketing manager with NW Explorations to discuss the beauty of cruising in the Pacific Northwest (PNW). Here's what he had to say.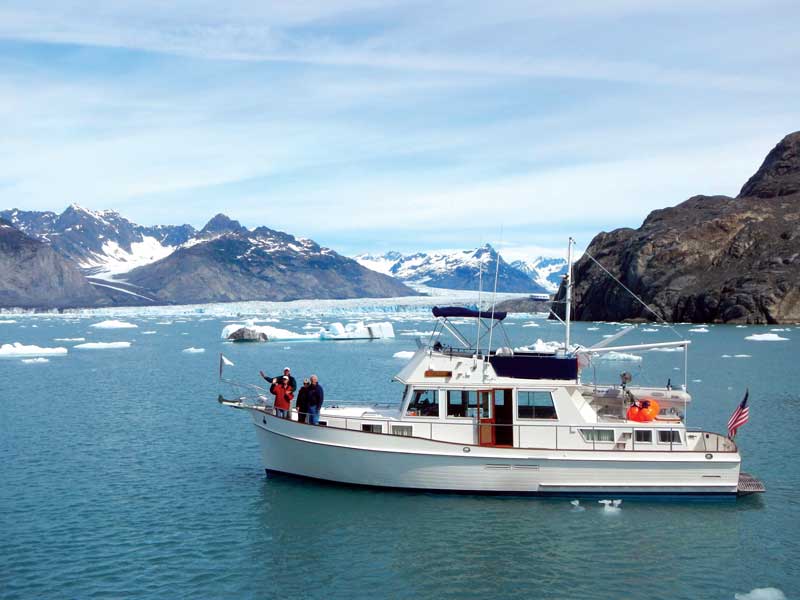 Why Charter in the Pacific Northwest?
I believe that we have some of the most spectacular cruising grounds in the world (I'm biased, of course), but here there's something that evokes a sense of awe and wonder. In just the Salish Sea alone (ahoybc.com/bc-coast/salish-sea) stretching between Olympia, WA, and Campbell River, BC, you have over 4600 miles of coastline to explore as you take in views of towering snowcapped mountain ranges along with hundreds of islands and protective inlets. For those adventurous enough to head north to Alaska, massive glaciers get added to your list of awe-inspiring sights. 
A diversity of marine life is another draw to our area—it's a bird watcher's paradise, a whale watcher's paradise, and it's a park lover's paradise. British Columbia boasts over 200 marine parks, and Washington State has the largest state-managed mooring system in the nation. The list of things to see and do seems endless. 
It's a great area for people who want to cruise in sheltered protective waters. The vast majority of popular routes avoids open ocean, and you always seem to be a stone's throw from a cute town with welcoming marinas and a vibrant small-town charm… I truly believe it's a boater's paradise up here.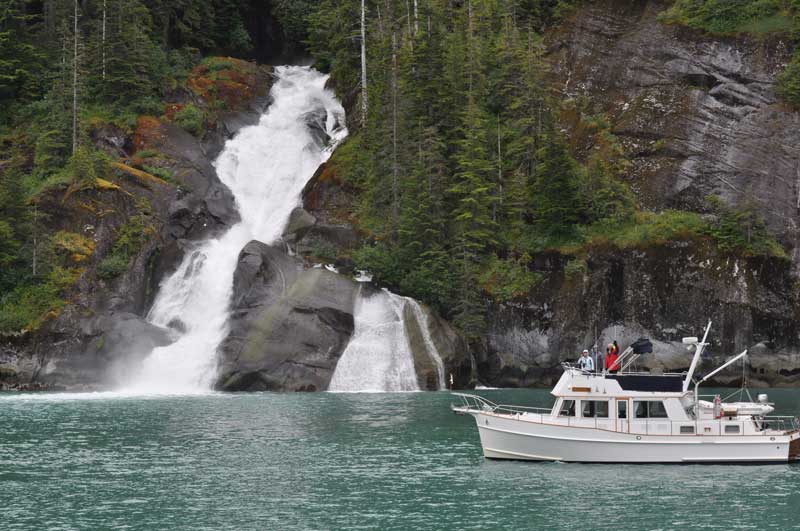 We are based out of Bellingham, WA, and offer bareboat charters and flotilla adventures. On bareboat charters guests can cruise most anywhere they desire, being limited by their fuel budget. To get specific, May 1 to September 15, navigation is extended to include the West side of Vancouver Island not more than 25 miles offshore, the inside waters of British Columbia north of 51 degrees north latitude, including Queen Charlotte Sound, Hecate Strait (west side of Queen Charlotte Islands is excluded) and Dixon Entrance, all not more than 25 miles offshore, the inside waters of southeast Alaska, the Gulf of Alaska, and Prince William Sound and its navigable tributaries, all of which could keep one busy for a few decades of exploring!  
Tell us about your fleet.
We specialize in trawler-style yachts and at one time, we were recognized as the world's only authorized Grand Banks charter company. Our company can be traced back to 1978. In 2004, Brian Pemberton purchased the company, creating NW Explorations, which is still going strong today. Brian was a huge fan of Grand Banks, and his love for these iconic yachts led to NW Explorations being so well known for its large charter fleet. Currently our fleet includes makes such as Ocean Alexander, Kadey-Krogen, and DeFever in addition to our many Grand Banks. Size is mostly in the 40- to 50-foot range, with 70 feet being the largest yacht in our fleet.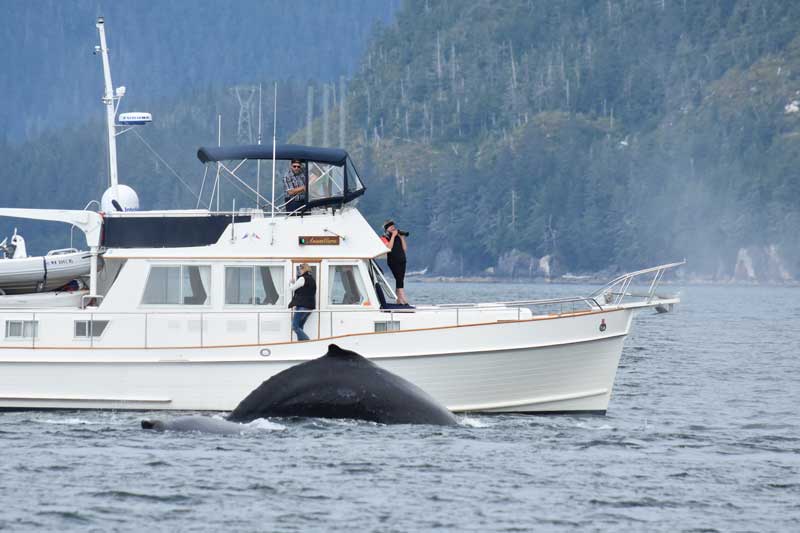 Why would someone choose to charter a Grand Banks yacht?
It's hard to put into words. The closest I could get is describing it as an experience in and of itself. In addition to all the things that make for a fantastic PNW cruiser, Grand Banks have a distinct warmth and personality; often imitated but never like the real thing. In my opinion, if someone wanted to come up here and assume the persona of 'Pacific Northwest cruiser,' a Grand Banks yacht is one of the top choices. You're not on a planing hull going over 20 knots; you're cruising at a comfortable eight to 10 knots while taking in all this amazing scenery.
What do you recommend for novice charterers, and what requirements do you have for chartering a boat from your fleet?
As mentioned earlier, the majority of our boats are in the mid 40-foot range, which is a very comfortable size for maneuvering. I hear from many people that the ideal size boat for up here is in the 42- to 46-foot range. It's just big enough to offer a great layout for two couples or a family—parents and kids or grandkids (four adults and two young kids), while being easy to dock—it doesn't feel large and unwieldy pulling into a packed marina. It's a great size boat for multi-day trips, sleeping arrangements, cooking, entertaining, and just all around exploring. 
To start the process, someone interested in chartering should find a boat they like on our website, and either give us a call or send us an email to request more information. Once the reservation process is underway, guests are sent a package including a cruising resume. We want to see previous charter experiences, any boats owned, training and certifications, and how recently have they been out on the water… The resume, in combination with a phone conversation, gives our charter department a good sense of a person's skill level and helps us decide if additional training is needed before chartering one of our vessels.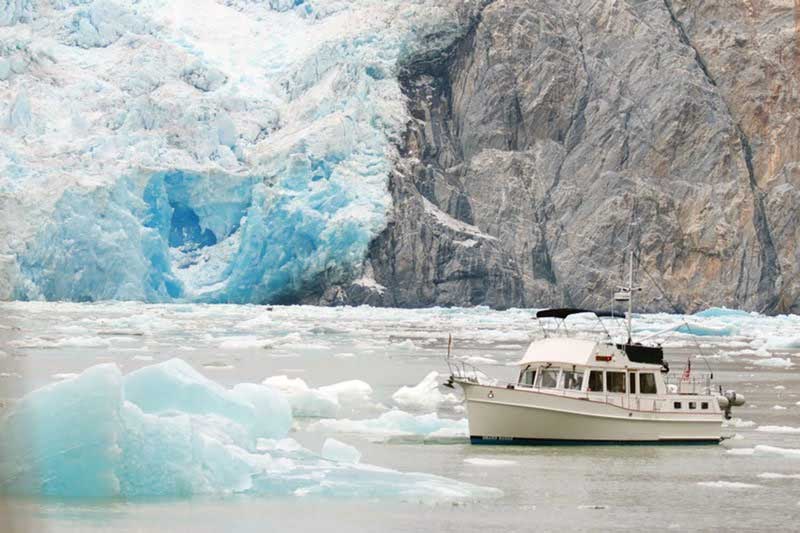 A super avid boater familiar with our local waters will pretty much be good to go, without needing anything more than initial orientation with their charter boat. Others might just need a brush up on a few skills, and we'll offer short, boat maneuvering lessons, which by the way, are a requirement for first-time charters for some of our vessels. It's always fun to see those guests who fly out here from afar and get on an identical make and model to what they already own back home. It's as close as you'd get to shipping your yacht across the globe and cruising in it here.
For those guests who have little to no boating experience, they can enroll in one of our one-, three-, or five-day powerboat training courses. We've recently had two young couples new to boating who did the three-day course together. This allows you to get out on the water with one of our instructors, learning everything practical (how to anchor, grab a mooring buoy, pull into a marina and refuel, deploy the tender) and it's like a mini vacation. They get it all in one go. And then once they do that, they'll often come back later in the season or next year and charter a boat all on their own, oftentimes the very boat they did their training on since they're so familiar with it now.
Our five-day course costs $3225 per person, and you almost get a week-long charter trip out of it, with an instructor there to guide you along the way. It's a fantastic deal considering many of our bareboat charters are double that amount and you're not getting all the personal one-on-one instruction from a seasoned pro. I highly recommend it as the perfect steppingstone to a life-long passion of boating. 
What do boaters get out of a flotilla versus a bareboat charter?
Bareboat charters are for people who are experienced enough in the waters up here to go off on their own. Many people who go on flotillas are avid boaters, but the Pacific Northwest has a lot of dynamics they might not be used to. We have very different tide swings compared to the East Coast and very challenging rapids in certain passes, so a lot of things are intimidating even for experienced boaters. Flotillas offer the best of both worlds.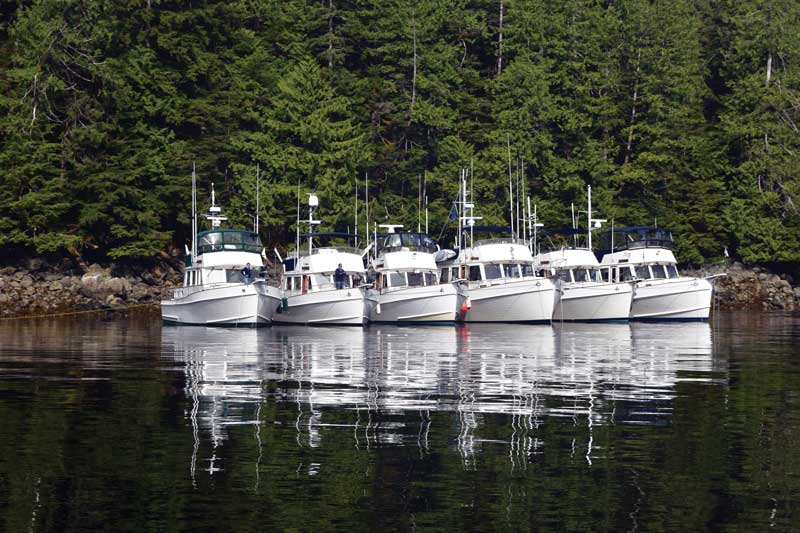 The lead boat in the flotilla is staffed by our crew, who handle most of the trip planning. It takes a lot of the pressure off the charterer, allowing them to spend more time enjoying the journey while still at the helm of their own boat. We hear from many of our first-time flotilla guests that this was "a life changing experience." It provides a huge sense of accomplishment and perhaps something they wouldn't have had the confidence to do on their own. 
For our Alaska flotilla, each leg (bookable portion) lasts approximately two weeks. Some guests come back different years and check off a leg they haven't done yet, while others may book back-to-back legs, extending their trip with us to nearly a month. We have a few guests who have joined us for several years and counting.
The Desolation Sound and Princess Louisa flotillas are usually shorter at 10-20 days and are not broken up into legs like the Alaska Flotilla. Guests are on it from start to finish. 
With all flotillas, we do handle all the trip planning, refuels, moorings, and anchorages—the only thing they have to take care of themselves is provisioning their boat and arriving on time. To get a good sense of what one would see and experience on a flotilla, I highly encourage everyone visit our Adventure Blog (nwexplorations.com/adventures) on our website. Each year, we do our best to post a daily blog from each flotilla so friends and family can see what their loved ones are up to. It also helps you plan which trip you'd be most interested in experiencing.
If someone wants to charter a boat but they want someone else to skipper it, we maintain a list of skippers we can recommend. Due to the nature of maritime laws, the individual chartering the vessel must be the one hiring the skipper for themselves. 
Interested in learning more? Visit nwexplorations.com.
---
For more tips on powercatamaran charters, as well as destination features, visit PropTalk's Chartering page.