It isn't often you see an entirely new genre of boat hit the water, but when it comes to the latest generation of center consoles, specifically from Boston Whaler and Everglades, well, these boats just don't fit into the category we'd usually assign them to. And I'm not just talking about sheer size. Sure, these boats are monsters for center consoles. But they also offer a heck of a lot more than the center console fishboats we've seen to date. Actually, they aren't even boats; these are yachts, deserving the moniker Center Console Yacht, or CCY. Here's why.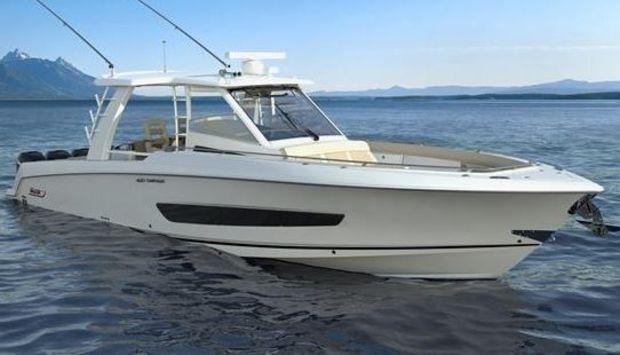 The Boston Whaler 420 Outrage looks like an abnormally large center console on the outside, but when you enter the "console," you're in for one heck of an eye-opener. The cabin looks like something straight out of a 35- to 40-foot express boat, with perks such as a settee, a large dinette that converts into a V-berth, a full galley, a stand-up head, and a flat-screen TV. There's even a central vacuum system, for gosh sakes. In a center console. The bow cockpit is similarly jazzed-up and feels like one of the tanning platforms you'd find on one of today's over-sized bowriders. There are forward-facing lounges on each side, and on the front of the console a three-person tanning bed. Might this eat into fishing space in the bow? Yes. But there's so much deck space with 42 feet of LOA, you hardly seem to notice. The Everglades 435cc, on the other hand, dedicates a bit more of the boat's space to angling. Look to the fishbox, for an example. Or heck, climb on in and take a look around its inside. At 225 gallons, it's over twice as large as the average bath-tub. Wicked Tuna, here I come.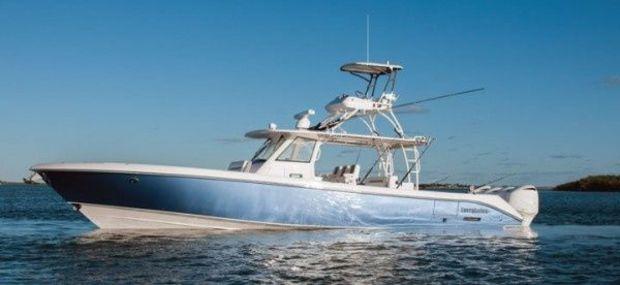 Another example of extreme fishability can be found in the tackle station behind the leaning post. It holds a ridiculous amount of tackle (10 drawers in all), an insane number of leaders (four spool holders), and has more cutting board and sink space than your average marine fish-cleaning station. Oh, did we forget to mention the twin 60-gallon livewells? Or the 45-gallon bait freezer? Sheesh! Lest you think Everglades didn't also make room for accommodations, peek into the console. It's a bit trimmer than the Whaler's, with a queen berth instead of a full settee and dinette, but it still has the galley, flat-screen TV, and head. There are a few other ways these boats take center consoles into yacht territory. First off, they each have helms so copious they built in a second row of seating. That means at least six people can ride in protecion and comfort. Even on the largest CC's built to date, a single row of helm seating was all you'd get. Secondly, they maintain red-hot CC performance thanks to quadruple outboards. The Whaler runs with quad 300- or 350-hp Mercury Verados, and the Everglades sports four Yamaha F350 V-8s on the transom. Speeds come darn close to 60 miles per hour.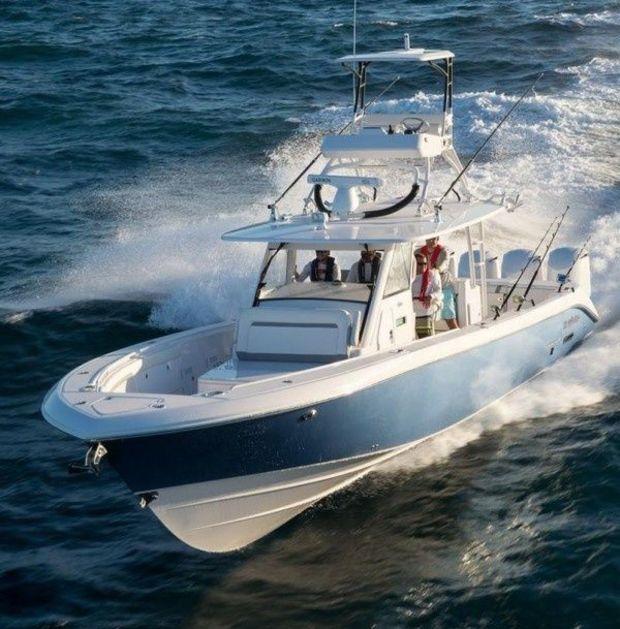 Yeah, rigged to the teeth these boats are sort of expensive. As in, Lamborghini, Fararri, and Porsche expensive. And no, you won't be using them to cast jigs in the shallows. But if you're torn between the idea of owning a yacht or owning a fishboat, you don't have to be any longer. The CCY has arrived. -
-by Lenny Rudow