The fall and winter months bring a Maryland favorite bounty out of its shell and one of my favorite foods to eat and serve—the Chesapeake Bay oyster, which is a treasure that has been enjoyed for centuries. Whether it be Chincoteague, Rappahannock, Tangier, or one of the other many locations on the Bay, each has its unique flavor.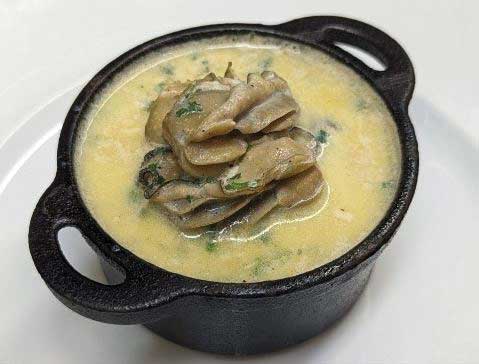 There are hundreds of ways to eat an oyster from raw, baked, grilled, fried, and with many chefs becoming more creative and adventurous each year, we have new ways to enjoy an oyster. Over the years, when I was the chef at the Chesapeake Yacht Club (CYC), I had opportunities to be creative and prepare oysters in every way imaginable, but two recipes truly stood out as my favorites: Oyster Rockefeller and Oyster stew. The creamy spinach mixed with the smokiness from the bacon and deep rich flavors from garlic and aged parmesan cheese truly makes for a special baked oyster. The stew is incredibly simple, always starting with fresh oysters shucked right out of the shell directly into a saucepan, being sure to get all the oyster liquor. Followed by a quick steep in milk with a touch of butter, Old Bay, and fresh parsley, cook just long enough to see the edges of the oysters begin to curl. Serving the stew with perfectly buttered and seasoned baked oyster crackers takes the stew to the next level. 
CYC is located on the West River and offers fixed and floating slips for boats up to 70 feet, along with onsite diesel, gas, and free pump-out service. Facilities include a river-view swimming pool and a restaurant with indoor and outdoor dining. Members enjoy organized cruising, youth programs, and social activities. Learn more at chesapeakeyachtclub.org.
Buttered Oyster Crackers
1 cup oyster crackers
2 tbsp melted butter 
2 tsp of ranch powder
Add all ingredients into a saucepan. Cook on medium heat stirring to coat the crackers with butter and ranch powder. Toast till golden brown. Remove from heat and let cool on a paper towel. 
Chesapeake Bay Oyster Stew
6 oysters
3 cups of milk 
3 tbsp butter
1 tbsp fresh chopped parsley
1 tsp Old Bay
1 tsp salt
1 tsp ground black pepper
Shuck six fresh oysters directly into a medium size saucepan; be sure the juice from the shell is also collected in the pan.
Add milk, butter, parsley, Old Bay seasoning, salt, and pepper.
Heat ingredients on medium high heat slowly stirring to incorporate all ingredients. It's important not to scorch the milk. Heat the milk just enough to make the edges of the oysters start to curl and steam come off the pan.
Remove from heat and serve immediately. Dust the stew with Old Bay seasoning and enjoy with Buttered Oyster Crackers. 
Oysters Rockefeller 
12 oysters on the half shell
4 slices of bacon 
2 tsp minced fresh garlic
2 tbsp Pernod liqueur
3/4 cup heavy cream
4 cups fresh chopped spinach
1 cup parmesan cheese
pinch of salt and pepper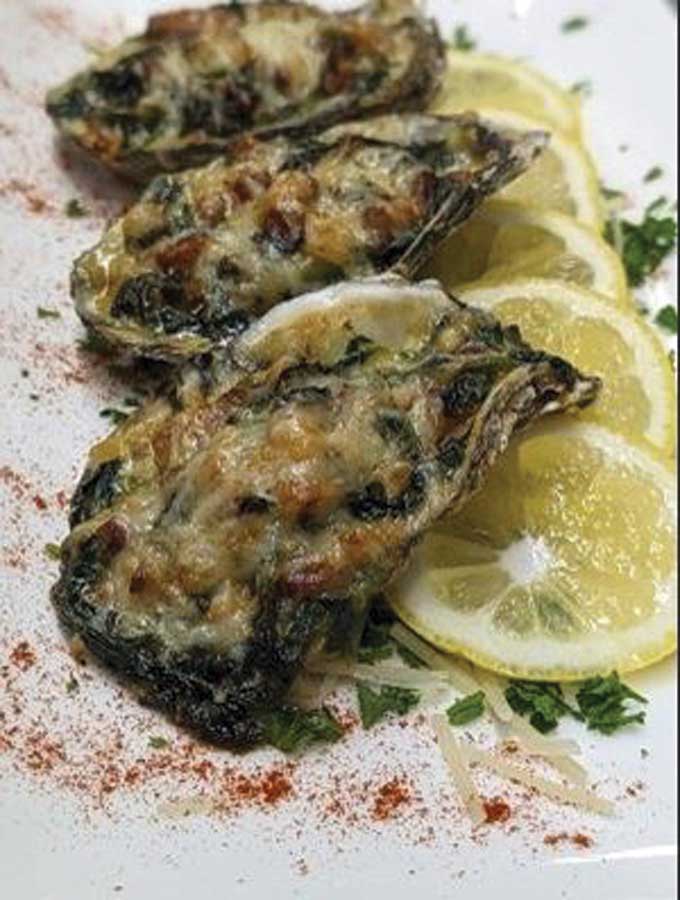 Dice bacon and place into a large saucepan on medium heat. Sauté bacon until edges start to curl and grease from the bacon coats the pan. Next add the minced garlic. 
Sauté until the garlic becomes aromatic, not brown. The bacon does not need to be crispy. Deglaze pan with Pernod. Add heavy cream. Once reduced by half, add the fresh chopped spinach, and cook for about five minutes until the spinach becomes tender. Remove from heat and add a half cup of parmesan to thicken sauce mixture. 
Finish with a pinch of salt and pepper to taste. Once the mixture is chilled, spread enough on each oyster to cover the meat and dust with parmesan cheese. Place oysters on a baking sheet and bake at 425 degrees for 10-15 minutes or until golden brown. 
By Drew Davidson