Members of the Back Creek Yacht Club (BCYC) recently celebrated the 90th birthday of founding member Wally Stone. A lifelong boater and sailor, Wally owned a series of boats, both sail and power, the last of which he sold in August.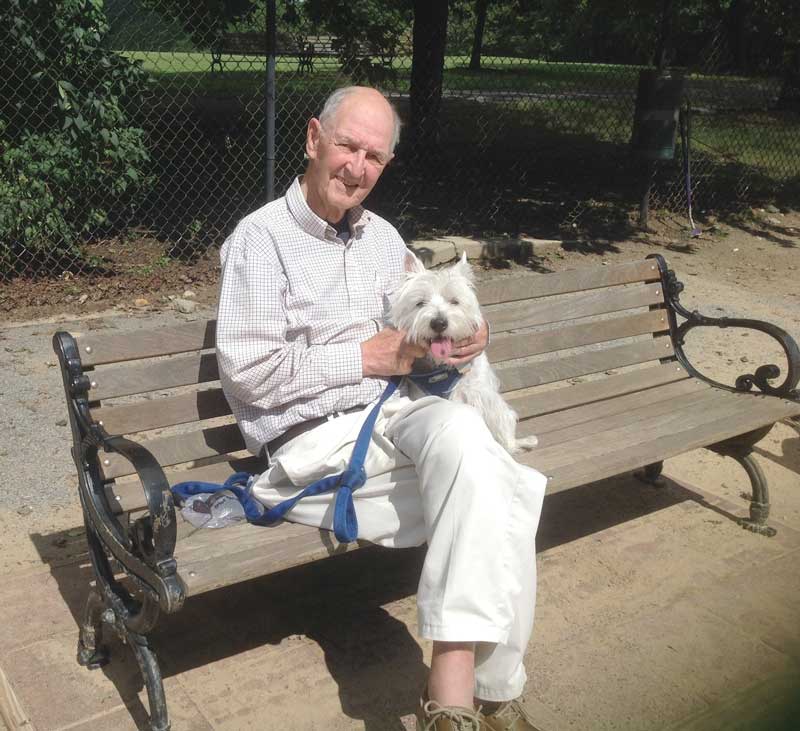 "Those of us who are lucky enough to know Wally appreciate not just his vast maritime knowledge, but his kindness, gentleness, and ready willingness to help with any question or problem, says long-time friend Westbrook Murphy. "At his BCYC birthday celebration, Wally, as usual for most BCYC events, contributed a keg of his famous rum punch, made from a New York Yacht Club recipe."
Wally grew up in the Washington, DC, area. He graduated from Woodrow Wilson High School in 1947 and Goddard College in 1951. The family moved to Annapolis in 1954, "when my father got tired of making the hour-long drive (before Route 50 was built) to get home to Chevy Chase from Annapolis on Sunday nights after sailing," says Wally. In 1958 they built a home on Crab Creek, off the South River, where Wally and his wife, Molly, reside today. 
Wally learned to sail with his family and also took sailing lessons at Stamford Yacht Club in 1939. The family owned a succession of boats. One, a steel-hulled lifeboat converted to a yacht, was kept at a slip in Georgetown. "It was lost in the great flood of the Potomac River in 1936," says Wally. "It broke off its slip and was found a mile from the river in the middle of a corn field in southern St. Mary's County. There was no way to get it back to the river, so my father let the farmer have it to sell the parts that he could." 
"Some of my best childhood memories are of my experiences growing up boating with my family," says Wally. "My mother, Grace, was a good crew member and galley cook. She would often say, 'One more cocktail makes the dinner taste better.'"
After college, Wally was drafted into the U.S. Army and served in the Korean War from 1951-1953. After his military service was complete, he took a job with Eastern Airlines in Washington, DC, where he worked for 10 years and held various positions. In 1967, Wally began employment at Mears Marina in Annapolis, where he worked until his retirement in 1996. During his last 15 years at Mears, Wally was the marina manager. The marina and yachts, tennis facilities, and pool were all under my jurisdiction," he recalls.  
Wally's friend, Murphy, notes that Wally's love of boating was inherited. Between 1908 and 1955, Wally's grandfather, Herbert L. Stone, served as the editor and then publisher of "Yachting" magazine. Herbert was an accomplished yachtsman and a founding member of the prestigious Cruising Club of America, for which he served as the second commodore.
Wally's father, William T. "Bill" Stone, was also an avid sailor and writer. He authored a new edition of Fessenden Blanchard's classic "A Cruising Guide to the Chesapeake." Wally sometimes sailed with his father, helping to gather material for his next book, "A Cruising Guide to the Caribbean." Wally recalls that during those trips they sailed to Honduras, Guatemala, and Belize, "before the western Caribbean became popular."
Wally was elected to the Cruising Club of America in 1973 and served as secretary and treasurer of the CCA Chesapeake Station. 
Like his father, Wally owned a succession of boats, some of which he owned with his father. Of Wally's 10 boats, the smallest was a 13-foot runabout Boston Whaler, and the largest was his last boat, a 34-foot Sabreline trawler. Several had very interesting histories. "Of the many boats I have owned, the oddest was a Sparkman & Stevens custom designed 30-foot sloop that originally slept seven. I also owned a 30-foot Trumlare; one of its drawbacks was that there wasn't much freeboard, so when using the toilet, located in the middle of the two forward berths, one's head and shoulders were above the deck. A canvas hood was provided for use during rain!"
Wally and his wife, Molly, have been married for 46 years. The minister who married them recently attended his 90th birthday party. Wally has a son and daughter who both live in the Annapolis area and enjoy powerboating. Wally still cuts the grass weekly at the family home, using his 50-year-old riding tractor. After selling his 34-foot trawler earlier this year, his only boat now is a kayak. However, he and Molly still enjoy hosting BCYC events at their home.