This year marks the 15th anniversary of PropTalk Magazine! This month and next we'll be reminiscing about PropTalk's early years and how far we've come. We would not be here without all of you, our readers and advertisers, our supporters, friends, and fellow boaters. Thank you for so many great years, and we can't wait to see what the next 15 will bring!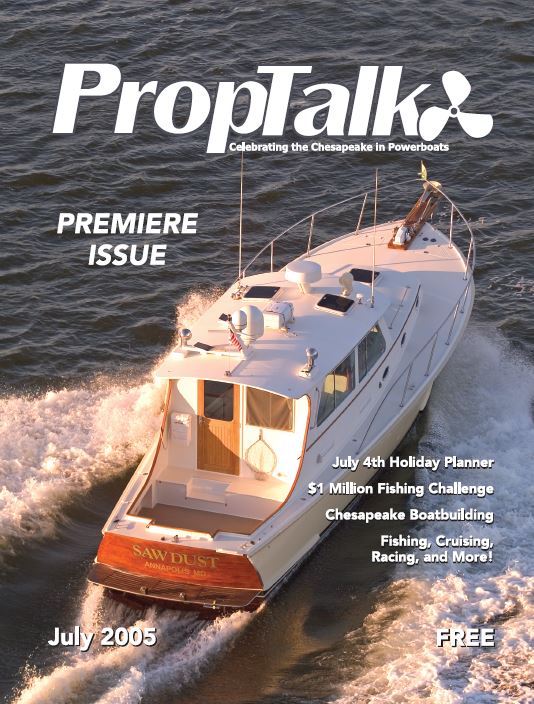 Why We Started PropTalk
By Mary Ewenson, Publisher
In the summer of 1995 Dave Gendell and I started SpinSheet Magazine, a magazine dedicated to Chesapeake Bay sailing. We'd both grown up running the waters of the Bay—he from the Magothy, and I from the Severn. As a kid, I sailed, waterskied, hydroslided (anyone else still remember the pain of a hydroslide whiplash?), and ran up and down the river in powerboats. In '95 I spent most of my free time sailing, and when the local sailing rag disappeared, Dave and I jumped at the opportunity to fill the void with our own sailing magazine, and SpinSheet was born. 
It didn't take long for us to start hearing from our friends with powerboats, "How about us?" "What about powerboaters?" "Can't you add a powerboat section to SpinSheet? Don't you know there are 10 of us for every sailor?" Then our advertisers started to chime in, "You know we cater to powerboaters too." "We love what you do with SpinSheet. Can't you do the same thing for powerboats" "Why is it there's a magazine for Chesapeake Bay sailors, but not one for powerboaters?"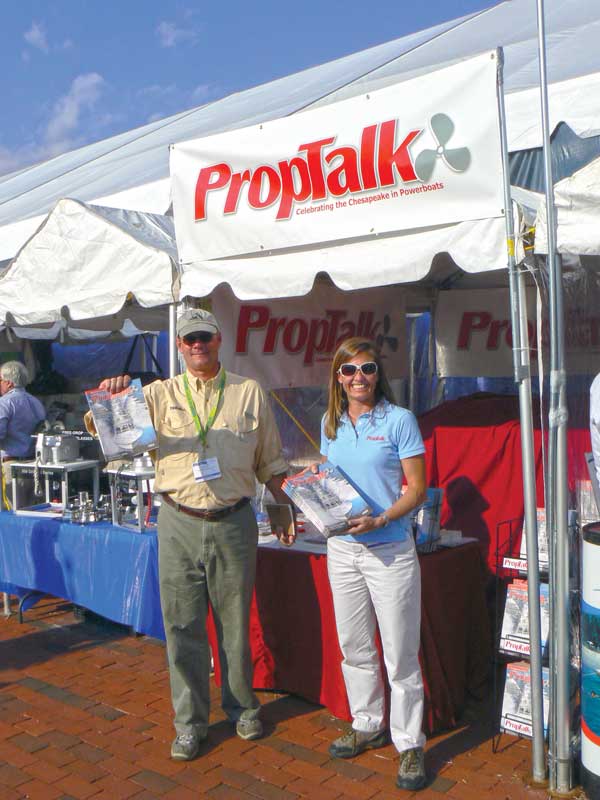 So, we started thinking and mulling it over. We wrote business plans, talked about market share and workflow, met with advertisers, and basically suffered from analysis paralysis, until one day in October when I ran into our friend Joe Evans at the Annapolis Boat Show and discovered he was between opportunities. I called Dave and said, "We've found our powerboat magazine editor!" 
And, we were off. From day one we were devoted to all things powerboating: cruising, daytrips, racing, and boatbuilding with some fishing thrown in. We've had some changes at the helm at PropTalk over the years but really hit our stride when our young editor Kaylie Jasinski rose from the rank of intern six years ago to senior editor and most recently editor. Kaylie was born into a Chesapeake boating family and is the real deal. She fishes, races powerboats, cruises, windsurfs, and is a bona fide lover of the Chesapeake Bay, which makes her the perfect editor for PropTalk. 
Now, as we celebrate PropTalk's 15th birthday, we look back and can't believe it took us 10 years from when we started SpinSheet to launch PropTalk. It's so obvious that the Chesapeake powerboating community deserves its own magazine, and we're so fortunate to be the team to deliver it!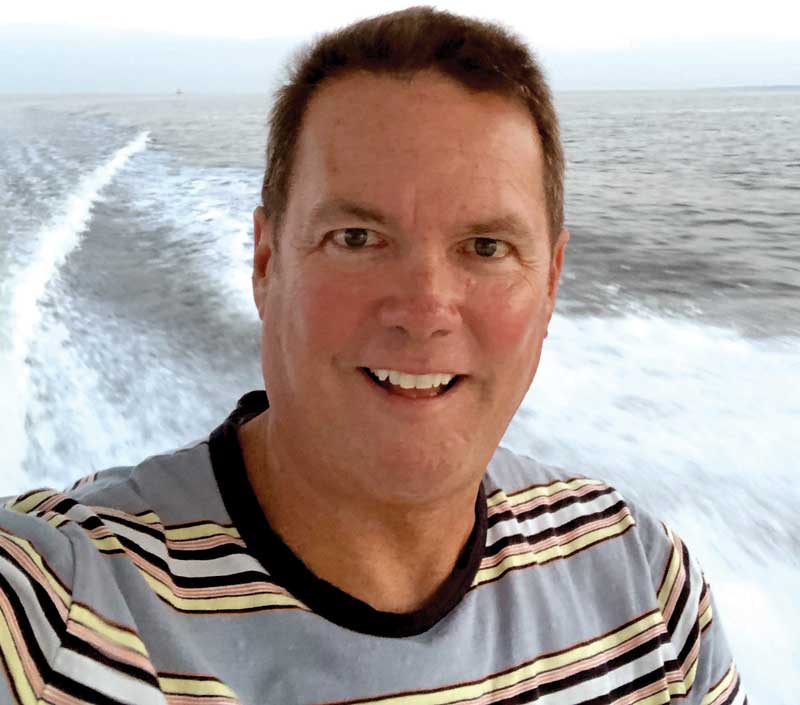 We Should Have Done it Earlier…
By Dave Gendell, SpinSheet and PropTalk Co-founder
Fifteen years later, this is still the first thing that pops into my head when I think back on the founding of PropTalk. We should have done it earlier. 
When Mary Iliff Ewenson and I started SpinSheet, back in 1995, it was a humble, bootstrapped effort; two sailors very focused on standing up an enterprise specifically to publish a single monthly magazine. For us, authenticity was everything. We—and our sailing friends—could sniff out a poseur a mile away and this was not a term we wanted associated with our magazine, or our business. We didn't talk down to our readers, overly explain things to them, or try to teach them how to sail. When we brought in outside writers, they were recognized experts or talented up-and-comers. When we were able to hire staffers, we aimed to hire sailors first. A specific brand of Chesapeake Bay-bred sailing authenticity permeated everything we produced. 
Though we primarily identified ourselves as sailors, we were powerboaters too, of course. Mary grew up in a boat-crazy family on the Severn, and I grew up among the same type of people on the Magothy. We and our families owned and ran powerboats and were on the water constantly. We could water-ski, run a trot line, and pluck soft crabs from the marsh. We could troubleshoot small outboards and bleed a diesel fuel line. Despite all this experience—and having the staff, equipment, and capability to stand up another title in relatively short order, we held back on creating "the powerboat version of SpinSheet" for 10 long years. Most likely, in retrospect, it was our lack of fishing bona fides that gave us pause. The fishing scene had dramatically expanded in the late 1990s following the reopening and recovery of Maryland's striped bass fishery and would feature prominently in any powerboat magazine. Neither of us was active in the fishing scene and as well-known sailors probably had less than zero credibility on the subject. We were not interested in bluffing our way through fishing reports and stories. Perhaps if we found the right person to serve as the editor, we could use our infrastructure and experience to do something, someday... But it would have to be a person we trusted and someone with a pretty unique skill set. 
Enter Joe Evans, a talented writer, photographer, and fisherman with deep experience in boatbuilding. Joe was a family friend of both the Iliffs and the Gendells and well known on the waterfront in Annapolis and beyond. Joe connected with Mary at the 2004 U.S. Sailboat Show. Maybe we could do something together...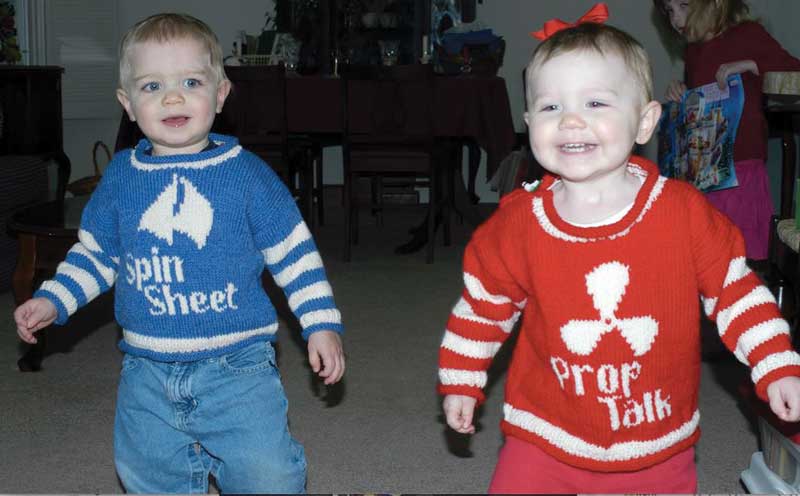 With Joe leading the editorial we could operate from an unassailable base of authenticity and after a few fruitful discussions we were off and running. There were so many great stories to be told, personalities to celebrate, boats and events to discover, and, of course, there were fish; a lot of fish. Joe and I sat in the same office and listened to Bob Dylan and a lot of long Grateful Dead songs as we worked. Along the way—in some punchy moment at a deadline—we decided that my SpinSheet name should be "Dave" and my PropTalk name should be "David"—to "differentiate." I still think that is funny. 
My favorite memory of those early days was parking at the Severn Inn and walking up the Naval Academy Bridge to photograph powerboats running up and down the river from the "Poor Man's Helicopter." A bunch of the early PropTalk covers were shot in this manner.  
Once the first few issues were distributed, the reaction from readers and advertisers was clear. A strong, fresh magazine specifically for Chesapeake Bay powerboaters was both rewarding to put together and landed in a sweet spot along the waterfront. We should have done it earlier...
For me, the most bittersweet memories of starting PropTalk happened close to home and still give me pause. Our twins were born smiling and healthy in late September 2004, just a couple of weeks before Mary and Joe's fateful conversation. A few days later, my mother-in-law, the beloved Mavis Scanlon, was diagnosed with a brain tumor. Even as we went through the fun, rewarding process of blocking out stories and signing up advertisers for the new magazine, there was a somewhat stressful vibe in the air, underpinned by true sadness. Mavis Scanlon passed away on Thanksgiving Day, 2004. She is still deeply missed. 
For me, the founding of this magazine will always be tied together with these life-changing events. Three amazing journeys started that fall: Delaney Gendell, Trey Gendell, and PropTalk Magazine. I will forever be proud of my modest contribution to all three. I cannot wait to see what comes next.  
About the Author: David Gendell is the co-founder of SpinSheet Magazine and the co-founder of PropTalk Magazine. He is a Coast Guard licensed captain, an accomplished racing sailor, and an eager fisherman. His book "Thomas Point Shoal Lighthouse" is published by The History Press and will be released on October 12, 2020. 
Since PropTalk is an Amazon Associate, if you buy Dave's book through the link above, Amazon will send us a little bit of cash.