The Grenadines are a string of islands that extends between St. Vincent and Grenada in the Eastern Caribbean, and although you could spend a full season exploring all the nooks and crannies here, there are highlights that you should definitely add to your charter itinerary, especially if it's short. The chain stretches along 40 miles in a northeast-southwest direction and includes islands with exotic names like Bequia, Mustique, Canouan, Tobago Cays, Mayreau, Carriacou, and Union, as well as lots of lovely islets and one-boat sized anchorages in between. If you charter a powercat out of Grenada and have just a few days to explore, spend time around the southern end of the chain and focus on the Tobago Cays and Union Island.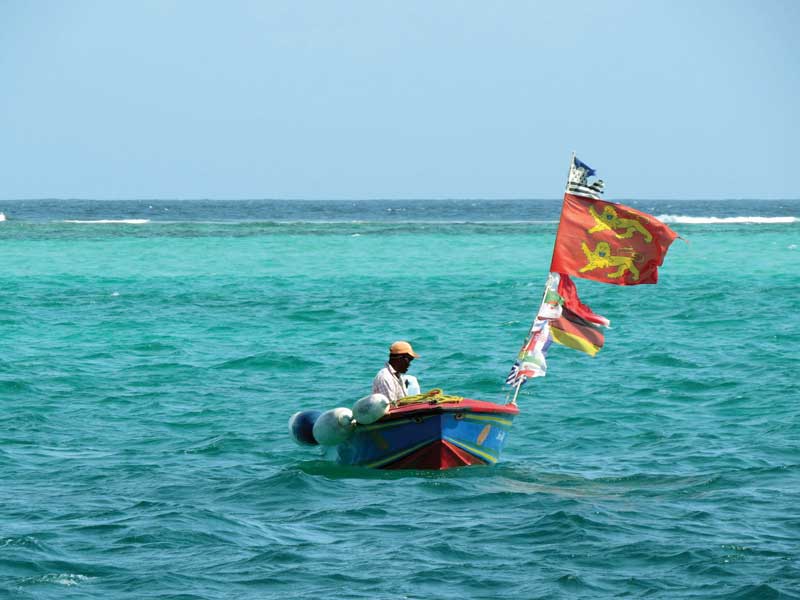 The waters around Grenada always seem to be busy with winds in the 20s and bumpy seas, but once you make it past the northern tip of the island and into the Grenadines chain, the islands provide a bit of shelter on their western sides. Going north, you'll pass Kick em' Jenny, an underwater volcano about five miles off Grenada that always makes me hold my breath, although not much seismic activity has happened there lately. Continue north and grab a mooring at Sandy Island just west of Carriacou. It's a Robinson Crusoe spit of sand where the footprints that day will most likely only be yours.  
The next morning, head up to Union Island for a bit of hiking or party fun. Union is the southern-most island in the St. Vincent portion of the Grenadines which means you'll need to check into the country as it's separate from Grenada. It's blissfully easy to do this. Just catch a mooring in Clifton harbor, walk to the airport, and the process will become clear. 
Union's 900-foot Mt. Parnassus looms over the island and beckons you to stretch your legs with a hike, but if you'd rather shop for provisions or souvenirs, you've come to the right place. The island's main town of Clifton has an open-air produce market and several grocery stores including one that sells gourmet coffee, chocolate, and bread. You can get lost here for the better part of the afternoon, picking up pineapple, shopping for jewelry, or cooling off with a smoothie. 
At sundown, the place to be is Janti's Happy Island. It can only be reached via dinghy or water taxi because it was built on the reef out of thousands of conch shells gathered by a local named Janti. Add a dinghy dock and a blender and you've got the loveliest little beach bar with the best views of the setting sun. Beware the rum punch though because the staff is generous with the alcohol.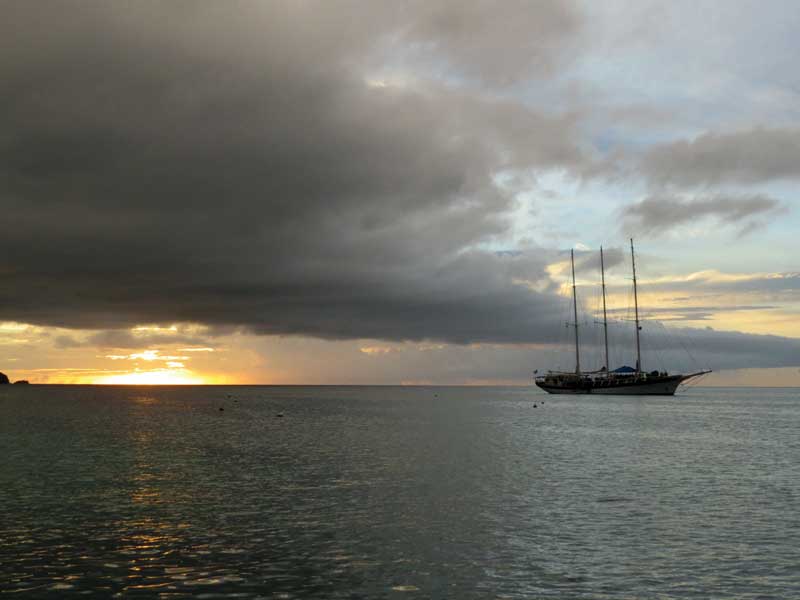 Because Clifton harbor is open to the southeast, it's not tenable in all conditions and that's when it's time to run to the western side to Chatham Bay, a large cove with a long beach dotted by many shack restaurants like Shark Attack that advertises "Figure Licking Good Food." Hike up the road to the ridge and sneak a peek at your next destination—the Tobago Cays just three miles to the north. 
The Cays are the kind of place that leave even world circumnavigators with fond memories of that special place. This cluster of small islands is tucked behind a horseshoe-shaped reef where every shade of aquamarine water invites you to relax and forget about civilization for a while. Parts of the "Pirates of the Caribbean" were filmed here, and you can imagine Captain Jack Sparrow with a rum bottle rounding the corner on the beach. 
Catch a mooring or anchor and then swim over to Baradel Island to snorkel with turtles in eight to 10 feet of water in a roped-off section where dinghies aren't allowed. The turtles know they're protected here so they graze on grass and occasionally come right up to check you out. 
There are no actual bars or real nightlife and not much to buy in the Cays, but that doesn't mean there's no commerce. This is a "boat boy" culture, so you'll see enterprising people of both genders heading your way in their colorful boats, hawking T-shirts, baked goods, or local shell jewelry. Ask them about booking an evening barbecue because that's a highlight of this place. Pull up your dinghy on a small beach and grab a picnic table under a string of bare lightbulbs. The lobster on the open grill is always divine and the conch chowder will leave memories, but bring bug spray and also your own alcohol if you can't manage any more rum punch.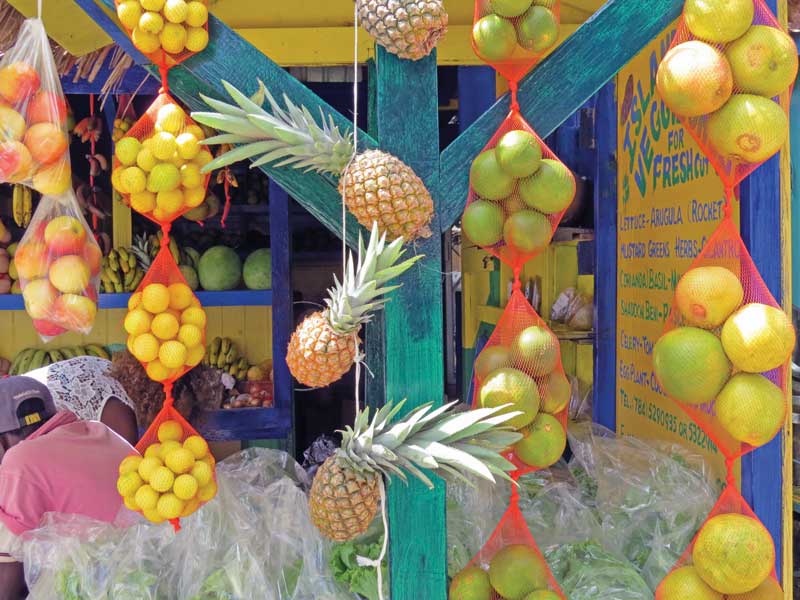 The Cays are made up of four small islands which were designated a Marine National Park in 1998, so rangers make the rounds to pick up fees used for the upkeep of the place.  
There's much more to explore from here up the Grenadines chain, but if you have just a couple of days, you'll need to turn around, check back out at Union Island, and head for Grenada. On the way back to the town of St. Georges where you chartered your boat, stop by a famous snorkel spot, the underwater sculpture park with over 60 statues set in shallow water in Moliniere Bay on the west side. British sculptor, Jason de Caires Taylor, is responsible for the installation, which was set down in 2006, and it's definitely worth a visit. 
With a fast powercat, you can do the above itinerary in four days, but remember that these two highlights are just the beginning of what the Grenadines have to offer so given a chance, take a week or two and explore the rest.
By Zuzana Prochazka