The 107th Cambridge Classic was held May 13 and 14 at Great Marsh Park in Cambridge, MD. The Cambridge Power Boat Racing Association (CPBRA) was able to hold testing Friday afternoon., but heavy rain and high winds prevented racing Saturday, May 13. Sunday's weather made up for the dreary start to the weekend with all heats run. A total of 66 boats participated, traveling from as far away as Louisiana, Canada, and Michigan.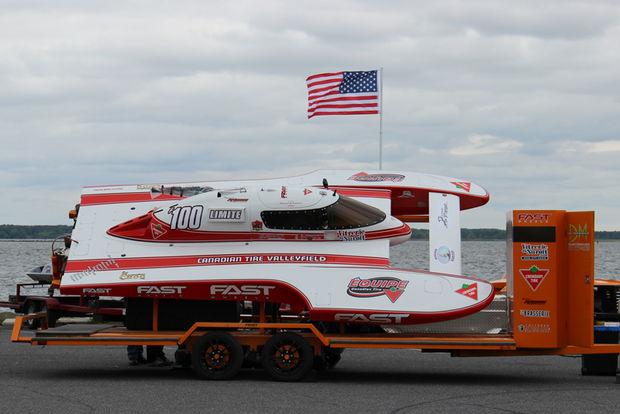 The community of Cambridge rallied to lend a hand after the unfortunate weather cancellations. The CPBRA had to close parking at Great Marsh Park due to the soggy ground, but parking was moved to Sandy Hill Elementary School and Blackwater Shuttle provided a shuttle bus service to ferry spectators from the parking area to the entrance gate. According to CPBRA vice commodore Allan Nelson, there was thankfully only one accident of the day. "While several racers suffered from first outing of the year gremlins and had to be towed in, only one accident occurred when Mario Blain blew over his GP777
Canada Boy
in the first turn of the elimination heat," says Nelson. "Mario did a spectacular moon shot only to land right side up." There was some damage to the boat but thankfully Blain was released after a thorough check by emergency medical personnel on-site. For photos of the dramatic flip, click
here
. The prestigious
Nathan Index of Performance Award
was won by Tom Pakradooni in his Jersey Speed Skiff JS7. The
Skeeter Johnson Memorial Trophy
, awarded by the Hill's Point Gang, went to GP777
Steeler,
driven by Bert Henderson. [gallery columns="5" link="file" ids="19801,19800,19802,19803,19804"]
Check out this awesome 360 video by TK Kustoms of Formula 2500 competitors!
Let the video load and then use your mouse to turn the camera from side to side.
Here's another awesome video, posted by the Hydroplane Racing League, that shows drone footage of the race.
Results
2.5 Litres:
Grant Hearn, #52
Alexis Weber, #55
Frederick Couturier, #313
Tommy Shannon, #4
Derek Demers, #44
Formula 2500:
Yan Beaupre, #36
Gullaume Charette, #17
Donald Leduc, #48
Thomas Huganir, #69
Karson Kennedy, #25
Al Thompson, #92
Tyler Kaddatz, #519
Hydro 350:
Jimmy King,#12
Donny Allen, #14
Richard Haineault, #2
Todd Liddycoat, #97
Remy Leblanc, #799
Grand Prix:
Bert Henderson, #777
Marty Wolfe, #93
Mike Monahan, #35
Ken Brodie, #50
Martin Rochon, #773
Mathiew Daoust, #9
1 Litre Hyrdo:
J Michael Kelly, #1
Keith McMullen, #80
Valerie Wilson, #54
Jersey Speed Skiff:
Tom Pakradooni, #7
Jimmie Stewart, #10
Courtney Stewart, #721
Billy Sewell, #991
Michael Hendrickson, #61
[gallery columns="5" link="file" ids="19806,19808,19809,19810,19811,19812,19814,19815,19816,19817,19818,19819,19820,19821,19822,19823,19824,19825,19827,19828"]