Winter is a great time to think about buying a boat, new or used. There's plenty of time to put in the necessary research and there are several boat shows around the Mid-Atlantic, including the Baltimore Boat Show January 23-26, where you can actually climb onto boats, open the hatches, and speak with brokers first-hand. Below, a few brokers share their boat buying tips to keep in mind at upcoming boat shows.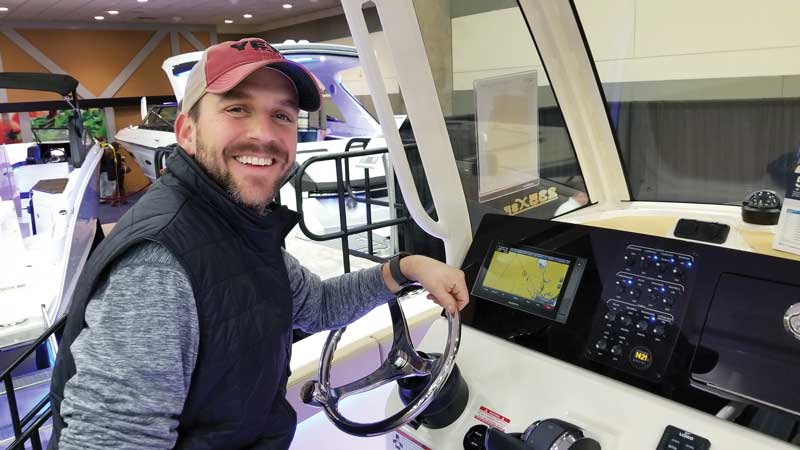 We recently caught up Grady Byus at North Point Yacht Sales to pick his brain on tips to keep in mind when purchasing a boat. Grady recommends:
Write down your needs vs. wants list for your ideal boat.
Educate yourself and try to narrow it down to your top three choices. Try and see those boats in person, like at the Baltimore Boat Show.
Call ahead to make an appointment to see those three boats at the show and get as much information beforehand so you are prepared. 
Ask when the best time to buy is. Incentives can be show-driven or seasonal.
Go for a sea trial! You should try before you buy if at all possible.
Make sure you are working with a salesperson you like and trust! 
We also spoke with Curtis Stokes at Curtis Stokes & Associates, Inc. Here's what he had to say:
Hire a buyer broker, a real buyer broker. 
A real buyer broker travels with their client rather than simply scheduling courtesy showings for their client with the listing broker. There is no value to a buyer when their chosen buyer broker sits back at the office while the listing broker shows them the boat. A buyer broker should be present for all showings to learn more details about what a buyer really likes and dislikes and is present to point out positives and negatives about each boat.
Always complete a full pre-purchase hull survey and engine survey on every purchase. 
Do not cut corners on this expense. This is your due diligence opportunity to hopefully avoid potentially very expensive problems later when you own the boat.
Hire a documentation company or maritime attorney to handle closing. 
It is worth every cent charged for the peace of mind that your boat is documented or registered correctly. I have witnessed many sales where the documentation company found a lien on the boat at the USCG or state registration levels, and often the seller thought the lien had been paid off and cleared and told the buyer and broker this. Don't ever take any seller's or broker's word that the title to any boat is clear. Do your own due diligence. 
Always have the seller sign a personal guarantee of title, especially if the boat is owned in a corporation or LLC. 
Once closing has occurred and you own the boat, the seller has probably closed the LLC or corporation and then you have no one to go after if a lien is discovered later. Remember, liens follow the boat, not the seller.
Other Things To Keep in Mind:
Ask yourself, how will you use the boat? If it will be a family boat, you'll want to get their input as well. Do you plan to overnight on the boat or will it strictly be for daytrips? Will you spend most of your time fishing or do you want to be able to tow a wakeboard or tube?
New or used? There's a lot of peace of mind with buying a shiny, brand-new boat. But boats are also a big investment. Purchasing a previously owned vessel could get you more bang for your buck, or they could come with their own list of problems. Be realistic about your budget.
Research the other costs that come with boat ownership, such as insurance, registration, marina costs, and regular operating expenses such as fuel and maintenance. And again, be realistic about what you can afford.
Don't just look at one boat. Once you've narrowed down the type of boat you want based on how you will use it, check out a few models from a few manufacturers in your size and price range. The more boats you evaluate, the better your decision-making process becomes.
Try and find someone or a community of people (Facebook groups are a great place to start) who own boats like the one you intend to buy. Ask them questions about the boat's strengths and weaknesses. First-hand knowledge will be very helpful when it comes to narrowing down your options.
Go for it! Once you've completed the necessary research and have found that perfect boat, it's time to sign the dotted line and let the adventures begin.
---
Click to our Baltimore Boat Show guide for all the details on the show, January 23-26!