In recent decades, people have been involving their pets in more family activities. This includes many boat owners, who are starting to welcome their
dogs aboard
. You may enjoy spending a day on the water yourself, but wait until you see your pup happily sniffing the air and enjoying the breeze before jumping into the water to dog paddle around. For many dogs, it's simply the most fun they will ever have. But when bringing along the family pet, you'll need to take a few additional steps to prepare for the journey.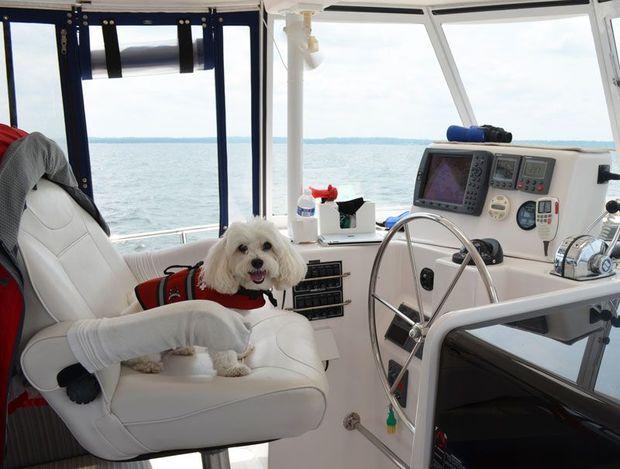 Every boat, captain, dog, and lake is different, so you'll obviously have to adapt these suggestions to your circumstances. Just be sure to consider each one carefully before leaving the dock.
Be Prepared for Emergencies
As the saying goes: You always want to hope for the best and prepare for the worst. This means having a plan to rescue your pup should he get himself into trouble, and also bringing along a proper first aid kit for your pooch. The first aid kit is pretty easy to get your paws on, as many manufacturers create kits filled with exactly the kinds of things your dog may need in case of an injury or illness. Devising a safety plan is a little more difficult, as you'll have to create a procedure that will work for your specific boat and dog. However, the basic steps include piloting the boat over to your struggling dog while keeping an eye on him, and then lowering the ladder or platform so that he can get back in. Never jump in and try to save him yourself, as he may inadvertently drag you down with him, or you both may get separated from the boat.
Fit Your Dog with a Life Jacket
Dog life jackets provide additional insurance against your dog getting pulled under, and they should always be used when boating in deep water. Keep in mind that even strong swimming dogs like Labradors should always have a dog life jacket when out at sea, as rough waters can easily overwhelm even water-loving breeds. Several manufacturers make excellent life jackets designed to fit dogs comfortably, and many dogs actually love wearing them. Be sure to purchase a life jacket that fits your dog snuggly, and will not allow him to slip out when he struggles. If your dog is not accustomed to wearing harnesses or clothing, you may want to introduce him to the life jacket while you are still at home, that way he doesn't resist your attempts while on the boat.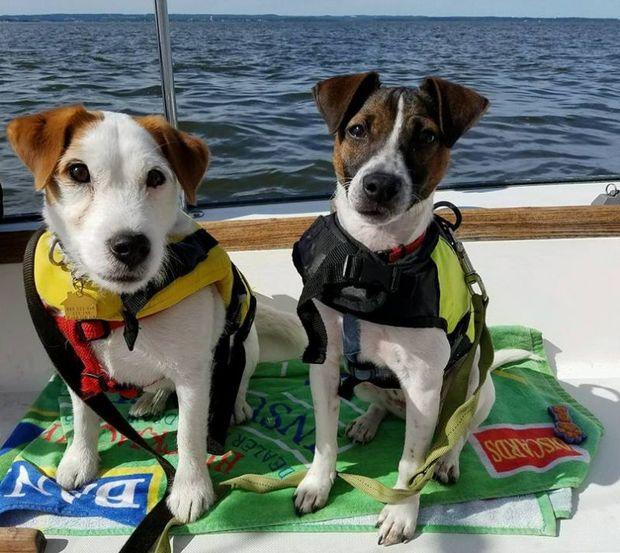 Bring Enough Food and Water
Being out in the hot sun all day will dehydrate your dog, so be sure to bring plenty of water along (don't forget a water bowl or portable dog water bottle, either). While you should obviously prevent your dog from drinking salt water, it is also wise to prevent them from drinking lake water too. While dogs are rarely as sensitive to bacteria and microbes as humans are, they do occasionally get sick, sometimes seriously so. While you won't need to bring along food for a half-day outing on the water, you will need to bring at least one meal for day-long trips. Bring along the same food he eats at home to avoid upsetting his tummy and make him chill out for about an hour after eating before going back in the water.
Provide Safe Access to the Boat
Ladders may allow your human passengers to get into and out of the water easily, but most dogs will struggle to use these types of ladders. Accordingly, you'll want to consider providing your dog with some type of doggie steps or a loading platform ramp that can provide your pup with easy access. You may need to help teach your dog how to use the platform or steps by getting in the water with him. Take the process as slowly as necessary to help your dog get comfortable with the procedure, and do not allow your dog to swim in deep water until it is clear he can re-enter the boat when he wishes.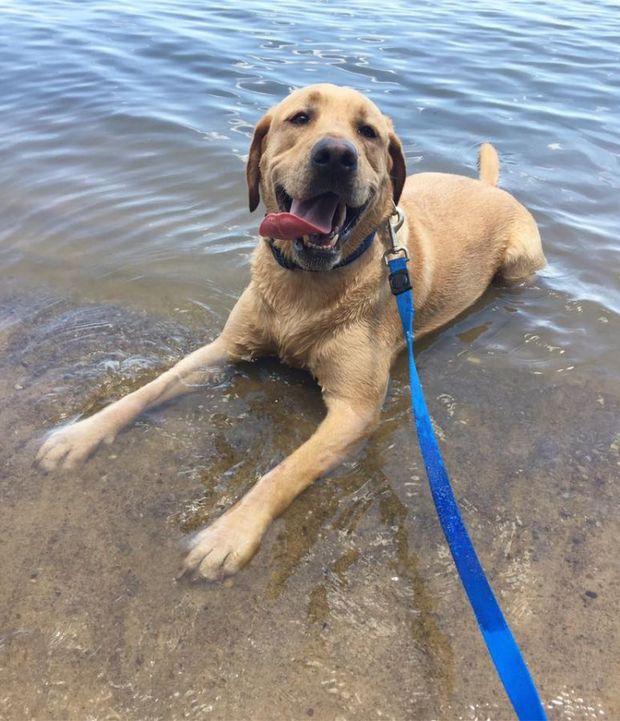 Bring Doggy Sunscreen
The majority of humans (especially the pale kind) know to lather up the sunscreen in the summer. What you may not know is that dogs need sun protection too! Dogs with very thin or very light fur are especially at risk. If you can see your dog's pink skin under their fur, they definitely need to be protected! Dog sunscreen comes in a number of different forms, from wipes to sprays, allowing you to pick an application method that will work best for your pooch.
Continue to Embrace the Safety Practices You Do on Dry Land
You wouldn't take your dog out for a walk without his collar and identification tags, so you should always be sure to keep these items on him when you go out on the boat, too. Dogs occasionally wander off while swimming or when frolicking at the dock, and you'll want to have the best chance possible at being reunited quickly should this occur.
Don't Forget about Potty Breaks
Kids may pee while swimming in the water without giving it a second thought, but your dog won't be able to go like that. Male dogs will usually need to stand up and females will generally need to squat in order to empty their ballasts. And both will need to scrunch up into pooping-posture if their bathroom needs dictate a more elaborate elimination. If you are sticking pretty close to shore, this isn't a real big problem. You can just make your way to land and walk your dog as you normally would (be sure to clean up behind your pooch). However, if you're heading out into open waters, you'll have to use a pee pad of some type. Most are made of highly absorbent paper, but you can actually get a patch of potty pad made with real, live grass, if your pooch demands more natural stimuli.
And Don't Forget to Have Fun!
If you've spent a lot of time on the water, you know that things can go bad very quickly. However, by following sound safety practices, you can avoid most dangers and be well-prepared for any that do occur. The same is true for trips that include the family dog among your passengers! So, follow the suggestions detailed above  to help ensure your next sea outing ends with smiles, memories, and the smell of a wet dog. Click to 
K9 of Mine
for more boating with dogs safety tips. To view our PropTalk Boat Dog photo gallery, click to 
proptalk.com/boat-dogs
.
by Meg Marrs, founder and senior editor at K9 of Mine