You love the idea of running a jet boat, but you haven't yet seen one big enough to satiate your boating appetite? It's true that up until now most of the major jet manufacturers' boats topped out at 24 or 25 feet and an eight-foot, six-inch beam, but for 2019 Yamaha ups the ante with a 27-footer that stretches nine feet from gunwale to gunwale: the Yamaha 275E.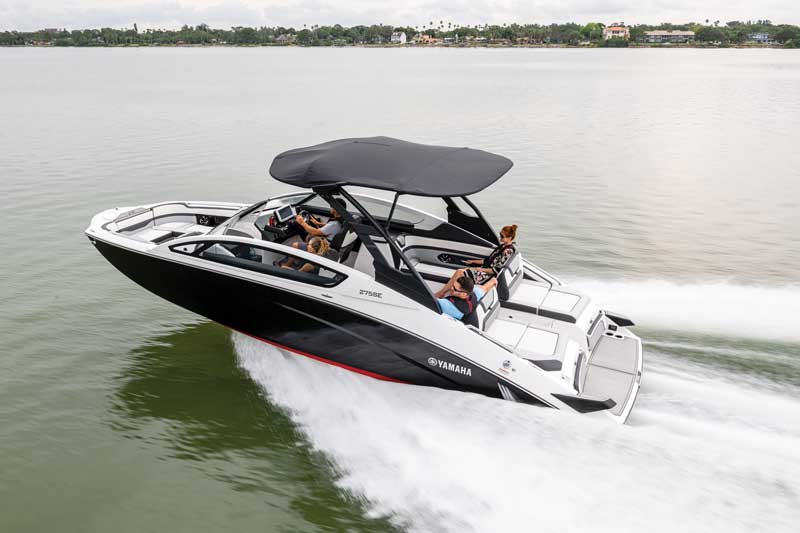 Like most of the other jet boats in the Yamaha line, the 275E is a bowrider—but there's a lot more of it. Two additional trim versions are also available: the 275SE (an upgraded version for watersports enthusiasts which adds in a wakeboard tower with an extended Bimini) and the 275SD (a luxury version with an expanded galley, electronic power steering, and a hard-top with skylights). In all of these cases the larger platform naturally accommodates items you simply can't shoehorn into a smaller boat.
For starters, check out the stern loungers. Yamaha's 24-foot former queen of the fleet does a pretty good job with the stern seating by molding in a backrest and adding a cushion to the step down to the swim platform, but the 27-footer's loungers with sliding backrests take comfort right up to La-Z-Boy levels. Even better is the addition of Yamaha's new "Swim Up" stern seating. These are like removable underwater seats that are supported by arms coming down from the bottom of the swim platform. They give you a place to park your posterior in a semi-submerged position. Added bonus: reverse the support arm so it points up into the air instead of down into the water, flip the seat over, and you'll have a small cocktail table with two molded-in cupholders elevated above the waterline. Nifty.
More advantages that come thanks to the boats' largesse include large center-facing settees in the cockpit in addition to the helm and passenger's chairs, bow filler inserts that allow for multiple seating and sunpad configurations, an expansive head compartment inside the portside console, and a mini-galley with a sink, drawer, and stowage compartment containing a pull-out cooler. 
One unexpected perk is the standard-issue 12.3-inch Connex touch-screen display. This appears only on upgraded 24-foot models (a seven-incher is the base Connex), but is a standard feature on the 275s. Much like the touch-screens in many new automobiles, the Connex acts as your interface for navigation, stereo controls, digital switch control, and engine data display. In today's world of finger-tap technology, it makes taking control at the helm a whole lot more intuitive.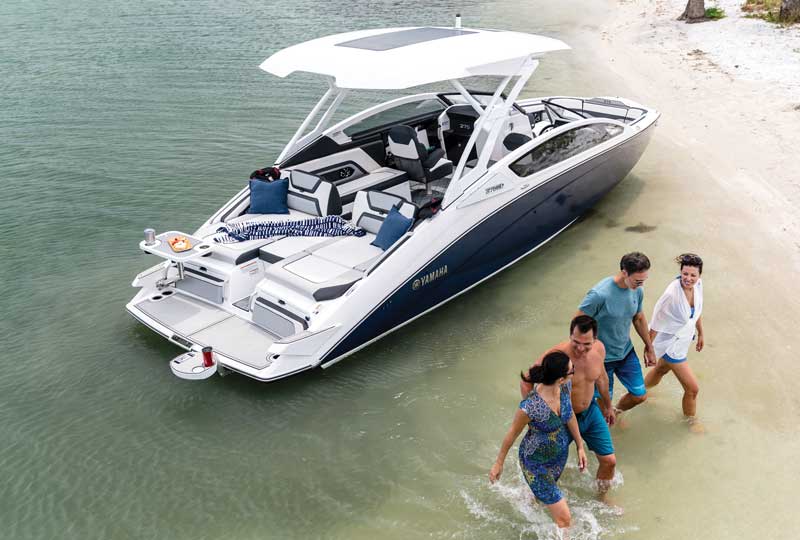 Speaking of taking control at the helm: on the jazzed-up SD model of the 275, if you take a closer look just below the Connex display, you'll see a pair of paddles protruding from the steering column. What gives? This is Yamaha's "DRiVE" system, which allows you to apply the throttle in forward and reverse with the left and right paddles. We tested it out when the 275 was introduced, and while it took a little getting used to (okay, some bumper-boat style docking may have occurred at first), it gives you a new way to control the boat at slow speed.
Y-A-W-N. Slow speed is so boring. So let's shift gears and talk about the one thing every jet boat owner loves: thrilling joy rides. The 275 models come with a pair of Yamaha's 1.8-liter supercharged SVHO engines under the hood. Yamaha doesn't publish a horsepower rating for this engine, but most insiders agree that they produce around 250 horsepower apiece. And with all those horses blasting water through 160 mm high-pressure pumps, the 275 can easily break the 50-mph barrier. 
At slower speeds we felt the handling and turning radius weren't quite as impressive as usual for a jet boat—but then we hit the throttle. Like all jets the 275 depends on directed thrust to maneuver, and since this model's larger than the others, it needs oodles of thrust to shift into sporty-mode. So tell your passengers to hold on tight, keep those throttles pinned down as you whip the wheel around, and that thrill ride will be thrilling, indeed.
By Lenny Rudow
Yamaha 275E Specifications:
LOA: 27'0"
Beam: 9'0"
Draft: 1'10"
Displacement: 5050 lbs.
Max HP: 500
Fuel Capacity: 90 gal.
Water Capacity: 14 gal.
Price: $99,999
Dealers: