Years ago small convertible fishing boats were a dime a dozen, but these days it's rare to see new models under 40 feet introduced. Viking broke that trend with the Viking 37 Billfish. This boat is not, however, designed like your average convertible.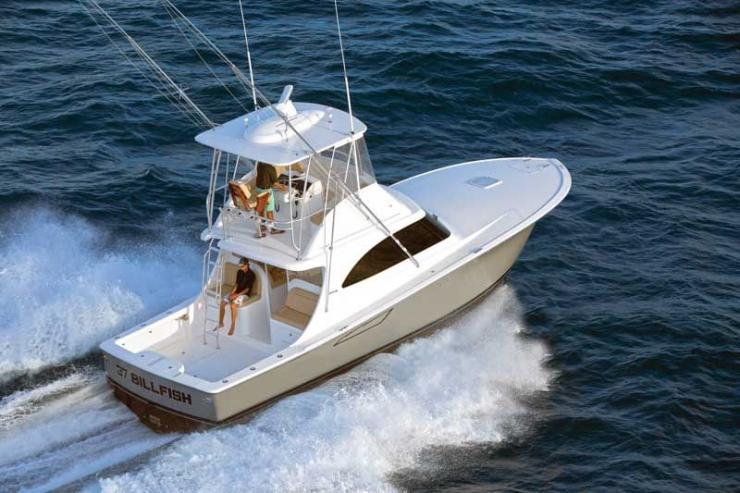 First off, thanks to its smaller size unlike most other modern fishing boats with flybridges you won't need to spend millions of dollars to put one in your slip. But even more unusual is the way the boat's laid out. Rather than the usual enclosed saloon under the flybridge, the 37 Billfish has an open helmdeck with a dinette, a center-facing settee, and a lower steering station. This allows you to run the boat more or less like an express, staying at deck-level so you can dart back into the cockpit and partake in the fishing action without having to navigate a ladder.
True, this does mean the enclosed portion of the cabin is smaller than it would be if the helm-deck were utilized for living space. Swing open the forward cabin door and step down below, however, and you'll find there's still room up there for a fully enclosed stand-up head, and a compact galley. The real shocker? There's also an enclosed forward stateroom. Most fishing boats of this size have a wide-open cabin with berths forward and zero privacy, but in this case, you can stretch out on the queen berth (or a pair of over-unders, should you so choose) and close out the rest of the world behind actual doors.
One other thing you'll notice about that cabin: it's Viking through and through, with oodles of glossy varnished woodwork, ultra-modern fixtures, an entertainment center with a 20-inch flat-screen TV and stereo system, and solid-surface countertops. The boat's overall construction follows Viking's fishing yacht norms as well. The hull, deck, and stringers are vacuum-bagged, and in many areas, foam-cored. The boat gets a vinylester barrier coat of resin, and belowdecks areas such as the engineroom and bilges are finished in gel coat.
What about an option for a Seakeeper gyro-stabilization system, with a dedicated space pre-prepped for the unit? Check. A Palm Beach-style centered steering pod on the flybridge? Check again. Air conditioning piped into the lower helm-deck? Triple-check.
Power comes courtesy of a pair of 550-hp Cummins QSB6.7 diesels, which drive the boat to a 26-knot cruise at 2700 rpm (while burning 32 gallons per hour) or a 29-knot cruise at 2900 (burning around 40 gallons per hour), and a top-end coming close to 35 knots at 3300 rpm. Pockets are incorporated in the hull to keep draft a skinny two feet, eight inches.
Fishing-wise, you won't be able to ask much more from a convertible that's this compact. The cockpit is 86 square feet, and is capped up forward by a pair of aft-facing mini-mezzanines that make for comfy bait-watching spots. The transom houses a fishbox with can be plumbed as a livewell, and a bait freezer and tackle stowage are hidden beneath those aft-facing seats. Thirty-foot Rupp riggers will help you set an offshore spread, and after you swing the gaff, standard fresh/raw water washdowns on the inwales will assist in the clean-up. If you'd like to fish the 37 Billfish in the Bay as well as offshore, you'll note the six flush-mounted gunwale rodholders are complemented by five rocket launchers on the bridgedeck for your board rods. We wish that number was six to even out the spread, but truth be told striper trolling isn't this boat's main design mission, and adding one more won't be a big deal.
Complaints? Some people will beef about the loss of the saloon, but this is a trade-off of luxury space for fishability, pure and simple. What are you really more interested in, catching those billfish the model is named after or lounging around in a cabin? Besides, truth be told if you want a 30-something convertible, these days there just aren't many around to choose from—and after spending some time aboard the 37 Billfish, getting one won't be a tough choice, anyway.
Viking 37 Billfish Specifications:
LOA: 37'8"
Beam: 13'10"
Draft: 2'8"
Displacement: 29,329 lbs
Max HP: 1100
Fuel Capacity: 440 gal.
Price: Approx. $730,000
For more boat reviews, click to Boat Notes.
By Lenny Rudow