Waterfowl hunting has a long and storied history along the Chesapeake, and waterfowlers need a boat. But it can't be any old boat—along with being perfect for waterfowling it also needs to be a good crabbing skiff and a decent fishing platform, because every self-respecting gunner from Havre De Grace to Norfolk enjoys these waterborne activities as well. Case in point: the Tracker Grizzly 1548 T Sportsman.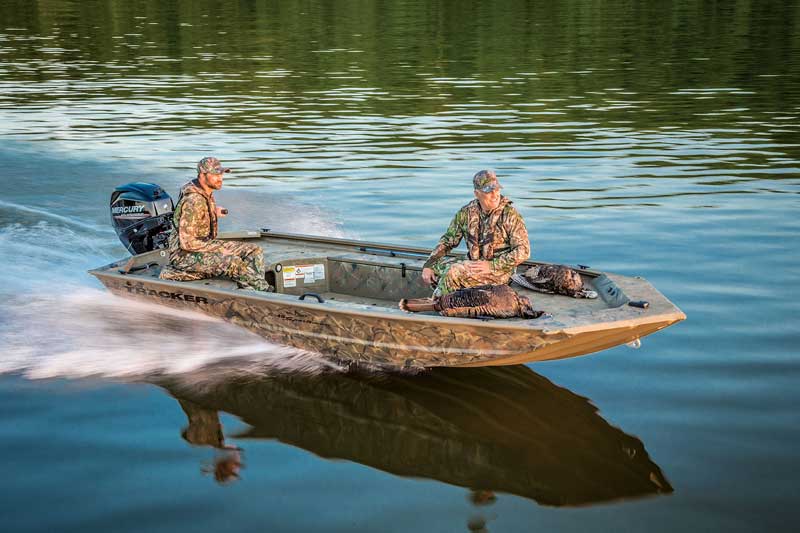 From the hunting perspective, this aluminum rig has everything you need right out of the box. Naturally there's a camo finish (grassland or woodland, your choice), and it comes in a Sure Tread powder coat. This stuff is more like a truck bedliner, and it's both grippy and protective. That's important when you're climbing out of the marsh and over the gunwale in mud-covered waders. 
The starboard-side gun box is lockable and removable; the port side compartment has a rod box, and the bowdeck stowage compartment locks as well. The center of the boat is kept open for stacking in those decoy bags, and the raised bowdeck can be used as a casting deck for fishing during the warmer months of the year, or you can add a pedestal-mount seat up front. Additional accoutrements such as tackle trays and rod holders can be added via the Versatrack mounting system which is built into the gunwales.
You'd expect to find most of that stuff in a waterfowling boat, but here's one smart touch that many manufacturers overlook: Tracker welds on stake-down eyes at all four corners, so you can set anchor poles all around the boat and hunt from a more stable platform. Another surprise is hull thickness, which is .100-inch 5052 aluminum. On boats this size, many manufacturers use .080-inch aluminum instead.
Major shocker: the standard rig, which includes a 25-horse Mercury outboard and a powder-coated trailer with Super Lube hubs and a swivel jack, goes for under $10,000. At that price you also get a 500 GPH bilge pump, courtesy lighting, a cranking battery, and toggle switches; and the boat's even pre-wired to accept a bow-mount trolling motor. A blind will, of course, cost a bit more (Beavertail has full boat-blinds that will fit it, which run at around $700). 
As far as crabbing rigs go, you're on your own, which is true of virtually every boat out there. No worries, though. That Versatrack gunwale mounting system offers a sturdy downrigger mount which can serve as an excellent platform for a PVC "stick," or you can go cleat-to-cleat just forward of the transom.
How will the Grizzly 1548 T Sportsman handle the waves? Much like other aluminum rigs of this size, you'll want to stay in the protection of the tributaries when the wind's blowing and only venture out onto the open Bay when it's calm. The boat does have seven degrees of deadrise and could be used for sea duck hunting as long as you're careful about choosing your days, but remember, this is a relatively small, light boat. Hull weight doesn't even hit 700 pounds, and these factors mean that it'll get a bit bumpy in a chop. On the flip side of the coin, shoving the bow up onto a marshy mud bank and then dragging it back off as the tide drops will be a piece of cake. Trailering it with a minimal tow vehicle will be no problem, either.
Many traditionalists will get a plain-Jane jon boat and then go about adding decking, accessories, and the like. But if you want a waterfowling machine that's ready to hunt right out of the box and can easily be modified for effective crabbing and fishing as well, the Grizzly 1548 T Sportsman could be exactly what you're looking for. 
Specifications
LOA: 16'4"
Beam: 6'0"
Draft: 0'6"
Displacement: 688 LBS
Max HP: 25
Fuel Capacity: 6 GAL
Price: approx. $9395
 
By Lenny Rudow