The new Tiara 38 Sport LS is unlike any Tiara you've seen before—prepare to feel your heart beat harder.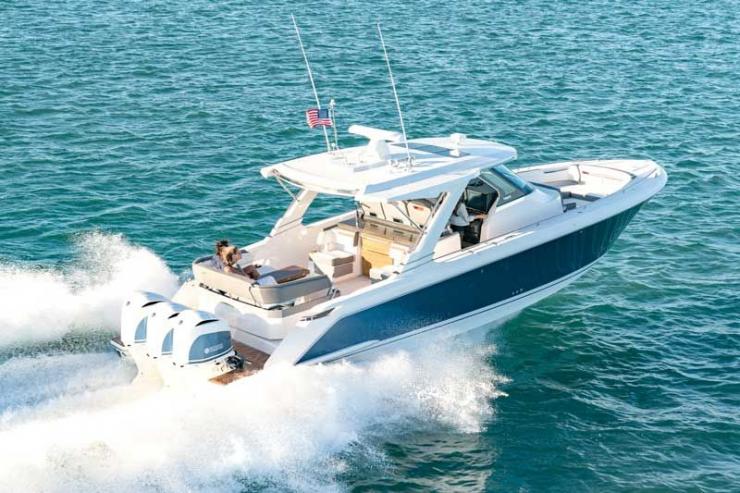 Without knowing a darn thing about you, we can say one thing for sure: you're never seen a boat quite like the Tiara 38 LS before. Period. Sure, it's Tiara's first outboard-powered boat. Yes, it adopts the cabin console/side walkthrough/bow cockpit arrangement that exploded onto the boating scene and has become astonishingly popular in just a couple of years. Of course, it has performance you'd never expect from a Tiara cruiser. But set all of these "surprises" aside, because it's the aft cockpit that's going to send your lower jaw dropping to the deck.
The stern of the boat is capped off by a large U-shaped settee, with a dinette table in the center. It's cushy, it's beautiful, and the teak table gleams with layer upon layer of lacquer. No big whoop—you expect that from a Tiara. But reach down, flip a latch, give one side of the settee a shove, and it begins to spin. The entire unit, including the deck in its center, is mounted on a massive bearing that allows it to turn around 180 degrees before locking back in place.
When you're cruising, it's a forward-facing lounge as on any other boat. But when you're sitting at anchor enjoying the sunset or watching the kids play in the water, give it a spin, and the entire social area faces aft. Getting it rotating takes about as much effort as sliding open a cabin door, and once it locks into position, it's solid as a rock. Sweet. As if that wasn't enough to send your head spinning, check out the console cabin. It may seem small for a 38-footer, but that's because the emphasis of this boat is clearly focused on the great outdoors. Yet it still offers weekending abilities with a fully enclosed stand-up head, a forward berth, and a microwave oven. Aside from that microwave, the food prep gets done outside at the galley integrated into the back of the helm seating unit. It has a sink, stowage, a refrigerator, and of course an electric grill.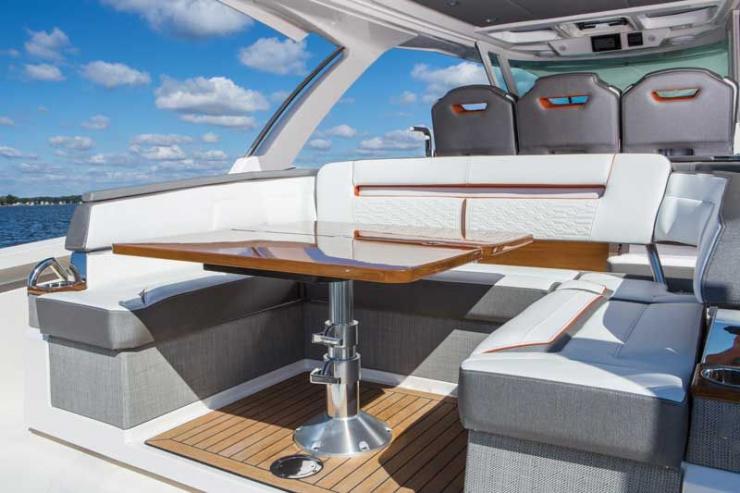 What the Tiara offers in exchange for keeping the cabin so svelte is a full-sized bow cockpit, with seating for four acquaintances or six good friends. The walk-through is on the starboard side, but the port side is decked at gunwale height, so it's actually quite easy to go from the bow to the stern on either side. Most boats of this genre limit travel to one side or the other which can get difficult on a crowded boat, so this is a perk you won't find on the competition.
Another thing you won't find on most similar boats: a time-to-plane under six seconds, a 55.6 mph top end, and a 40 mph cruise at 4500 rpm. With three monster Yamaha F350C four-stroke powerhouses lining the transom, the 38 deserves to have "Sport" in its name. True, you will be burning a rather mind-bending 97.8 gallons per hour at wide-open throttle, and even at the most efficient cruise (34.8 mph at 4000 rpm), fuel economy never quite reaches one mile to the gallon. But you have to pay to play, and on this boat you can play hard.
Speaking of playing hard: the entire time you do so, you'll be ensconced in rather extreme luxury. Sitting at the helm, for example, you'll not only enjoy being wrapped by the triple flip-up bolster seats with flip-down arm rests, you'll also be bathed in chilled air. Yes, the helm station is open, but it's also air-conditioned. It also features two-level footrests, a tilt steering wheel, and of course a glass helm electronics suite that's tied into a NMEA 2000 network. What more can we say about this boat? Should we point out the extended swim platform wings that run to the back of the outboards on either side? The integrated curved windshield and hard top? The designed-in space for an optional Seakeeper gyro? Yes, we should, but the list could keep going and going for pages and pages. So instead we'll just suggest you take a test ride and check out the Tiara Sport 38 LS for yourself—just as soon as you manage to pull your jaw up off the deck.
To check out more of our boat reviews click to our Boat Notes page.
Tiara 38 Sport LS Specifications
LOA: 38'1"
Beam: 12'6"
Draft: 3'6
Displacement: 18,600 lbs.
Max HP: 1050
Fuel Capacity: 331 gal.
Price: Approx. $499,900
by Lenny Rudow