Why have pontoon boats become so darn popular in recent years? The answer is simple: few activities are as peaceful and calming as kicking back in a relaxing environment while afloat, and few boats are as adept at creating that relaxing environment as pontoons. Then consider that modern "tri-toon" models with triple pontoons offer better performance and seaworthiness than the pontoons of yesteryear. They're great for visiting swimming beaches or pulling the kids around on tow-toys, and they rock and roll a whole lot less than most monohulls, so it's easy to see why so many people love 'em. One that caught our eye recently is the Suncatcher Fusion 324.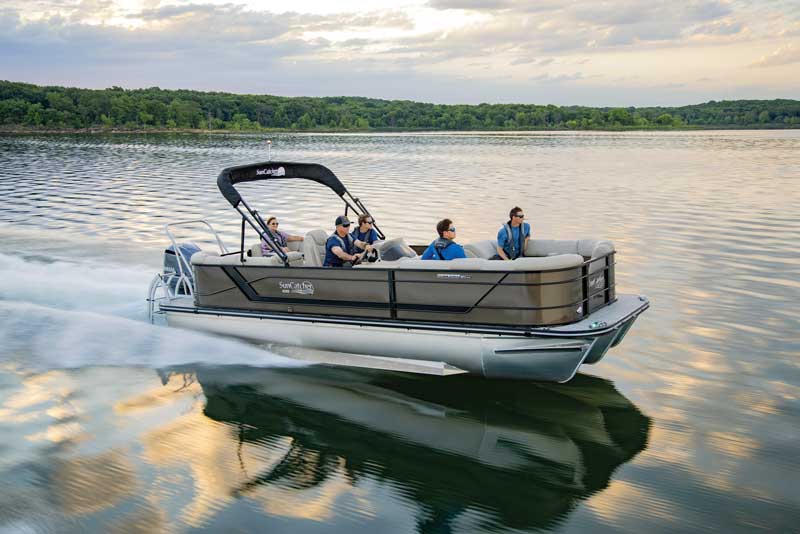 The Fusion 324 lineup has that extra center "log," and comes in three flavors: the RC, RCX, SL, and SS. All are available—critical for a Chesapeake Bay boater—with a saltwater package. They have construction features like foam-filled pontoons with 0.125-inch aluminum nose cones through-bolted to crossmembers, crossmembers on 16-inch centers from bow to stern, performance lifting strakes, anodized aluminum deck rails, and full-length under-deck shielding. And while pontoon construction perks like these may not be as widely appreciated as some fiberglass boat construction methods, you can boil it all down to this: Suncatcher backs their boats up with a five-year bow-to-stern warranty topped by a limited lifetime warranty on external seams; they are NMMA certified, and for two consecutive decades they've received NMMA CSI awards, which means they rank 90 percent or higher in customer satisfaction year after year.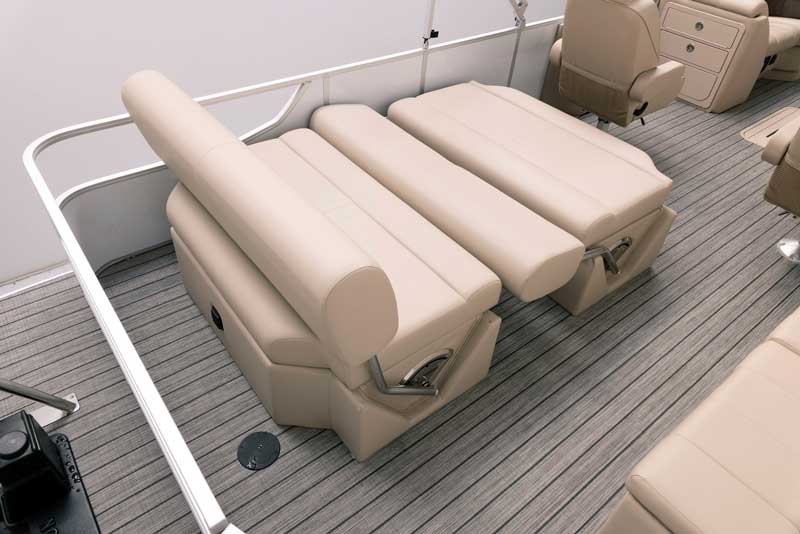 So, what sets the RC, RCX, SL, and SS apart from one another? It's a matter of deck layout and furnishings. The RC features four center-facing sofa loungers, two forward and two aft, with helm and passenger's pedestal chairs amidships. The RCX eliminates the passenger's side pedestal chair in favor of extending the port-side sofa. The SL has the two couches forward, but in the stern has transforming double fore/aft swing-back seats that convert into a mega-lounger/sunpad. And the SS version has a pair of full-length aft-facing loungers behind the helm and a forward-facing lounger on the passenger's side, with twin sofas forward.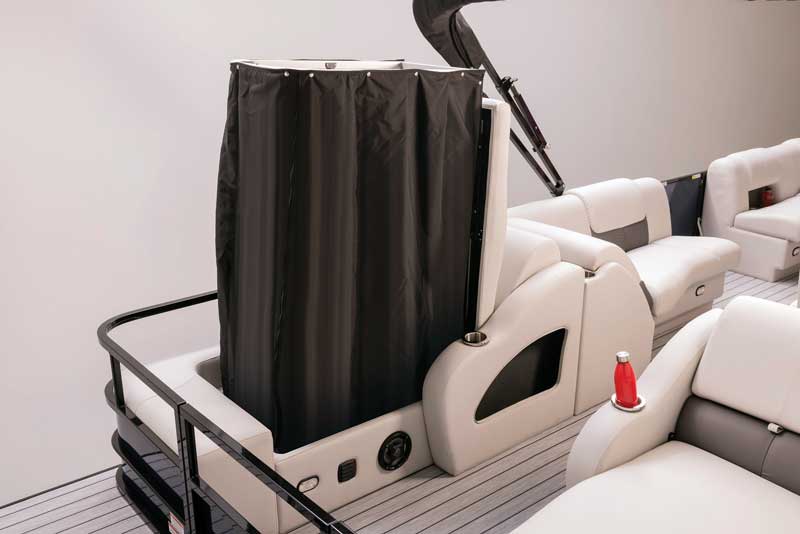 We've checked out the SS and RC versions in person and can certainly attest to one thing: you won't be disappointed by the cushy-factor. The sofas and loungers are sink-into-it comfortable; movable arm rests with cup holders can be shifted where you want them, and the captain's chair will make you feel like an admiral. Some additional surprise perks we found included a pop-up changing room, an integrated ski locker, and on the SS version, glove boxes with USB ports built into the lounger arm rests. We also noted that the rotomolded furniture bases have vents added, to make sure mildew growth isn't a problem in the moist environment.
What about that "better" performance we mentioned earlier? Remember, today's pontoons aren't the wallowing party barges of yesteryear—rig it up with max power and you'll see top-end speeds breaking past 40 mph and a cruise in the upper 20s to lower 30s. If speed isn't your thing, opt for a smaller powerplant and enjoy the reduced fuel consumption.
Modern pontoon boats and especially tri-toons are similar to those of the past in one way only: they're excellent when it comes time to relax. In just about every other regard, they've evolved by rather epic proportions. But don't take our word for it. Spend a day aboard a Suncatcher Fusion 324 and see what you think—we're betting you'll agree. 
By Lenny Rudow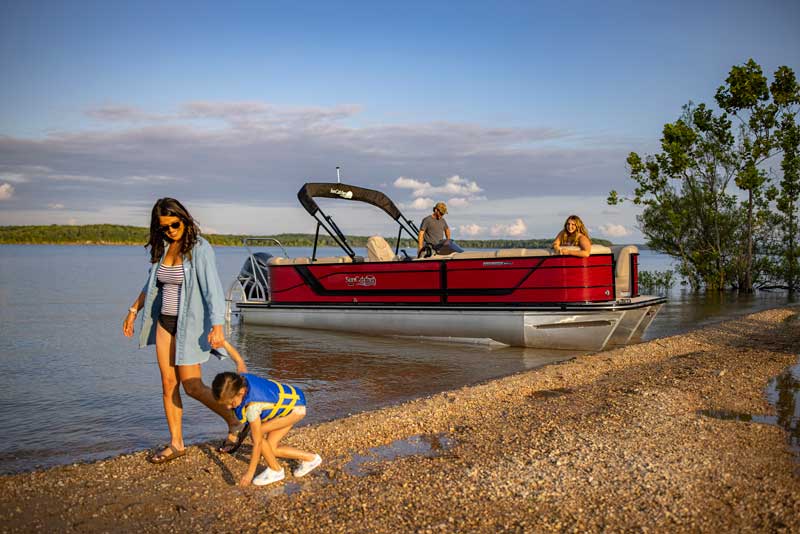 Suncatcher Fusion 324 Specifications:
LOA: 23'11"
Beam: 8'6"
Displacement: 2886 lbs. to 3040 lbs. (depending on model)
Fuel Capacity: 46 gal.
Max HP: 225
Price: Varies by specific model
Local Dealer: Anchor Boats in North East, MD - (800) 773-2628