Looking for more Boat Reviews? Click to our Boat Notes page! Now on to the Sea Hunt Ultra 211. What's the single biggest difference between a center console built purely for fishing and one that's focused more on family-friendliness? Seating. To make the entire family happy, you've got to have plenty of comfy places to sit down. Yes, of course you also need a head console, a stereo, options for watersports accessories, and the like. But seating is the great differentiator—and in some cases for fishermen, it's also the great spoiler. So when you look at the Sea Hunt Ultra 211, which bills itself as being created for families but still eminently fishable, the seating arrangement is the first thing you'll want to check out. And you will be surprised.
Both fore and aft, what you'll discover is quite different that the norm. In the bow, which has removable backrests so you can kick back while facing forward, you'll find that the port and starboard sides are not symmetrical. At least, they aren't once you pull the cushions and check out the fishboxes underneath. The port-side (70 quart) compartment is cut short, and the starboard side (110 quart) is elongated.
Chesapeake anglers who like to troll for trophy stripers will understand the advantage in a heartbeat: on boats of this size the forward compartments aren't usually long enough to hold a really big cow. In fact, many of us have been on 21-foot boats where you had to make room for an extra cooler simply because none of the built-in fishboxes could handle a true trophy. But with that elongated box on the starboard side, you've got the capacity to chill down a new state record striper.
In the stern, again the seating is different than what we're used to seeing. Instead of a fold-down transom bench seat, Sea Hunt built in a full-beam seat. The advantage here is that molding in seats gives you additional stowage underneath, whereas a fold-away seat doesn't offer any stowage space. The trade-off is, of course, that you can't fold the seat away when it's not in use. But you can pull the cushions off, leave them at home, and use the bench as an elevated, aft, casting platform. While that won't do a thing for trollers, light-tackle anglers will love the arrangement.
Other fishing features include a 15-gallon livewell, cockpit coaming bolsters, under-gunwale rod racks, a raw-water washdown, four rod holders on the leaning post backrest and four more on the T-top, a slide-out cooler under the leaning post, and trolling motor pre-wiring. On the family side of the equation, the boat has a head compartment in the console, low-profile bow grab rails, stainless-steel cup holders, an Infinity stereo system with Bluetooth, a (small) swim platform with a telescopic ladder, and options for a ski tow bar and a freshwater system.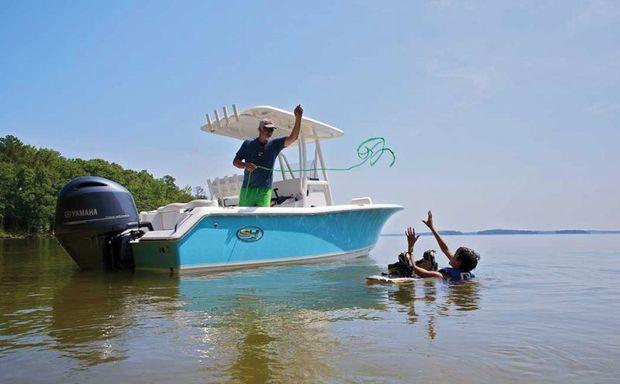 No matter what the boat's intended use, performance with a Yamaha F200 four-stroke outboard is sure to please. Cruising speed at 4000 rpm is right around 30 miles per hour, and when you mash the throttle to the helm you'll zip up to over 47 mph. Efficiency is over four miles to the gallon at cruise, and even at WOT (wide open throttle) never drops far below three mpg.
To keep the ride smooth at such speeds, Sea Hunt employs a variable-degree deadrise in the Ultra 211 hull. The company's marketing term for it is Vortec, but to put it into plain English, the design starts with a sharp 50-degree entry to slice open the waves, transitions out to 20 degrees amidships, and then flattens to 16 degrees at the transom to enhance stability. The design works. A friend of mine has a Sea Hunt Triton 21 which is an extremely similar model with an identical hull, and we've spent plenty of time tossing jigs to stripers in various conditions. Stability in a beam sea is definitely one of the boat's highlights.
Depending on how you get it rigged, the 211 Ultra can range from just under $50,000 all the way up to about $70,000. But there are some exceedingly cool options on offer that you don't normally see on a boat of this nature. Sure, it does drive up cost, but how awesome would it be to have the fiberglass T-top with a built-in "mister" cooling system? To get colored underwater LED lights? Or a 12-inch Simrad NSS Evo2 fishfinder/chartplotter at the helm? Whether you're a complete fish-head or a dedicated family man, either way, goodies like these will only add to the Sea Hunt's attractiveness—just like all that smart seating.
Sea Hunt Ultra 211 Specifications:
LOA: 21'1"
Beam: 8'3"
Draft: 1'1"
Displacement: 2300 LBS
Max HP: 200
Fuel Capacity: 60 GAL.
by Lenny Rudow