Can you really fit an entire yacht into your pocket? Well, you need a pretty big pocket, but in the case of the Ranger Tugs R-25, we say yes.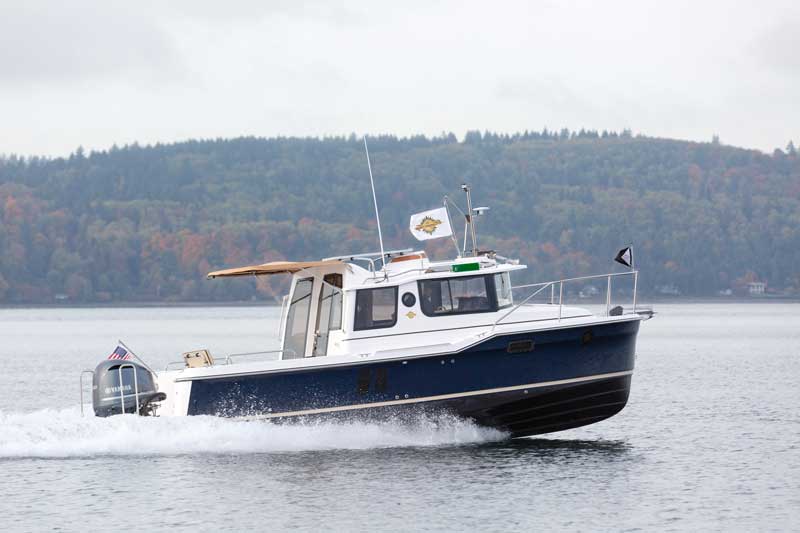 Sometimes you look at a boat and can't help but wonder how in the world someone dreamed up a particular feature, design tweak, or integrated accouterment. Such is the case with the Ranger Tugs R-25, except that you're likely to be bewildered by innovative thinking over and over again as you walk through the boat from stem to stern. How did they come up with a trailerable boat that sleeps six? How did they design in complete cooking abilities, a fully enclosed head, integrated cockpit seating for the entire family, and a sit-down dinette? It's a bit mind-boggling how Ranger Tugs does it, but on the R-25 you'll find all of the above and then some.
One of the most impactful examples of creative thinking can be found as you enter the cabin. Grab the aft dinette seat, swing it up, and you have access to a quarter-berth that's integrated under the fiberglass dinette. It's not exactly spacious, but a cozy couple or a pair of kids can easily sleep down there. Two more people can crash on the convertible dinette, and the forward cabin has a roomy V-berth for two more.
You'll raise your eyebrow again when you check out the galley behind the helm. Somehow, they managed to incorporate a refrigerator/freezer, a sink, an electric/alcohol stove, and a microwave oven. Choose to get the optional electric grill in the transom, and you'll also be able to whip up those fresh-caught fish fillets in the great outdoors.
They don't call boats like the R-25 "pocket yachts" without good reasons like these, and another you'll discover is that this boat is designed to enjoy the same sort of open-air attitude that many larger yachts feature despite the diminutive nature of the cabin. The aft cabin bulkhead window, for example, swings up to connect the cockpit with the cabin just like on those mega-cruisers. There are two slide-open side windows, plus a pair of opening sunroofs in the overhead. Put it all together and you can bring the outside inside, with fresh breezes blowing through and gobs of natural light streaming in. In fact, when we were aboard, it was a balmy 80 degrees but, with that aft window up and the side windows open, we were comfortable without flipping the switch to turn on the air conditioning. Yes, this little yacht can even pack AC (with reverse-cycle heat), or for those of you who enjoy winter boating, a diesel forced-air heater.
One thing this boat doesn't pack nor need is twin engines. The R-25 is designed to run with a single Yamaha F-250, delivering decidedly un-tug-like performance. This is a big change from some of the older Ranger Tug models in this size range, which had inboard power, were intended for slow cruising, and topped out in the low 20s—speeds at which the new R-25 can cruise all day long. 
So, what's still tug-ish about this boat? Not much beyond the styling, which does include touches like a plumb bow, round ports in the cabin-sides, and a mast atop the cabin. But there are also some styling tweaks that are more modern, like the reverse-sheer transom, two-tone upholstery, and extended swim platforms. Those platforms, by the way, reach all the way back past the outboard and, combined with the tall handrails and transom door, make boarding the boat and/or stepping off onto the dock effortless.
Then again, considering all the cool stuff they fit onto this boat you could spend quite a long time aboard without ever having to step onto or off of a dock… so why would you?
By Lenny Rudow
And don't forget to check out our video walkthrough!
Ranger Tugs R-25 Specifications: 
LOA: 28'5"
Beam: 8'6"
Draft (max.): 2'10"
Displacement: 5600 lbs.
Max HP: 250
Fuel Capacity: 99 gal.
Water Capacity: 34 gal.
Price (MSRP): $154,937
Dealer: The Pocket Yacht Company in Grasonville, MD