Size matters—and sometimes smaller is better. If you like pontoon boats, you like luxury, and you like a quality build—but you only have room at the dock or in the driveway for an 18-footer—your choices are rather limited. Most pontoon builders don't put a lot of emphasis on the smallest offerings in their line, which are really designed to meet a low price-point more than anything else and are thus rather plain-Jane and unexciting. Not so, with the Qwest 7518 Cruise SD.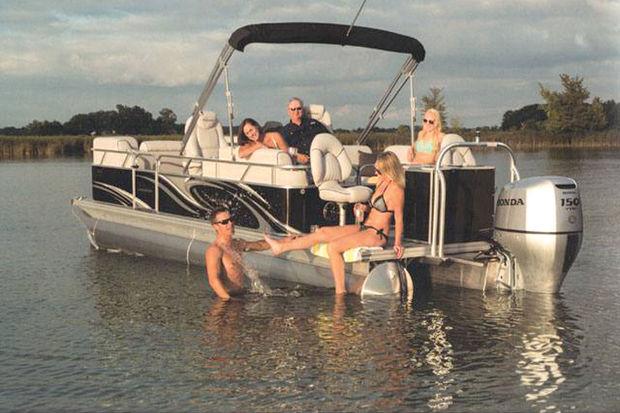 Although this little 'toon stretches the tape to just 18 feet and five inches, it's designed to be a full-blown luxury party barge. It has a bench seat and an aft L-shaped lounge, facing loungers forward, and a helm chair with folding arm rests. When we plopped down on the lounges, we found them every bit as comfortable as those found on bigger, higher-dollar pontoon boats and noted their use of top-shelf Comfort Touch linen-textured vinyls. But more importantly, a close examination of the bases those seats are built upon exposes the fact that the Qwest is constructed with materials that are a cut above the norm—even for those larger boats.
Rather than standard-issue rotomolded bases, the furniture is constructed with Duralight composite panels. Both materials are sturdy, but if you've ever had a pontoon boat with rotomolded bases, you already know that a lack of venting can lead to moist, mildewed gear. The advantage here is that since the Qwest's furniture is built with framing instead of one contiguous piece of plastic, all the stowage compartments beneath the seats drain easily and vent well. Plus, the Duralight construction is notably lighter than rotomolded plastic.
At the helm there are more details that call out Qwest's desire to give you the complete package, even in this sub-compact package. Standard-issue goodies you'll find there include a flush-mounted Humminbird Helix 5 chartplotter/fishfinder, an Infinity PRV 350 Bluetooth stereo system with four speakers, a RAM-mount cell phone mount, tilt steering, LED lighting, and a 12-V outlet. Other eye-opening standard features on the boat include a Bimini top with boot, Infinity Weave vinyl flooring, and fold-down, stainless-steel cleats. In fact, the only must-have item we spotted on the options list was the 17-gallon fuel tank.
The small stature of the Qwest has a range of advantages that go beyond the ability to moor or stow it in a relatively small area, including easier towing and launching, more efficient performance, and lower maintenance cost. What are the drawbacks? Just as one would expect, while this boat's small size is in many ways a blessing, it also results in a lack of overall space. We had three people aboard and didn't feel cramped, but with a crew of a half-dozen, it could become a little overly friendly.
The Qwest we tested was rigged with a Honda BF100 on the transom, and when we firewalled the throttle we hit 36 mph—which feels very much like greased lightning in an 18-foot pontoon boat. It's important to note, however, that our test boat was also outfitted with the Gen II triple-tube package. The third tube not only improves stability and handling, but also allows a maximum horsepower boost from 75 horses for the twin-toon rig up to 115-hp. (It also increases maximum capacity from 1,825-lbs. and eight people to 2,160-lbs. and nine people).
Naturally, the triple tube version is intended for boaters who want to maximize performance. And again, Qwest makes sure you're getting what you want even in this diminutive foot-print. Opt for the third tube and along with it, you automatically get hydraulic steering, a ski tow bar, a rearview mirror, a larger (25 gallon) fuel tank built-in, and a trim gauge.
If cost is an issue and you don't feel the need to set the water aflame, remember that you can get this boat with twin tubes and 40 horses on the transom; and according to Qwest, it will still run at speeds in the 20-mph range. And despite the quality construction, long list of features, and sky-high comfort level, comparatively speaking this is a very inexpensive pontoon boat. That's just one more reason why size matters, and why in this case, smaller really is better.
Specifications
LOA: 18'5"
Beam: 7'6"
Draft: 1'9"
Displacement: 1450 lbs
Max HP: 75/115
Fuel Capacity: 17/25 gal.
Price: $15,850 without motor; approx. $30,000 w/Honda BF100 and Gen II package
by Lenny Rudow