When you want a boat that will make every member of the family smile, a dual console like the Pursuit DC 266 fits the bill.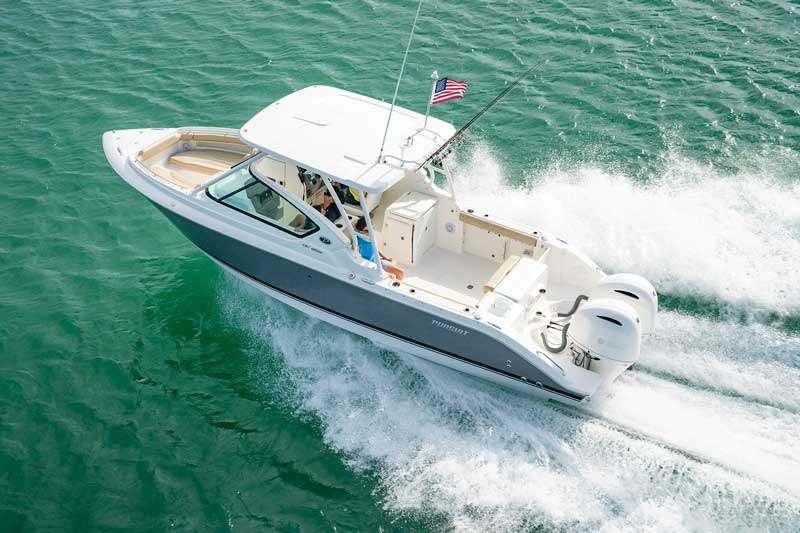 The kids want to go tubing with their friends, dad wants to catch some stripers with the guys, mom and the gals want to take a cocktail cruise, and everyone in the family wants to sport that wind-whipped coif we affectionately call boat-hair—it sounds like your family needs a do-everything dual console. One of the newest to hit the market is the Pursuit DC 266. Sure, there are countless vanilla dual consoles cranked out by numerous boat manufacturers, but this isn't one of them. If you're looking for a DC that offers a little something special in the way of style, construction, and performance, this model won't disappoint.
In terms of both looks and construction quality, the big stand-out feature on this boat is the curvaceous oversized windshield. It's nothing like one of the common mass-produced windshields built by a second party and purchased for an assembly line. The wrap-around glass is tempered, and anchored in a vacuum-infused fiberglass frame. When someone grabs that frame and yanks, it won't wiggle back and forth like most of the pre-fabs. It also provides a lot more protection than usual, and with the flip-open center panel shut, the center door closed, and the standard hard-top overhead, your boating season can be extended to include the chillier months of the year. 
Bow seating includes a pair of forward-facing loungers with backrests and folding armrests, or you can add in the filler cushions and turn the entire bow into one big sunpad. Aft seating is similarly convertible, though in this case the conversion is meant to eliminate seats rather than add tanning space. Two big bench seats, one in the transom and another in the port gunwale, can be folded away to open the cockpit up into a fish-fighting arena. Anglers, pay heed: while many DCs claim to be able fishing boats yet have little more than rodholders added into the gunwales, the DC 266 goes the extra mile to meet your needs. On top of the four flush-mounted rodholders the boat has a 20-gallon recirculating livewell and a 31-gallon insulated fishbox integrated into the transom; under-gunwale rodracks; tackle drawers and tacklebox stowage built into the passenger's side seat-base; and even aluminum reinforcement plates and wiring for downrigger installations.
Pursuits as a rule come well-equipped, and the DC 266 is no exception, though there are a few boxes you'll likely want to check off on the optional equipment list in order to be prepared for the full spectrum of waterborne activities. The ski tow bar will be a must-have so you can pull the kids around on tow-toys, and serious anglers will probably want to add the brace of four rocket launchers across the hardtop. If you plan on visiting Party Cove, we'd certainly also recommend getting the JL Audio entertainment system.
Speaking of options: The DC 266 is available with either twin F150 or twin F200 Yamaha outboards. There will be a bit less up-front cost if you go with the smaller powerplants (about $10K), but from a performance and efficiency standpoint, more horsepower is better. The F200s offer a peak efficiency of 2.5 mpg at 27.7 mph, while the F150s do their best making 2.2 mpg at that very same speed. And with the larger powerplants the top-end breaks 51 mph. Opt for the 150s, and the best you can hope for is a hair over 45 mph.
Okay, now it's time for a family meeting. Does anyone want a boat you can wakeboard from? Does anyone want a fishing boat? Does anyone want a boat you can use for cruising and schmoozing? Does everyone in the family agree that a new boat would be a good thing? (That one's a given). If you get yesses all around, it's time to head for the boat show—and while you're there, you'll want to be dang sure to check out the Pursuit DC 266.
By Lenny Rudow
Pursuit DC 266 Specifications: 
LOA: 27'4"
Beam: 8'9"
Draft: 1'9"
Displacement: 6800 lbs.
Max HP: 400
Fuel Capacity: 139 gal.
Water Capacity: 20 gal.
Price: $159,040
Dealer: Grande Yachts International
---
For more reviews, visit our Boat Reviews page.