In the latest luxury vehicles the air conditioning doesn't just blow into the cabin, it's vented through the seats. To turn that AC on you don't flip mechanical switches, you swipe at a touchscreen. And you certainly don't pull a lever and shove to move the driver's seat back and forth, you press a button. Boats rarely boast such attributes, but all of these things can be said for the new Phenom 37.
Phenom Yachts is a new brand just now hitting the water, yet it's designed and built to the highest level of detail with the latest possible tech and a huge measure of obvious boatbuilding experience. How's this possible? The executive team has more than 150 years of combined experience, and it's headed by noted boatbuilder Tommy Handcock. That's the guy who was a founder of Sea Pro Boats back in the 80s, and then Sportsman Boats, and now Phenom Yachts.
We got our first gander at the 37 during the Miami International Boat Show this winter, and one of the first things that struck us was how well-equipped it comes. Loaded, actually, right out of the box with a mere 14 options beyond the power and electronics, most of which are personalization choices like adding a faux teak toe rail or custom gel coat colors. And those standards run the gamut. Vetus bow thruster? Check. Airmar PM275LHW one-kW CHIRP through-hull transducer installed in a dedicated flush keel pocket? Check. Twelve-volt 3500 BTU air conditioning system? Check. Little things like a tool kit and a first aid kit are also included as standard features, as are some very big-ticket items like a Seakeeper 3 gyroscopic stabilizer and a Zipwake dynamic trim control system.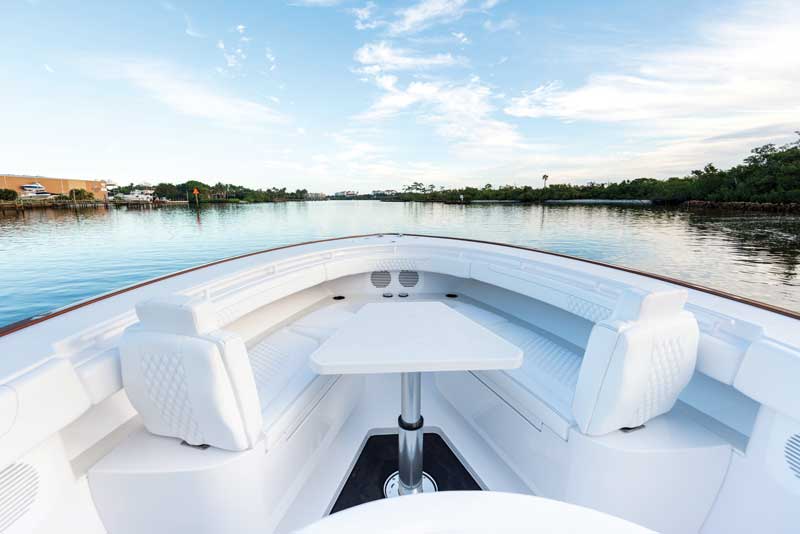 From the family boater's perspective, you'll be psyched to find a huge chaise lounge on the front of the console as well as flanking seats with high backrests in the bow. The fold-away transom bench seat actually folds all the way out of the way unlike most, and the three-across helm seats are not only uber-comfy, ergonomic, and air conditioned, they're also heated. The console cabin enjoys a head, stowage, and a six-foot berth that converts into a small settee.
Despite all the goodies and luxury features, the Phenom is a fishboat—and it's rigged for serious action. But it isn't rigged as one would commonly expect. In just about every system and detail Phenom goes the extra mile and then some. There are a pair of pressurized 30-gallon livewells in the transom, both with clear viewing ports, fed by a high-speed pickup/sea chest/four-pump system. The "extra mile" part comes when you learn that pressure sensors in the wells communicate with the EmpireBus digital system to maintain exactly 0.1 PSI, always keeping the perfect equilibrium to pressurize the system without causing overflow. A pair of 72.5-gallon fishboxes live in the deck, where they're surrounded by not one, not two, not three, but over four inches of insulation. And the T-top sports not one but two rows of staggered rocket launchers, which can hold 13 rods—more than double the average.
Not only is the boat built with the latest tech, but it's also designed to run with the latest motors. We couldn't pull off the dock at the show, but the rep on-site said that the boat we stood on broke the 70-mph mark and can be rigged with triple 400-hp Mercury Verado V10s, the newest outboard to hit the water, or twin V12 Verados with two-speed transmissions and a steerable gearcase. Those horses drive a vacuum-infused hull with a 65-degree entry tapering to a 23-degree transom deadrise. The twin steps have a "shutter" step to sheer water away from the openings venting the hull, and strakes are beveled with a chamfer edge at 45 degrees to throw water away from the hull and reduce adhesion.
So, is there anything those luxury cars have to offer that Phenom didn't manage to incorporate into a boat? Wheels and an inboard, but that's about it. In fact, it would be fair to say that when it comes to building a luxury center console fishing boat, they did a downright phenomenal job. 
By Lenny Rudow
Phenom 37 Specifications:
LOA: 37'6"
Beam: 11'2"
Draft (min.): 2'0"
Displacement (approx.): 10,800 lbs.
Fuel Capacity: 502 gal.
Water Capacity: 50 gal.
Max HP: 1350
More information: phenomyachts.com