We boaters love the visual appeal of a classic-looking boat, but we also appreciate the perks a modern design delivers. You say you want both in a cruiser that also offers cutting-edge construction and performance? If you demand the best of the best and you have a couple spare mil laying around, the Palm Beach GT50 will probably land on your short list.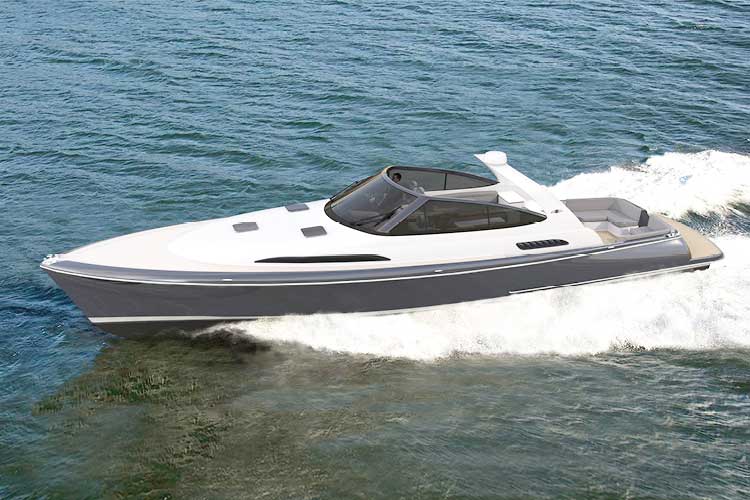 So far as the looks go, you can look at a picture and decide if the tumblehome, radiused transitions and classic curves deliver the look you want. Same goes for the interior décor, which is thoroughly modern and includes touches such as Wenge wood accents, a faux-teak sole, and diamond-stitched upholstery. More importantly, the interior spaces benefit from modern design. The saloon is kept wide open thanks to center-facing settees to either side and a galley-down layout, and the staterooms provide plenty of elbow room since Palm Beach opted to plan in two large cabins rather than cramming smaller multiple cabins into the space.
Again, you can see with your own eyeballs if these features are to your liking. What's harder to visualize is just how modern the boat's construction is. The hull, deck, and house are all built via resin infusion. That means resin is drawn through the fiberglass under vacuum, resulting in the optimal resin-to-glass ratio for both strength and weight. And that resin is vinylester, the more expensive but less water-permeable stuff. Coring is corecell, and the deck and house are laid up with carbon fiber. High tech? This is as good as it gets in 2019, and as a result, at 28,660 pounds this boat weighs no more than many 45-footers built with traditional fiberglass layup techniques.
Now drop in a pair of Volvo-Penta IPS800 pod drives, and firewall the throttles. This is a 50-footer that can top out at about 40 knots and cruise in the mid-30s. And you won't be terribly worried about slowing down when a breeze kicks up, either. When we ran the GT50 down the Severn River and out into the Bay, it was blowing right out of the north, but the warped-V hull chopped right through the chop without thumps nor bumps.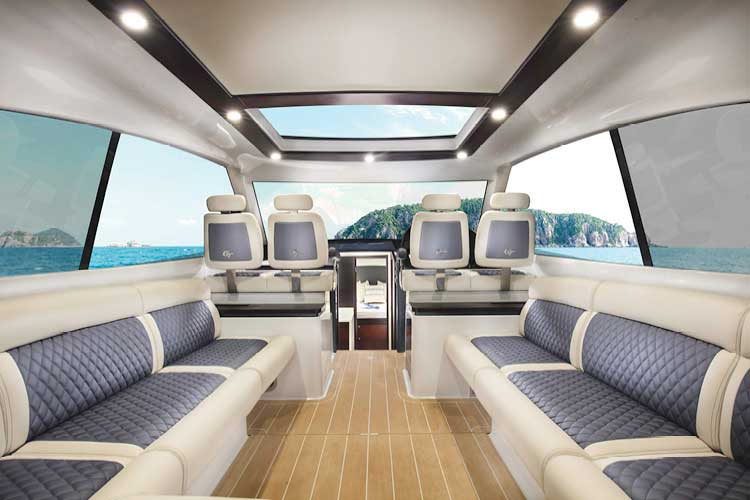 The experience also provided two interesting observations: first, thanks to a low, centered fuel tank and a relatively forward engine placement (the iron horses are hitched to the pod drives via jackshafts), the boat's center of gravity is optimal for both running attitude and stability. Second, when you crank open the sunroof and the cabin's side windows and then start zipping around at 30-plus knots, it feels more like running around in a sporty day boat than in a 50-foot cruiser; you don't have to sacrifice the open feel and sunshine for a moment.
Another high point of the GT50 is in the sensible inclusion of wide sidedecks and a stout bowrail, making this one boat on which you can move forward and aft without having to do a balancing act. The engine room louvers protruded out into the sidedecks a bit, perhaps giving a nod to form over function, but we were on hull number one. The rep did say they'd consider modifying them a bit to make for easier passages.
Another part of the boat that benefits from smart design is the cockpit and swim platform. Palm Beach puts a lounge to either side aft and utilizes a center walkthrough. This made for easy boarding, as well as plenty of seating. Forward in the cockpit, there's a wet-bar area with a sink and stowage plus a refrigerator.
Truth be told, we see plenty of boats with classic looks and we see plenty of boats with cutting-edge construction. But, both traits in one 50-foot cruiser? That's a bit unusual. And that's why a Palm Beach GT50 will be making its way onto a long list of short-lists in Chesapeake country. 
Palm Beach GT50 Specifications
LOA: 54'0"
Beam: 14'8"
Draft: 3'1"
Displacement: 28,660 LBS
Max HP: 1200
Fuel Capacity: 700 GAL. (options for more)
Water Capacity: 396 GAL.
Price: $2.2 Million (approx.)
By Lenny Rudow
---
For more reviews, visit our Boat Review page.