Since the days of the Vikings, Scandinavians have been lauded for their boat-building acumen. And while Nimbus may not exactly be a household name in the U.S. of A., this Swedish manufacturer has been building boats since 1968. In fact, they're quite well-known across the pond, and Nimbus boats have been owned by such luminaries as the King of Sweden and tennis star Bjorn Borg. In 2017 the Nimbus Group expanded its market to America, in late 2020 it premiered the all-new T8, and last year, that model was named winner in the Sportsboats and RIB category of the European Motorboat Awards. Today, you can see a T8 cruising down the Chesapeake—and you'll immediately recognize it as a standout.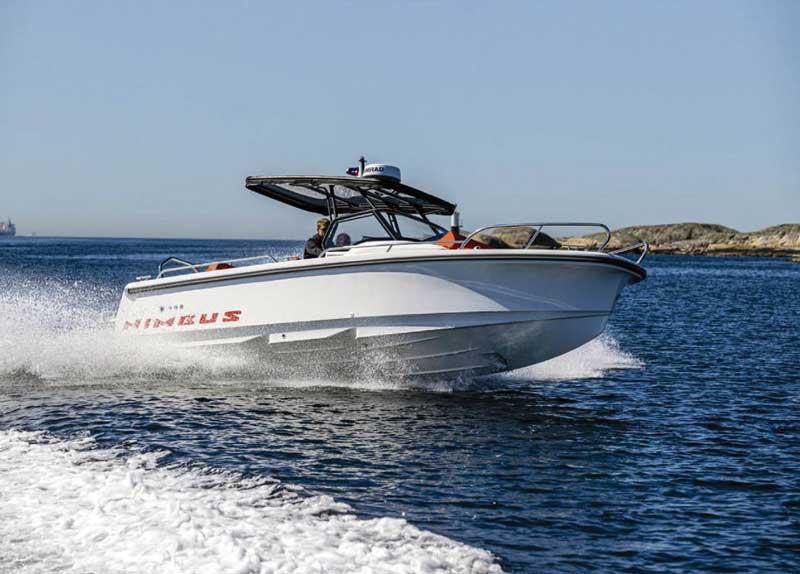 The "T" in T8 stands for "Tender," and if you own a megayacht, sure, it can fit that bill. But to our eyes this boat's more likely role will be as a day-boat with weekending abilities. The design features a small walkaround cabin (which has a V-berth, head, stowage, a sink, and options for a mini-galley with a one-burner stove), with an open cockpit aft and a bow cockpit featuring a lounger on the cabin top. The bow is accessed via single step up to deep side-decks, which are ringed by fiberglass gunwales with a rail atop, making it easy to move 360-degrees around the boat.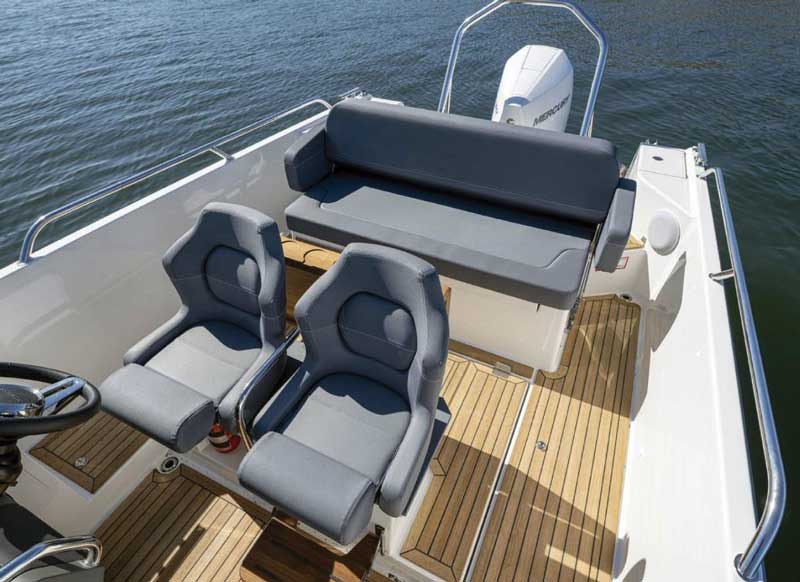 In the cockpit the T8 takes a lesson from some of Nimbus's larger models, providing cruising, relaxing, and dining zones all in the same space. The trick here is the aft lounge, with a swinging back that also folds flat. It makes for a forward-facing seat while cruising and a sunpad when folded down, and when you deploy the dinette table in front of it and spin around the captain's and passenger's chairs at the helm, you have a center-facing dining area for four. Also note that the boat has integrated swim platforms on either side of the outboard plus a (optional) ski-tow arch, so you can jump on the waterskis or wakeboard to work up that appetite before meal time.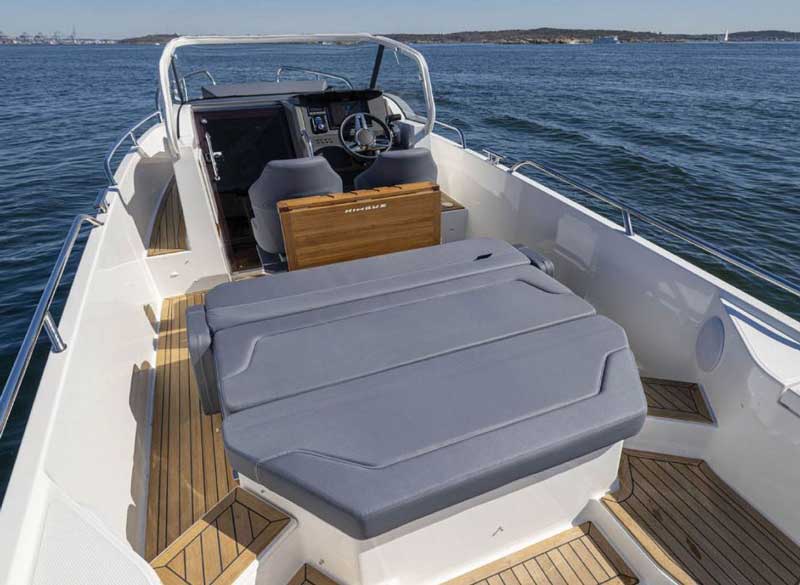 The hull design of the T8 is even more intriguing than the boat's topsides, with a modern Euro-plumb bow and a twin-stepped hull that's an unusually narrow 8'4" considering the boat's 26'2" LOA. This gives the T8 some serious slicing and dicing ability in the waves, but it also gives the boat eyebrow-raising performance. Remember, this is a 26-footer, but it's designed for a single outboard, and maximum horsepower is just 300. By today's multi-engine, mega-horsepower standards, some may suspect that's a bit on the thin side. But with a 300-hp Mercury Verado on this svelte transom (there are also options for 200 or 250 hp), the boat can break the 50-mph mark and cruise in the low 40s. Just as important for those rough weather days, the boat has a low planing threshold and can cruise at a mellow 20 mph when need be. 
Added bonus: the T8 also comes with an automatic Interceptor system so you'll never have to worry about adjusting the trim, and any concerns one might have about close-quarters maneuvering with a single screw are alleviated by the standard-issue bow thruster.
Volvo? IKEA? Chewy sweet multicolored fish? Sure, all that stuff is great. But when it comes to all things Swedish, we think we have a new favorite. And after blasting across the Bay at 50 mph on a Nimbus T8, there's a good chance you will, too.
By Lenny Rudow
Nimbus T8 Specifications: 
LOA: 26'2"
Beam: 8'4"
Displacement: 5070 lbs.
Transom deadrise: NA
Max HP: 300
Fuel Capacity: 63.3 gal.
Water Capacity: 7.7 gal.
Local Dealer: Seattle Yachts in Annapolis, MD - (410) 397-7323
For more boat reviews, check out our Boat Reviews page!