Departing Annapolis aboard the MJM 35Z felt completely natural, almost as though this boat were conceived specifically for a historic yet modern community that's much better described as a cultured town than a vibrant city. Consider the boat's look, which is decidedly classic right up until you spot the 300-hp Mercury Verado outboards hanging on the transom.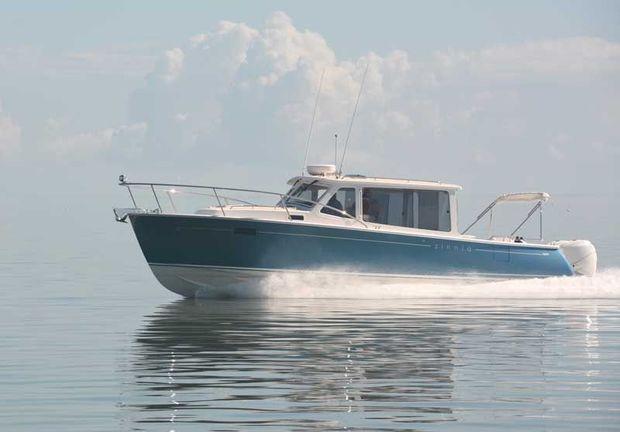 Now add in a healthy helping of high-tech construction, combined with a traditional helmdeck layout. Then take note of the fact that this is a relatively modest-sized boat for an MJM. It all adds up to a top-shelf package that's bereft of ostentatious display. So as we idled past Eastport and out into the Severn River, the MJM 35Z felt right at home.
Then, we nailed the throttles.
Not only did punching the Mercs blast us away from Maryland's capital at warp speed, it also left the boat's classic demeanor in its wake. At a 4500 rpm cruise we hopped across the chop at 35 mph, and at wide-open we hit 45 mph. Opt for twin 350s, and MJM says the boat will top the 50 mph mark.
What's just as important is the fact that these speeds were bearable despite a 15-knot wind and two-foot seas rolling in from the north-east. The variable-degree deadrise hull tapers down to 19.7-degrees at the transom, and after trimming to keep the bow down a bit the 45-degree entry did an admirable job of slicing open the waves. There was a lot of water noise coming from belowdecks, which is common to epoxy-built boats like this, but very little spray flying and surprisingly soft impacts.
Wait a sec—epoxy-built? Yup, although the MJM 35Z carries classic lines, the outboards aren't the only example of modern tech in this boat. The hull is pre-preg epoxy—which is about 25-percent stronger than polyester fiberglass resin—that's solid along the centerline. The hull is also skinned with Kevlar. The hullsides are cored with Corecell, and the decks are cored with Baltek. That construction all adds up to a ISO certified Category B Offshore rating for the MJM 35Z, which means it's EU-rated for seaworthiness offshore in winds up to 40 knots and seas to 13 feet. That's a rare feat for a boat of this size and nature, and many U.S.-built boats don't earn any rating, much less a Category B Offshore, in the first place.
You would not, of course, be quite as comfortable in those sorts of conditions as we were during our sea trial. But comfort is, in general, not something that gets overlooked on this boat. The helm chair and passenger's seat are Stidds (read: uber-luxurious), and the upholstery is Ultraleather. Center-facing settees sit on either side of the helmdeck, and there's a dinette to port. Flip up either of the settees, and you'll discover an added advantage of having outboard power in the form of huge stowage compartments that would otherwise be taken up as machinery space.
Step down below, and you'll find a stand-up head to starboard, a V-berth forward, and a small galley to port. This is also where you'll find some artistic flair in the form of cherry battens lining the hullsides, a teak and holly sole, and cherry and teak cabinetry. Once again, the look screams of craftsmanship without one iota of pretention.
Despite the 35Z's elegant nature, it can come rigged with fishing accouterments should you so desire. A 35-gallon livewell, six gunwale-mount rodholders, twin in-deck fishboxes, transom and hard-top rocket launchers, and a tackle station are all available on this boat. You can even opt for outriggers. We're not sure just how many MJM 35Z owners are going to risk getting fish blood on the settees, but if you want the angling option, you have it.
Either way, the cockpit also has a few unexpected perks. There's an aft settee and a pair of aft-facing seats, plus a wet-bar with an ice-maker. And MJM added swim platform extensions to either side of the outboards, so you don't have to worry about kicking a propeller or lower unit when you're using the swim ladder.
Will the MJM 35Z feel just as at home tied to your dock as it did in Annapolis Harbor? That, we can't say. But we can be sure of one thing: if you appreciate classic styling and modern performance in a boat, the 35Z is not going to disappoint you.
For more boat reviews, click to proptalk.com/category/boatnotes.
MJM 35Z Specifications:
LOA: 37'11"
Beam: 11'0"
Draft: 1'9"
Displacement: 13,279 lbs
Max HP: 500
Fuel Capacity: 250 gal.
Price: Approx. $612,500
by Lenny Rudow