This month's featured boat review is the Midnight Express 60, a cruiser-racer-fisher, all in one!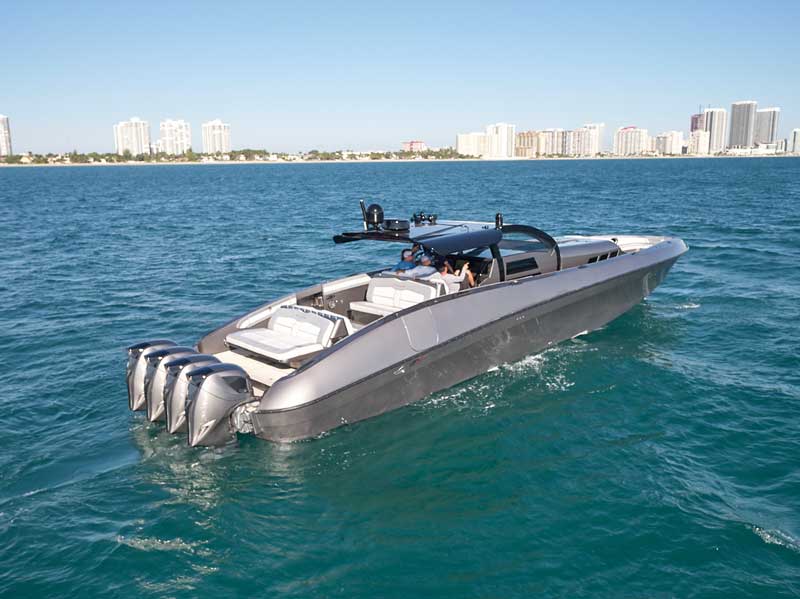 If a boat has twin staterooms with queen berths, a stand-up head compartment with a shower, and a settee and a galley in the cabin, we must be talking about some sort of cabin cruiser… right?
Now try to justify the abovementioned features with quadruple Seven Marine 627 outboards, a top-end of over 70 mph, and a twin-stepped hull. This must be some sort of cabin cruiser that's also a high-performance race boat? 
Oh, but wait—it also has a center console deck layout, and yes, fishing rod holders. So, it's a cruiser-racer-fisher?
If all of this simply does not compute, don't feel bad. We were a bit confused too, until we discovered that this one boat can in fact combine these radically divergent traits: the Midnight Express 60 Pied-A-Mer.
The Pied-A-Mer is, as one might expect, a semi-custom creation, so each and every one is more or less unique. With 60 feet of LOA to work with there can be quite a few unusual items in that creation, too. When we spotted hull number one (at the Fort Lauderdale International Boat Show, where it was first introduced to the world), the most surprising custom touch was the outdoor grill. Sure, lots of boats have an outdoor grill these days. But, how many convert into a huge aft-facing cockpit lounger at the press of a button?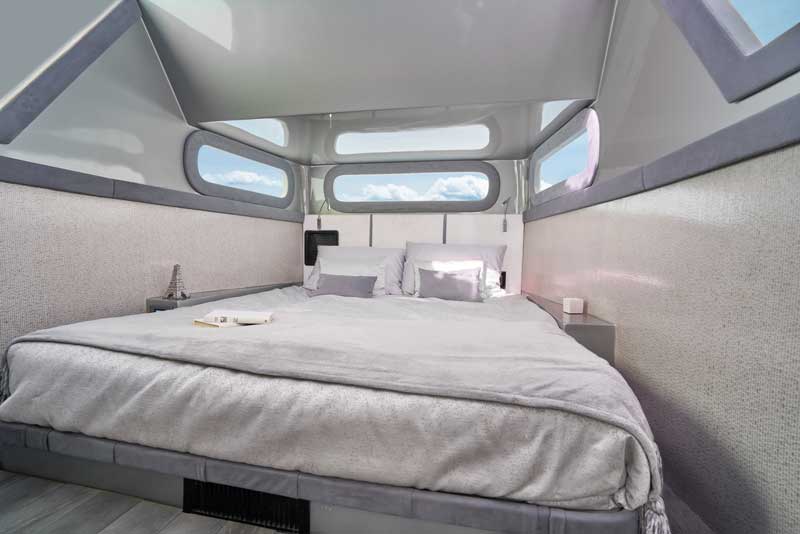 Much of the remaining topsides is dedicated to seating and lounging areas. There are two loungers as big as full-sized sofas facing each other just forward of that rotisserie-retaining relaxer, and there's a triple-wide seat at the helm. The front of the console has a monstrous lounger built-in, and the entire bow is rimmed by a U-shaped settee. Consider each seat and lounger, and you can quickly ID topsides seating for 17 people and complete stretch-out lounging for five more. 
Down below, the cabin is just as lavish as one would expect from a boat of this nature. The interior is thoroughly modern, with angular lines (other than the one rounded bulkhead separating the head from the rest of the cabin) and a bright décor. The bright colors are set off with plenty of natural light, which streams in courtesy of a mix of triangular, rectangular, and oval windows—yes, they somehow managed to work all those shapes in—plus multiple skylights.
Aside from all the glitz and glam, gobs of horsepower, and loads of comfy seating, in a boat like this you expect to discover absolutely top-notch construction with a dash of high-tech technique. And, you'll get it. Considering its LOA the Midnight Express is one of the largest boats around to boast a resin-infused hull; the boat's cored throughout with high-density foam, and carbon fiber is utilized extensively. Net result? The 60 Pied-A-Mer tips the scales at a mere 36,000 pounds. That may sound like a lot of weight at first, but remember that an average express cruiser of this size will weigh a good 10,000 to 20,000 pounds more. Now combine the light weight with the rack of quad outboards and the twin-stepped hull, and it's easy to see how the boat delivers such high speeds. But it can go even faster, according to Midnight Express—they claim that an inboard diesel model with surface drives should break 90 mph.
Okay, we'll stipulate that this may not be the most practical boat we've ever seen. And we're happy to admit that with a starting price of $1.6 mil, which is bound to go up quite a bit as the boat is customized and outfitted to your liking, it doesn't exactly qualify as affordable, either. But come on people, how could anyone look at the Midnight Express 60 Pied-A-Mer and not say "wow." Just… wow.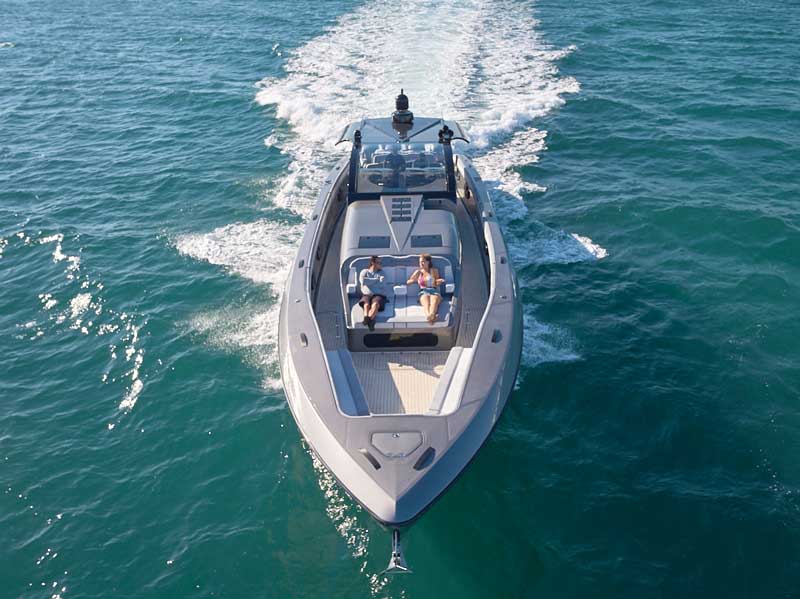 Midnight Express 60 Specifications
LOA: 60'0"
Beam: 15'0"
Draft: NA
Displacement: 36,000 lbs.
Max HP: 2508
Fuel Capacity: 700 gal. (options for more)
Water Capacity: 99 gal.
Price: Approx. $1.6 million (base)
By Lenny Rudow
---