You want a full-on angling experience including highway-speed travel to the fishing grounds, the ability to net or gaff a fish 360 degrees around the boat, and an aggressive assortment of accessories that enable you to employ every angling tactic from trolling to deep-dropping? Meet the Invincible 33 Open Fisherman.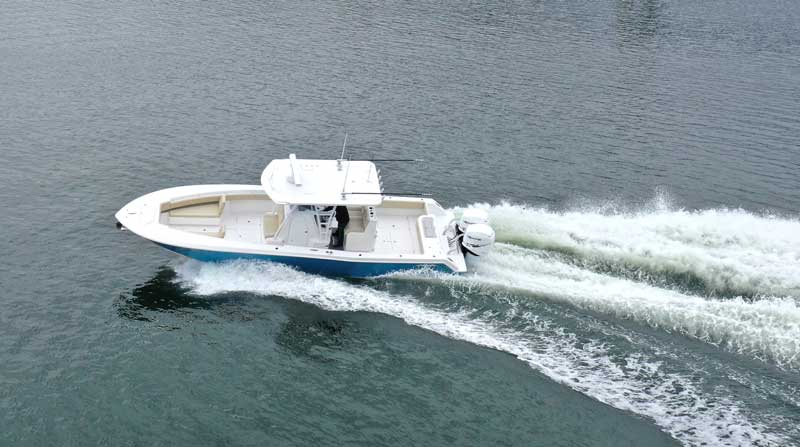 Unlike many of today's center console "fishing" boats, rather than sacrifice its fish-hunting abilities for decorative adornments and posh pleasures, this boat maintains its focus on helping you become the apex predator. One example: rather than mold seating into the bow, this boat's deck is wide open, allowing you more turf for fighting the fish. You can add in a coffin box (on an electric ram so you can still access the stowage compartment underneath) to enhance your catch-hauling capacity in addition to the in-deck fishboxes. Or, if more seating is a must, you can add in the optional bench seating. It remains removable, however, so you can take it off and leave it at home in the garage when you head out with a serious hunting party aboard.
Another excellent example can be found in the console. It houses a comfortable head compartment but rather than inflating its footprint to add luxuries like loungers and berths, it's kept svelte so that you can walk around it even when you're harnessed into stand-up gear. Angling must-haves like the saltwater washdown, transom livewell (fed by a sea chest system), and rigging station with sink and tackle stowage are standards, but since Invincible builds customizable boats, much of the rigging is the owner's choice: dozens of rodholders, additional livewells, gaff and rod racks, under-gunwale electric reel outlets, underwater lights—you name it.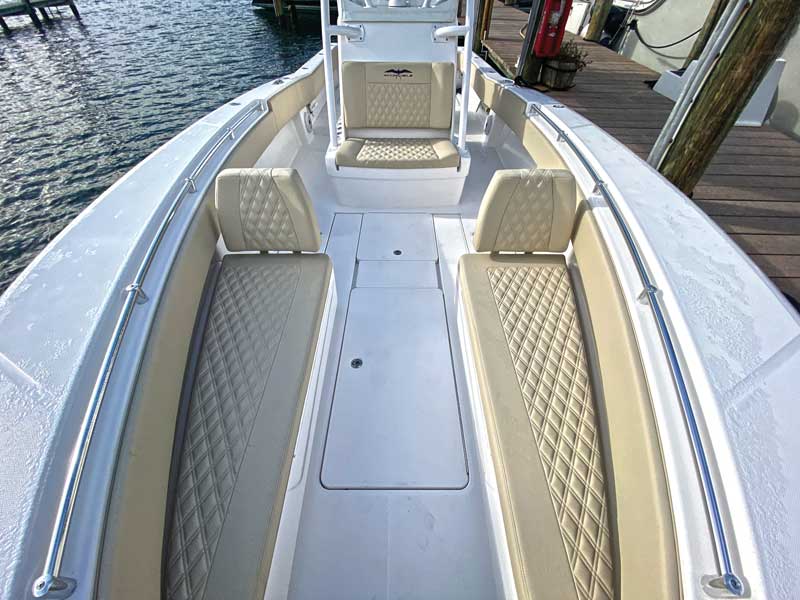 All that isn't to say the 330 Open leaves comfort in its wake, again depending on how an owner wants it rigged. You can opt for a freshwater wash, a windlass, a bow thruster, SeaDek foam padding packages, and rear seating, if it fits the bill for your needs. Far more important to your comfort level aboard, however, is the way this boat rides.
The 33 Open is built (with all vinylester resin, by the way) atop the Michael Peters Stepped Vee Ventilated Tunnel SVVT hull design. It incorporates a pair of steps and a tunnel with vertical walls which maintain a firm grip on the water while boosting speed and efficiency to the tune of approximately 15 percent. Okay, great—but how does it increase your comfort? The aerated hull creates a cushion of sorts, which softens the blows when striking waves. Add in the sharp entry, 22 degrees of transom deadrise, and solid construction, and after a rough-water experience that will leave some other boaters up and down the docks cringing in back pain, you'll be stepping off the boat with a smile on your face.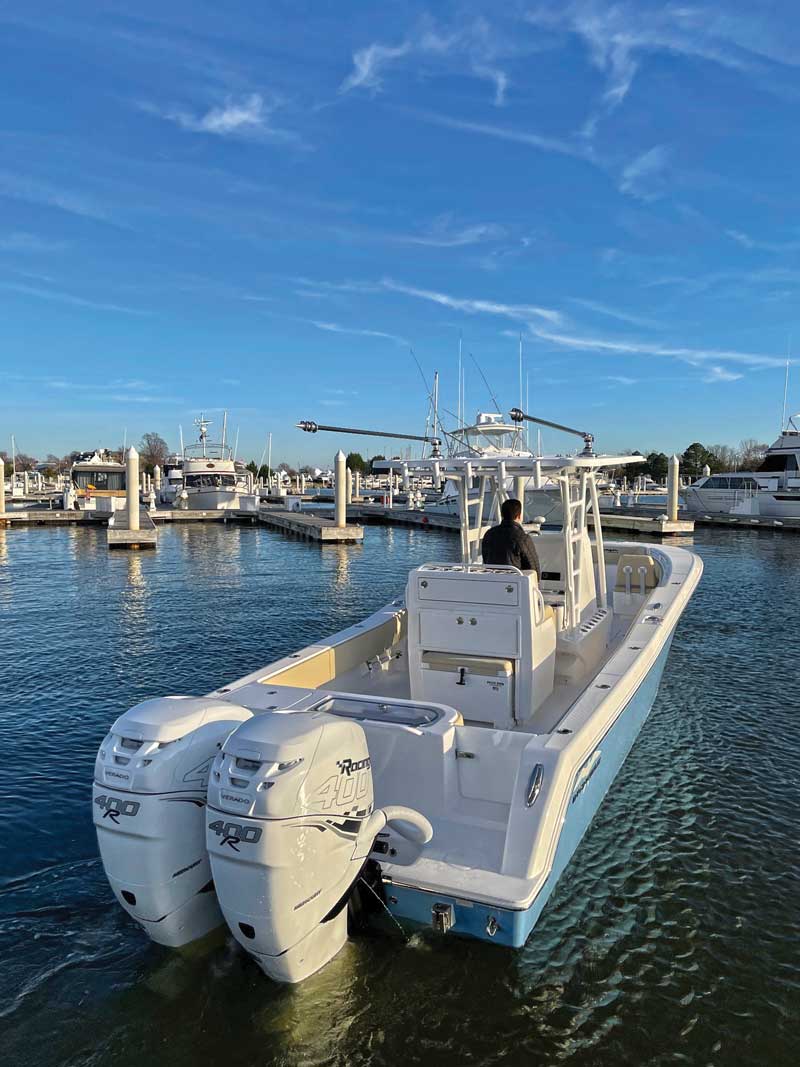 Another stand-out feature on the Invincible 33 Open is range. With a pair of 300s and a loaded boat you can expect to see speeds of over 60 mph, and at a cruising speed around 40, around 1.8 mpg. That stacks up to a statute range of around 500 miles with a 10-percent fuel reserve. Wow—if that isn't enough range to satisfy you, you might want to start looking at helicopters instead of fishing boats. And if you want more speed and don't mind shaving a hair off that rather extraordinary range figure, this transom can handle a pair of 450s.
If what you really want in a "fishing" boat is a cockpit blasted by outdoor air conditioning and covered by a big extending sun-shade, the Invincible won't be your pick. If you're looking for goodies like cockpit barbeque grills and integrated blenders, look elsewhere. If you want a serious hunter-killer that can tackle everything from striped bass to swordfish, however, your search for the ideal boat has just come to a crossroad.
Invincible 33 Open Fisherman Specifications:
LOA: 32'10"
Beam: 9'7"
Draft (min.): 1'2"
Displacement: 8100 lbs.
Max HP: 700
Fuel Capacity: 320 gal.
Base Price: approx. $271,950
Local Dealer: Intrinsic Yacht & Ship in Annapolis and Ocean City, MD: (410) 263-9288