Peer into the engine room of virtually any 45-foot yacht and you'll see a pair of diesel inboards. This holds true for the Greenline 45 Fly, too, but along with those iron horses, look for the H-Drive hybrid diesel/electric propulsion system.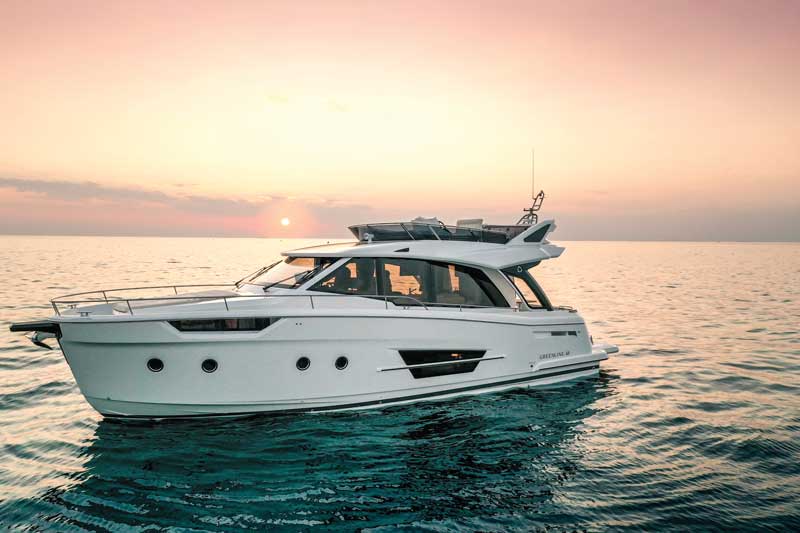 Greenline yachts are known for their environmentally friendly hybrid systems, and in the case of the 45 Fly you can choose to spin those props via electric power and cruise at up to six knots, or fire up the twin diesels and hit speeds up to 25 knots. If that still isn't swift enough for your tastes, the boat can also be fitted out with a pair of Volvo Penta IPS500 or IPS600 powerplants, which give it a top-end of around 30 knots (though that option eliminates the hybrid drive).
In another nod to fuel-free boating the 45 Fly has a pair of 300-amp standard solar panels on the cabin-top, and if you opt for a flybridge hard-top, additional solar panels can be added there. Six hundred amps of battery power are also standard, along with a three-KW inverter and a solar charging management system. Like most boats of this size the Greenline is quite customizable, so you can have it equipped with more electric power as your needs and desires may require.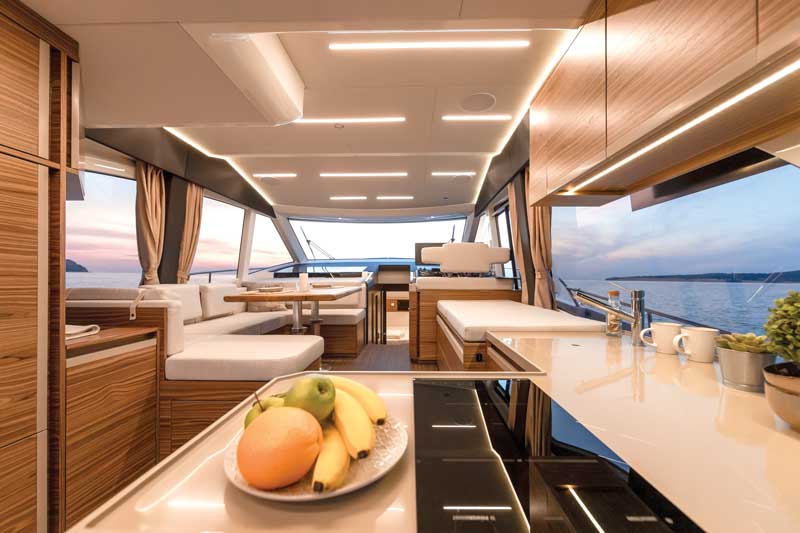 More juice is better to some folks, but it should be noted that the standard system is already pretty potent. Aside from propulsion, a big advantage of having this type of electric system aboard is that you can enjoy time off the dock and at anchor without having to listen to (or smell, or fuel) a generator that's running all the time. And although the Greenline does have a genset in case you need it, its base electrical system is surprisingly capable. When it's sunny out you could run the boat's systems and use things such as the refrigerator, lights, and entertainment system, plus even run the air conditioning for five or so hours a day, for days at a time without tapping out the supply of juice.
Aside from the uber-electrical capacity, the 45 Fly provides some nice perks that boaters of all types will enjoy. The flybridge is a low-slung, sporty, Euro-styled affair, with the helm to port, a large sunpad to starboard, and a dinette and settee aft. It's long enough to overhang the entire cockpit of the boat, providing both shade and protection from the rain. Step out of that cockpit and onto the hydraulic swim platform, and you'll discover an outdoor grilling station with a sink plus stowage for your watertoys.
The main cabin features a settee with dinette, a lower helm, and a galley aft. The big perk here for the captain, however, is a full-sized side door leading to the side-decks—that'll make moving fore and aft one heck of a lot easier when you're docking the boat short-handed.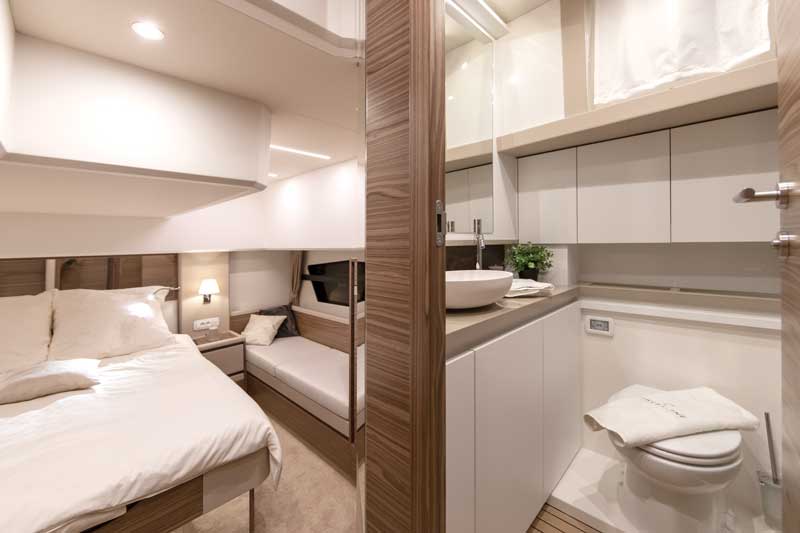 There are choices to be made when it comes to the lower cabin layout. In one available form, the master is a full-beam amidships, the guest suite is forward, and both staterooms have their own heads with showers and a walk-in hanging locker. When was the last time you saw a pair of walk-in lockers on a boat of this size? It's a nice benefit for those who plan to spend extended time aboard. For those who need more sleeping capacity, however, the walk-ins can instead be configured as a third cabin. While we admit that it's tempting to have a triple-cabin 45-footer, for a cruising couple or a small family, all that stowage space and elbow room is as good as gold. Think hard before deciding which you'd opt for.
You say you want to have fun without making fumes? Then the Greenline 45 Fly might just be the ideal yacht for you, however you may decide to have it rigged and arranged. 
By Lenny Rudow
Greenline 45 Fly Specifications:
LOA: 51'1"
Beam: 14'11"
Draft (max): 2'10"
Displacement: 29,762 lbs.
Max HP: 740
Fuel Capacity: 400 gal.
Water Capacity: 176 gal.
Price (MSRP): $1.1 to $1.3M 
Local Dealer: Yacht Sales International at Martin Bird Associates in Annapolis, MD. 410.268.1086