If your version of fun on a boat ranges from tubing to trolling, the Edgewater 230CX awaits.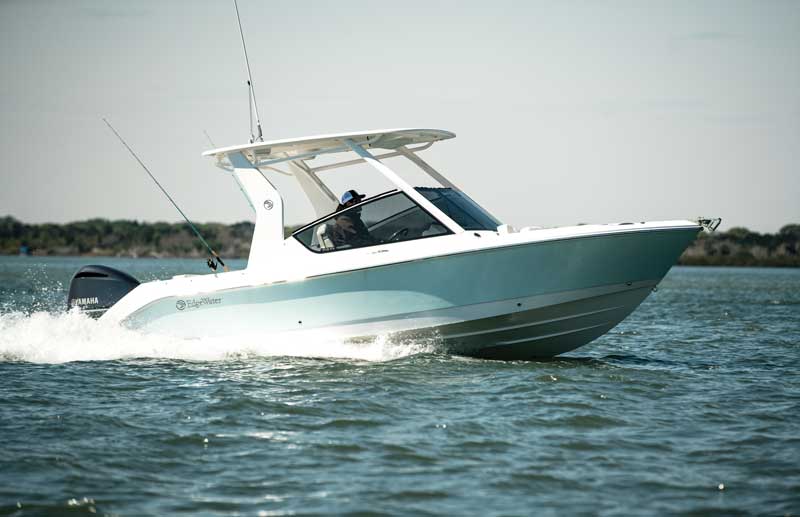 Little Sally wants to go water skiing, little Billy wants to reel up dinner, Momma wants to anchor at the beach and go for a dip, and Dad wants to rev up 300 horses and zip across the Bay at 45 mph? It's a tall order to ask one single boat to accommodate everyone's wishes, but the Edgewater 230CX accomplishes all of these missions.
Many dual console runabouts are intended to fulfill multiple roles, but even in this genre it's unusual to find a boat so well suited to… well… everything. Part of the reason is Edgewater's propensity to include big-ticket items as standard features: the retractable ski pylon, fiberglass hard top, freshwater system, head compartment, and bow filler cushions are all present and accounted for right out of the box. 
But part of the reason also lies in smart design. In the bow compartment, for example, along with the seats, fold-down arm rests, and removable cocktail table, there are cup holders which also have integrated fishing rod holders. At the helm, the seat base has a basic wet bar with cupholders, a sink, and a slide-out cooler. There's also a bait cutting board that slides into that sink plus a tackle stowage drawer built into the same unit, so it does double-duty as a rigging station when it's time to fish. And that aft transom seat isn't just for sitting, it also houses a 12-gallon insulated livewell, plus bulk stowage.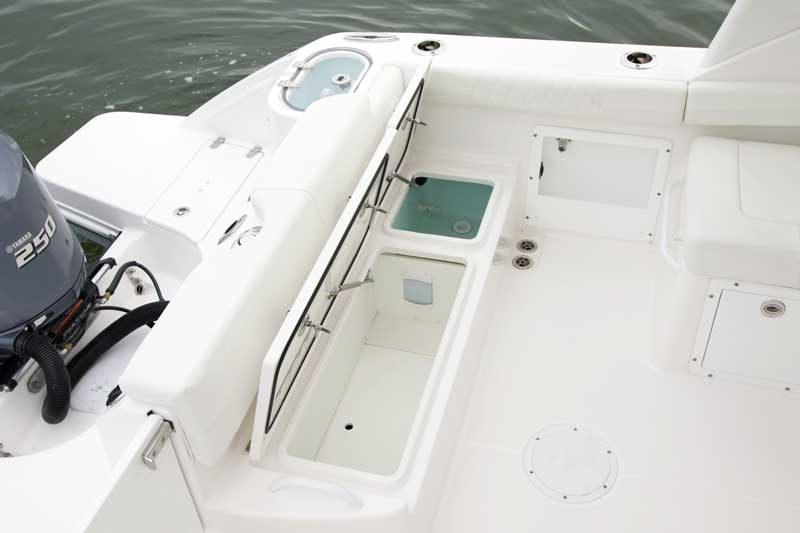 You say you want to tweak the boat to tilt towards a desired purpose? No problem. You can add in a 28-gallon transom livewell and transom-mounted rodholders to make the boat a bit fishier. Or if creature comforts are more of an imperative, consider getting the fore and aft sunshades and the integrated anchor windlass.
Whether you're running for a dockside restaurant or headed for the hot bite, the 230CX makes getting there fun with a 4500-rpm cruise in the mid-30s and a top-end of 45.5 mph, when rigged with a single F300 Yamaha outboard. Sure, lots of modern boats in this size range offer that sort of performance. What they don't always offer, however, is the ability to enjoy it when there's a breeze chopping up the Bay. One thing we've loved about each and every Edgewater we've tested is the solid feel you have underfoot when hitting the waves at high speeds. Credit goes to Edgewater's unique Single Piece Infusion (SPI) construction method. First the fiberglass is laid out, along with the composite stringers and bulkheads. Then, the whole affair is bagged in a boat-sized plastic bag, and resin gets drawn in through a vacuum. Finally, excess resin gets drawn out. Net result? The hull and its structural components cure into one single, solid, chunka-chunka boat.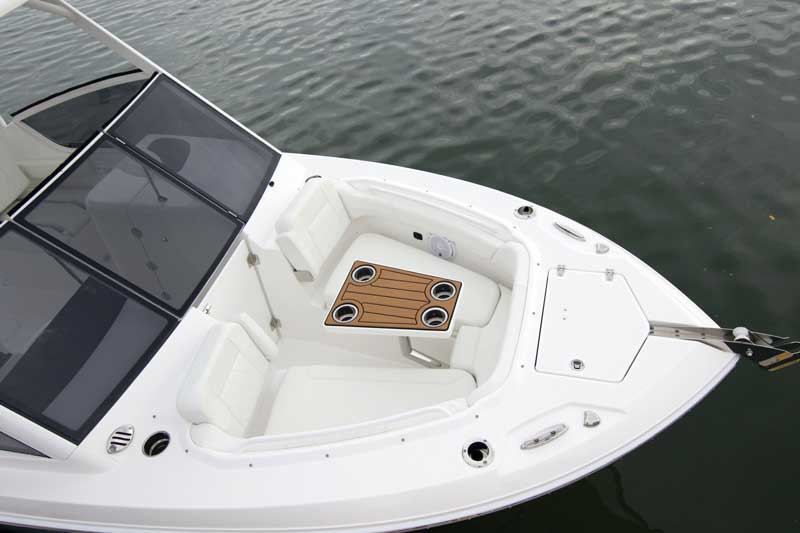 Now match that construction up with a variable-degree deadrise hull that tapers back to 20 degrees at the transom, and the entire family will be laughing instead of crying after you launch off that wave. There are other construction touches worthy of noting, too. The windshield is oversized and its panels are integrated into the powder-coated hard top supports; hatches are fully finished on both sides and rise up on gas-assist struts; and wiring is tinned-copper with waterproof connectors. The helm dash is another stand-out, with room to flush-mount a Garmin 8612xvs plus a digital engine monitor and a waterproof, lighted switch panel with breakers and a 12-V outlet. And yes, of course they designed in a cubby that's sized for your cell phone.
Now ask yourself one very simple yet imperative question: why are you looking to buy a boat in the first place? If it's to make your entire family happy, the answer to that question may well be an Edgewater 230CX.
Edgewater 230CX Specifications:
LOA: 24'4"
Beam: 8'6"
Draft: 1'3"
Displacement: 5198 lbs.
Max HP: 300
Fuel Capacity: 106 gal.
Water Capacity: 19 gal.
Price: Approx. $127,600
Dealer: Annapolis Yacht Sales
By Lenny Rudow
---
For more boat reviews, visit proptalk.com/category/boat-reviews.