If your eyes light up at boats with lustrous oiled teak, curvaceous lines, and classic designs, the Coronado line is about to brighten your life. And if you also happen to like center consoles, the Coronado 23 CC will be a standout in the lineup.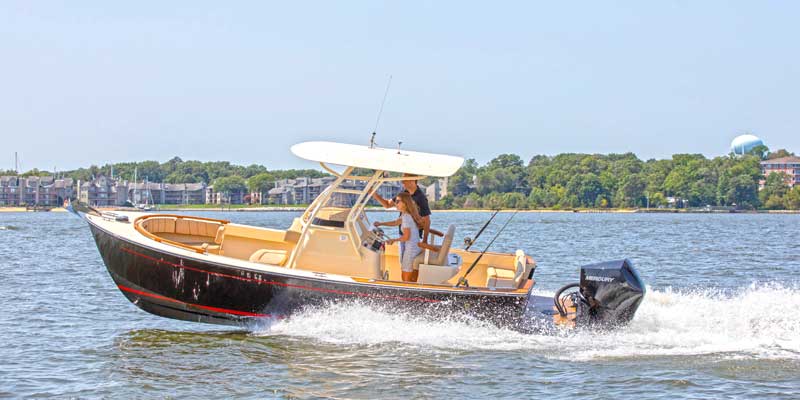 When we visited Annapolis Yacht Sales to hitch a ride on a Coronado 23 CC, the boat clearly stood out at the crowded docks thanks to its brilliant blue hull, teak covering boards and grab rails, and classic lines. Then you step aboard and discover the teak-slatted door to the console head compartment. It's a decidedly traditional touch, one you can find on every classic yacht, commuter, or lobster boat crafted in the days of yore—but which is virtually impossible to find on a modern powerboat.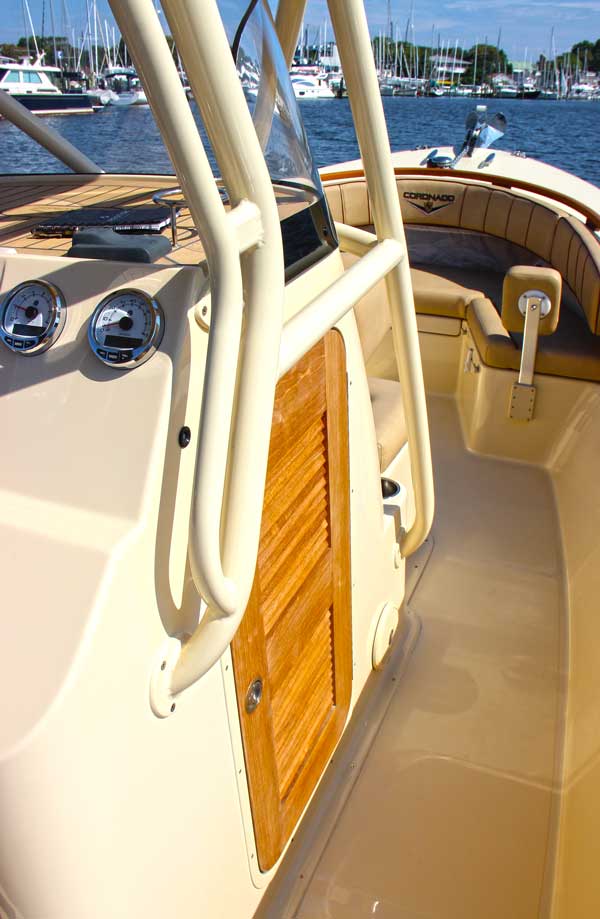 Another unique touch of teak will be found at the leaning post, where the flip-back arm rests have "Coronado" and the Coronado logo engraved into the sides. The rounded bow grab rail is also a stand-out, a detail that makes one wonder just how many hours of cutting, crafting, and sanding it took to create. And when you grasp it, yeah—it does feel better than wrapping your hand around stainless-steel or aluminum.
There are several ways, however, in which this fishable cocktail cruiser leaves history in its wake. The first is construction. The boat's looks belie what lies beneath its skin: a vinylester epoxy resin layup that's foam filled and resin sealed, a glassed-in foam-filled stringer grid, a through-bolted and sealed hull-to-deck joint, and an Armstrong bracket with an integrated swim platform on the transom. These add up to a solid feel underfoot, even as you blast through the mouth of the Severn at speeds up to 43.9 mph.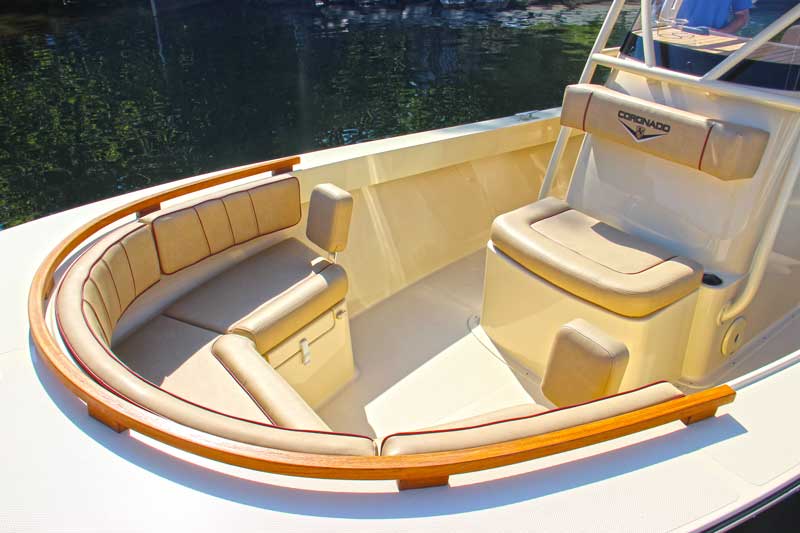 And that brings us to the second item that's decidedly contemporary: the boat's performance. Not only does it top out at hat-stripping speeds, cruise at 4500 rpm is over 30 mph. The boat we ran had a single Mercury 225-hp outboard, which for most 23-foot center consoles would be sufficient but not quite so zippy. The Coronado 23 CC, however, thanks to those construction techniques, weighs in at 2775 pounds. That shaves a solid 500 to 800 pounds of weight off of the average for center console boats in this size range, so it takes fewer horses to attain such sporty performance.
Wait a sec—don't lighter boats fly around more in the seas? Well of course they do, and when we laid the throttle down we did come close to catching air once or twice. But the boat's variable-degree deadrise tapering down to 17-degrees at the transom handled it exceptionally well, particularly when we gave a couple of clicks to the trim tabs and put the aggressive 55-degree, nearly plumb entry into the seas.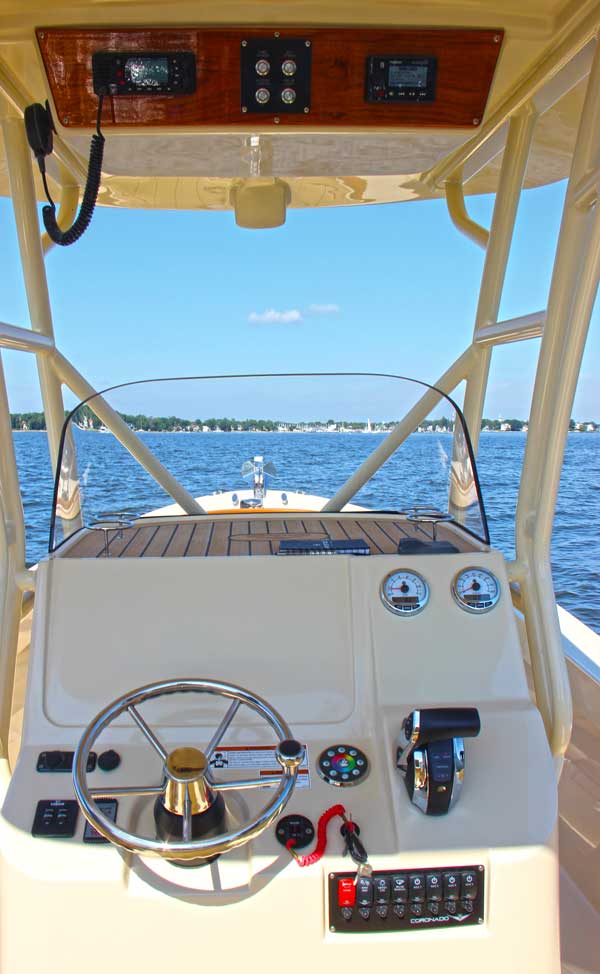 While the Coronado is obviously not a hard-core fishing machine, for those days when angling elbows out cocktail cruising it does have the basic prerequisites: a livewell under the forward console seat, four flush gunwale rodholders, two more holders in the back of the leaning post, and a cooler built into the base of the post. The livewell deserves a second look, because while many boats of this type would include an elementary version, this one's designed thoughtfully from an angler's point of view. It has an overflow valve (rather than a common stand-pipe, which is less costly to build but gets in the way when netting baits), the lid is gasketed and on friction hinges, and the well is lighted for night fishing. Yet at the same time the livewell also enhances the boat's blueblood attitude, thanks to being outfitted with a removable bottle rack that allows it to do double duty as a wine chiller, should you so desire.
Panache? Check. Performance? Check. Angling ability? We'll give that one a half-check, only because swinging hooks and gaffs aboard this boat would feel a bit like throwing darts at a dartboard hanging in the Louvre. Take a peek at one for yourself and we're pretty sure you'll agree that the Coronado qualifies as a work of art. And if you love boats with classic lines and lustrous teak, it's about to make your day a little bit brighter.
By Lenny Rudow
Coronado 23 CC Specifications:
LOA: 23'4"
Beam: 8'5"
Draft (min.): 1'2"
Displacement: 2775 lbs.
Max HP: 300
Fuel Capacity: 85 gal.
Price (MSRP "nicely equipped"): $129,560
Local Dealer: Annapolis Yacht Sales in Annapolis, Stevensville, and Tracys Landing, MD, and Deltaville, VA. annapolisyachtsales.com and (410) 267-8181