Contender earned its reputation building hardcore fishing boats in the 80s and 90s, but don't let that fool you. Years ago they made the conscious decision to blend angling acuity with family friendliness, and today's Contender 24S remains a prime example of how a center console designed with both factors in mind can indeed please just about everyone, just about all the time.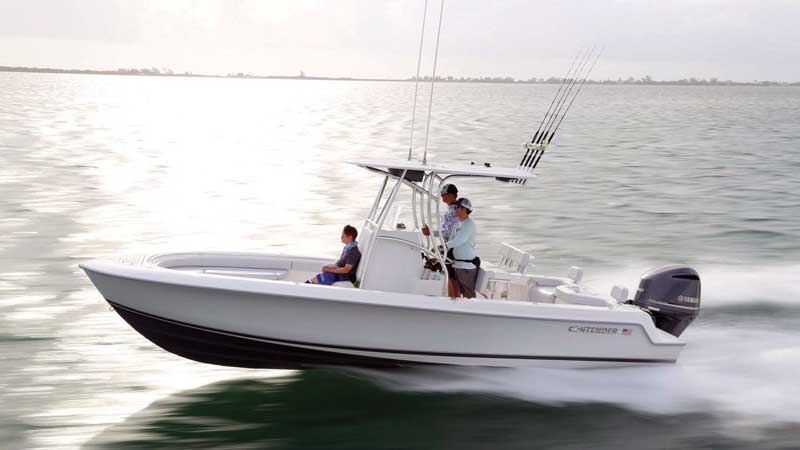 The best example of the mixed-use nature of the 24S can be seen at the transom. Rather than the usual fold-out bench seat with livewells and/or fishbox behind it, Contender molds seats into the transom itself on either side, with a 26-gallon livewell centered between them. You can get just as far aft to work a fish as you can with more common transom designs, and you never have to fumble with one of those awkward folding seats in order for your guests to sit down for the cruise home. Added bonus: the seat cushions turn down to act as coaming bolsters when you lean against them while fishing. True, there's no fishbox in the transom, but you'll never miss it considering that there are two 30-gallon boxes in the deck and a 94-gallon box up forward.
The bow design is similarly split between missions, with flanking seats built-in and a removable center insert that converts the bow into one big U-shaped seat. You can leave the insert at home to enjoy the extra deck space when fishing on big water, or keep it in place, yank the cushions, and use it as an elevated casting deck when fishing inshore. There's also a small seat integrated into the front of the console (with a cooler underneath), so all in all a half-dozen or so people can kick back and relax in the bow when entertaining takes precedence over piscatorial pursuits.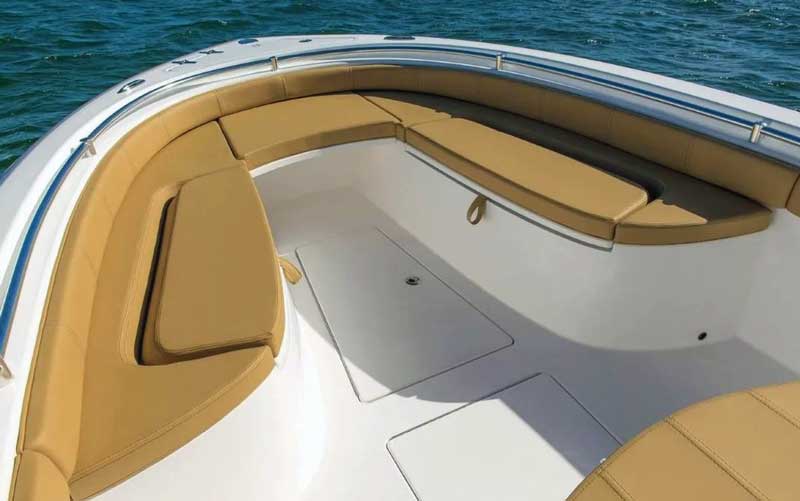 From the Chesapeake angler's viewpoint, all the angling bases are covered. There are four rocket launchers on the leaning post, four more up top, four flush-mounts in the gunwales, vertical racks for four rods along the console, racks for four rigs in the inwales, and a raw water washdown. The helm counts as an angling highlight, too, with an exceptionally large flat ready for flush-mounting some heavy-duty electronics.
One trait Contender has always been known for is a smooth ride, courtesy of the deep-V hull designs they employ along with their hand-laid construction and foam-cored stringer system. Another highlight that really deserves to be called out, however, is the integrated bracket design. Extending well beyond the transom, it provides a sizable swim platform and moves the center of gravity aft, aiding in the boat's ride and performance. Plant a Yamaha F300 on the back, and this boat will break the 50-mph mark. Throttle back to 4000 rpm and a 30-mph cruise, and you'll enjoy better than 2.5 mpg. But perhaps most importantly, whatever speed you run at everyone aboard will remain comfortable in a chop.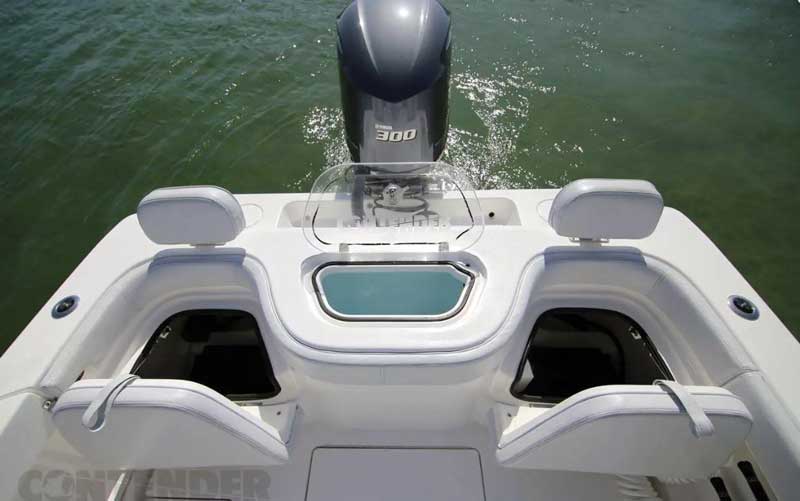 Is the 24S a hardcore fishboat the likes of which originally made Contender, well, a true contender? Nope. Is it a cushy family cruiser? Nope again. Will it make both fishers and the family happy? You bet. In fact, most everyone will agree that it's the perfect blend for enjoying sunny days on the Bay, no matter the mission you have in mind.  
By Lenny Rudow
Contender 24S Specifications:
LOA: 24'6"
Beam: 8'6"
Draft (min.): 1'6"
Displacement (approx.): 5250 lbs.
Transom Deadrise: 22.5 degrees
Fuel Capacity: 130 gal.
Max HP: 300
Local Dealer: Waterfront Marine in Edgewater, MD - (443) 949-9041