Carver Yachts have been around in one form or another since the mid-1950s, when the main boatbuilding material was mahogany. Then in the 1980s they popularized the aft cabin motoryacht, a style of boat that you don't see around much in this day and age. So, the name Carver might not be the first one that springs to mind when you think of modern, cutting edge boats. Unless, that is, you've seen a new model like their C34 Coupe up close and personal.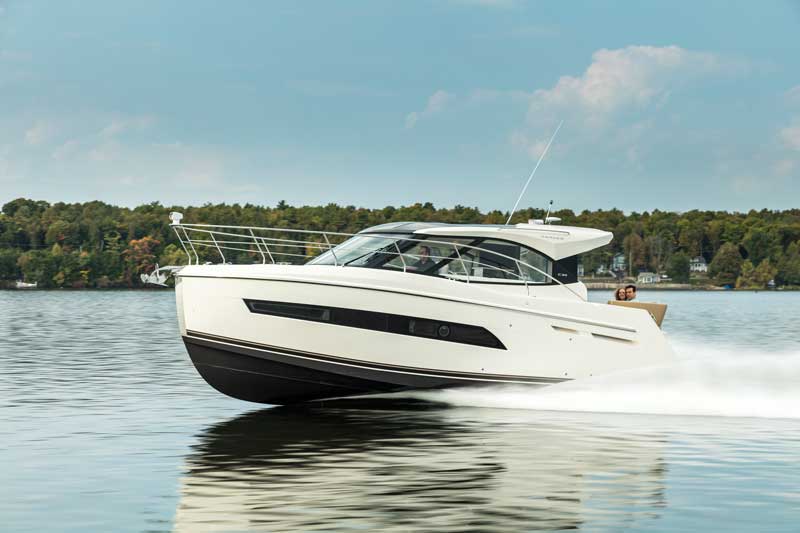 First things first: this is a vacuum-infused boat. Vacuum infusion, where the resin is drawn through the fiberglass via a vacuum, is currently recognized as the best way to mold a fiberglass boat. It results in the ideal glass-to-resin ratio, eliminates excess weight, and maximizes strength. And you can find plenty of builders who use the technique for things like a hatch here, or a console there. But, an entire hull? That's much less common, but it's exactly how Carver builds the C34.
Next, consider the boat's styling. With a plumb bow, a hardtop that "floats" on 360-degree windows, and an unbroken shearline, the C34 certainly looks nothing like those old aft cabin models—in fact, it looks similar to many of the Euro-styled boats on the market these days. What's more important, however, is that the styling serves a purpose. That plumb entry? It results in a voluminous bow which Carver fully utilizes in creating a forward cabin one heck of a lot roomier than you'd expect to find on a boat of this size. Note that it has six feet, eight inches of headroom, which you'll be hard-pressed to find on any cruiser of this size. Then add in the mid-cabin berth, which has an L-shaped extension that flows into the main cabin and serves as a settee, and the amount of space belowdecks is equivalent to that of many boats with two or three more LOA. What about the hard-top floating above the windows? Sure, it looks nice, but it also provides gobs of natural lighting inside the cabin. And at the same time, it makes for unobstructed views from the helm in nearly all directions.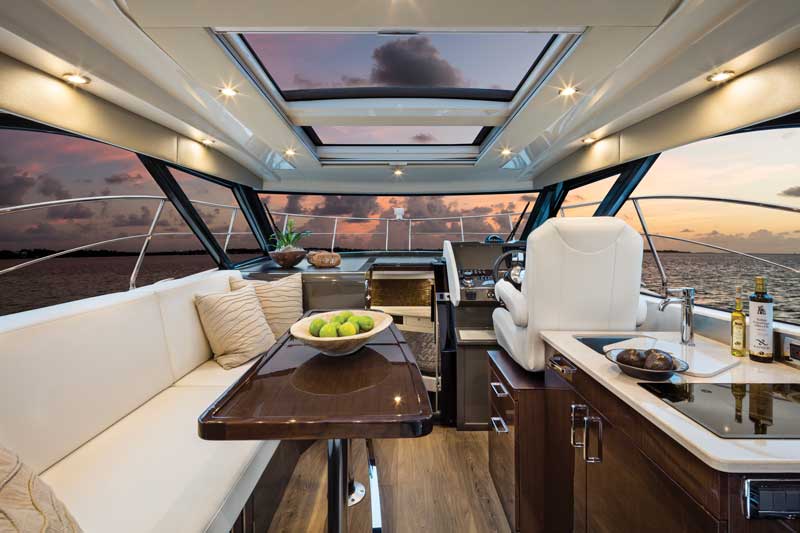 Performance-wise, once again Carver is on a new tack with the C34. There's a wide variety of power system choices, including V-drive inboards, stern drives, and inboard diesels. Bow and stern thrusters and joystick controls are also in the mix. Net result? The C34 handles well both in close quarters and at speed in open water, cruises in the range of 24 knots, and tops out at around 35 knots.
One of the weaknesses of many boats in this class is that they try to cram so much cabin onto the boat that useable exterior space gets short shrift. Fortunately, that's not at all the case here. And the sizeable cockpit has an unexpected perk hidden in the L-shaped lounger: its backrests fold flat to create a big sunpad. Naturally there's stowage beneath, you can add a refrigerator plate to turn some of the stowage into a chilled drinkbox, and on top of that the swim platform is monstrous. You'll particularly appreciate all the space back there if you get the optional transom grill—which we're naturally calling a must-have.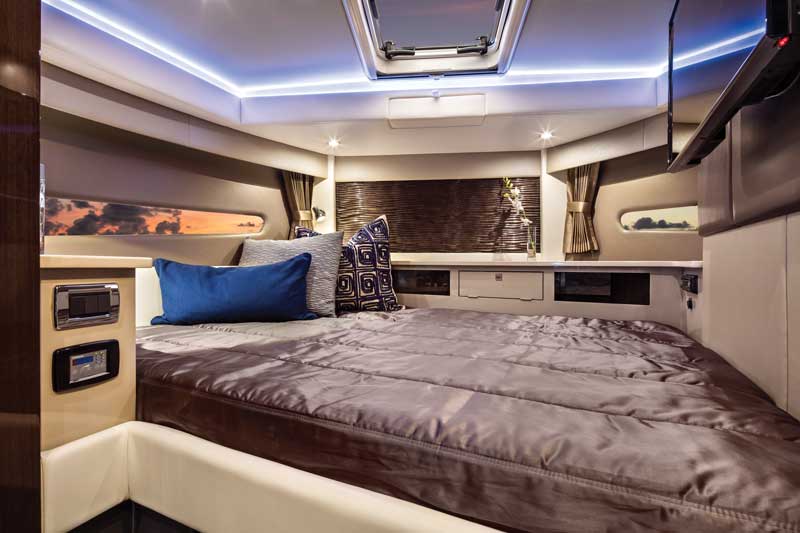 Another note about that mammoth swim platform: Carver wisely equips it with cleats recessed onto the corners. How many times have you seen boats with rather awkward mooring arrangements, thanks to an extended swim platform running four or five feet aft of the transom? It's a smart touch, the type of thing that only experienced boatbuilders would think to do—and close to 70 years of said experience certainly counts, even when the boat in question is right at the cutting edge of boatbuilding tech. 
Carver C34 Coupe Specifications:
LOA: 34'0"
Beam: 11'6"
Draft (max.): 3'6" V-drives; 3'3" stern drives
Displacement: 17,300 lbs.
Max HP: 700
Fuel Capacity: 200 gal.
Water Capacity: 78 gal.
Price (MSRP): $412,240
Dealer: Waterfront Marine, Edgewater, MD, (443) 949-9041