In the world of skiffs 23 feet is thoroughly bodacious, and if you want the simplicity of a skiff along with the comfort and space of a bigger boat, the Carolina Skiff 23 Ultra is likely to end up on your short list. Wait a sec—can we really call a center console boat this large a skiff? You bet. Keeping true to Carolina Skiff's form, the 23 Ultra comes in a standard layout and has a healthy list of optional items that allow you to customize the boat and make it more or less complex as you desire.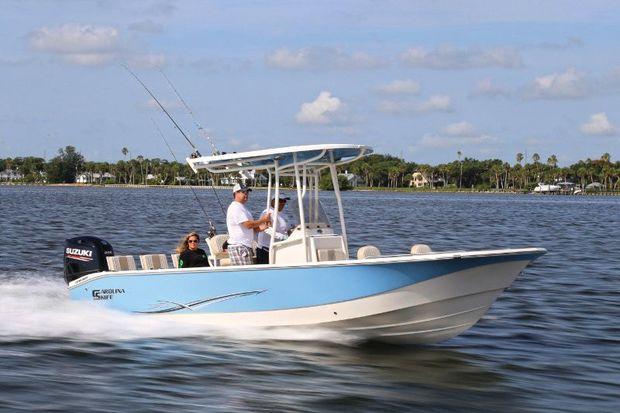 The leaning post arrangement is a great example. You can go with a simple post with a folding backrest, or jazz it up with an additional footrest, cooler, rocket launchers, and cup holders. Beyond that you can add goodies such as a stereo system, a freshwater system, and 70-quart padded front cooler seat to boost your comfort level—or you can leave those things off and maintain a more utilitarian attitude. There are, however, a few items on the standard features list that are a bit unusual for a skiff. The console head compartment with a portable MSD, for example, is an unexpected perk that just about everyone's going to be glad for. Some others include the hydraulic steering and tilt helm, low-profile bow grab rails, cockpit coaming pads, and stainless-steel electric trim tabs. These are items that would be considered add-ons on Carolina Skiff's more Spartan model lines, like the DLV or DLX series.
Another unusual touch for a skiff is the hull and deck construction. This is no rolled-edge boat, but instead has a full deck cap and liner. True, that increases the cost and weight of the 23 Ultra, but it also adds some serious eye-appeal. Plus, it allows things such as the bowdeck and livewell to be molded in as opposed to added on. Going beyond skin-deep, like other Carolina Skiffs the construction is rugged, based around a closed-cell, foam-cored stringer grid, molded high-density foam blocks, fiberglass mat, Coremat, and woven roving.
Even at this size, the 23 Ultra also manages to maintain the shallow-water fishing abilities that make a skiff so attractive to many light-tackle anglers. The boat drafts a mere seven inches, so it can easily get in to those skinny-water hotspots. It has svelte fore and aft casting decks (the one in the bow doubles as seating), which leave a lot of room in the cockpit, a 20-gallon livewell, and a three-tray tackle stowage compartment. And unlike most smaller skiffs it also has flush-mounted rodholders in the gunwales, so you'll have no issues setting out a healthy spread when trolling for those spring trophy stripers.
What about performance? The 23 Ultra can be had with a minimum-sized 200 horsepower outboard, up to a maximum power of 250 horses. Truth be told, the 200 is plenty of power to get the job done. It will get you a top end in the low to mid 40-mph range, with a cruise of around 30 mph. The ride's a bit better than on a traditional flat-bottom skiff, too, because the 23 Ultra is based on a 15-degree deadrise hull bottom. Will it ride through three-footers like a 24-degree deep-V boat? Of course not, nor can any true skiff be expected to, but it's a darn-sight smoother than what one might commonly expect from a skiff ride. It also has far more stability than a deep-V can offer. Meanwhile it's wide, rounded bow knocks down the spray. These two traits address the biggest complaints about traditional skiffs—the pounding and the soaking—without sacrificing the aforementioned advantages of owning a skiff.
There's one final skiff advantage we haven't touched on just yet, and that's price. Depending on how you have it rigged this boat will usually shake out between the low $40,000 and the low $50,000 range. While that isn't exactly chicken feed, it's a price range that shines in a world of $100,000-plus 23-footers. And that proves once again that you can get bodacious with a skiff, without giving up all the skiff advantages. Short list, here we come.
Carolina Skiff 23 Ultra Specifications:
LOA: 22'11"
Beam: 8'4"
Draft: 7"
Displacement: 2800 lbs
Max HP: 250
Fuel Capacity: 85 gal.
Price: Approx. $42,000
By Lenny Rudow