The 18-foot bowrider is a ubiquitous resident of the Chesapeake Bay watershed, gracing countless docks, lifts, and driveways in the area. Boaters of all ages and backgrounds get their start on this type of vessel, and its versatility makes it an ideal beginner boat. There's just one problem: in today's marketplace, even these small, relatively simple boats can cost an arm and a leg. Enter the eminently affordable Bayliner VR4.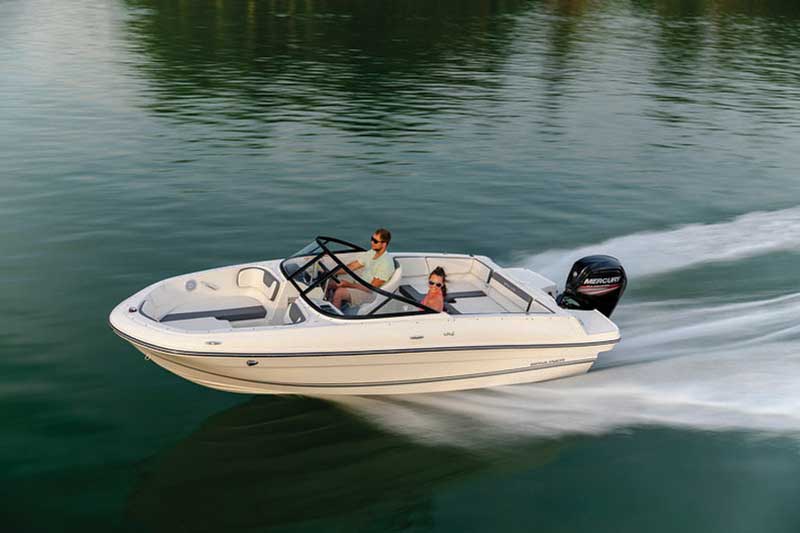 Bayliner has spent the past few years completely revamping its bowrider line, starting with the 22-foot VR6, and then adding the 20-foot VR5 and most recently, the VR4. The MSRP for this new model is a mere $23,999. And that list cost includes a 115-hp Mercury outboard and a single-axel trailer with brakes and a swing-away tongue.
Wait a sec—we know what you're thinking: Bayliner has always maintained a reputation for having a relatively low sticker price, but in the past they also had a reputation for less than stellar construction. Well, we wouldn't argue with you on that point, but this was due in no small part to a rather extensive use of plywood (read: rot problems) throughout the boat, including in structural members. 
As Bayliner rethought their bowrider line, however, they decided to ditch the wood and move to composite stringers and decks as they introduced new models in the VR series. Yes, you will still spot a few cost-cutting tactics like some un-linered stowage compartments; the small bow bolster pad that acts as a backrest for the center seat but doesn't wrap the entire bow cockpit; and use of a spring strut on the glovebox lid. But you'll also see some unexpectedly nice pieces and parts you don't normally find on a price-conscious boat, such as the metal grab rails and cupholders where you might expect plastic; a standard 120-watt stereo instead of a 40- or 50-watt version; and tilt steering as opposed to a cheaper fixed wheel. 
Eighteen feet is, of course, a fairly compact boat. The max capacity rating is seven people, and if you pile this many aboard, they'd better be good friends. Bayliner does, however, maximize the VR4's interior volume with two tactics. First, they push the beam forward and give the topsides bow a rounded shape instead of a sharp V, which creates gobs more space in the bow cockpit. 
Secondly, they minimize gunwale width and gain a few inches on either side of the boat from stem to stern. Again, these are features that were developed when Bayliner shifted away from its traditional bowrider designs and created the VR series, and they have a significant impact on just how roomy the boat feels inside.
For use as a simple runabout the VR4 is more or less ready to roll right out of the box, but watersports fans will want to add either a ski tow pylon or the Xtreme Tower (which includes a bimini top). You can further jazz the boat up with goodies such as wakeboard racks, underwater lights, additional stereo speakers, foam padding for the swim platform, or snap-in cockpit floor coverings. Traditionalists may want to trade in the outboard for a 4.5L MerCruiser stern drive, which will also get you a full-beam swim platform but costs you the outboard version's large aft stowage compartment. Bayliner even offers a few fishing features for the boat, such as a bow-mounted electric trolling motor and a livewell.
That's a rather diverse range of options, but it does allow you to rig the boat for one activity or another, or for multiple missions. And that's what's so appealing about an 18-foot bowrider. No matter who you are and what you enjoy most about boating, this platform will likely put a smile on your face for years to come. And just as importantly, no matter how old you are or what your background is, this is one brand new bowrider that just about anyone can afford. 
Bayliner VR4 Specifications
LOA: 18'10"
Beam: 7'6"
Draft: 2'10"
Displacement: 2822 LBS
Max HP: 200 Stern Drive/150 Outboard
Fuel Capacity: 33 GAL.
Price: $23,999
By Lenny Rudow
---