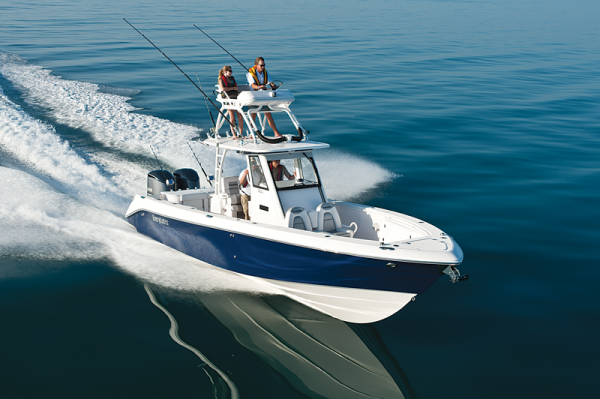 The only complaint I can muster about putting the Everglades 325cc through its paces was it wasn't nearly windy enough. On a warm, late summer day I met Jack Flood, sales manager for Annapolis Boat Sales, at Kent Narrows. As he navigated the twin-powered center console through the tricky current of the drawbridge, I rapid-fired questions at him, which he deftly handled. When I asked him if he'd been to the Everglades factory in Florida. He said "yes," gushing, understandably, about its state-of-the-art design. But he kind of clammed up when I pushed for details about the impressive, and patented Rapid Molded Core Assembly Process (RAMCAP) developed by Everglades founder and boat building legend Bob Dougherty. I'm referring to the RAMCAP that earned Dougherty the Marine Manufacturers Innovation Award in 1999 and changed how sportfishing boats are built. Although some boat builders inject foam or use low-density foam blocks, the team at Everglades constructs their boats using high-density, structural foam blocks they build separately and then lower into the hull. The hallmark of Everglades construction is this modular assembly. For example, every console is fully assembled before it's placed into the boat, and they mean everything: instrumentation, electronic panels and connections, outriggers, hardware. Also, plumbing for water, head and bilges, electrical components, hardware, and speakers are installed on the cap before they are lowered into the hull, where it is then bonded in place. Once everything is in place, Everglades builders test each boat in their onsite water tank, inspecting every inch for integrity and watertightness. The company has its own in-house machine shop where they fabricate metal work including the leaning posts and T-Tops, which on the test boat never even twitched when I hung and pulled on it at 40-plus knots. All of this attention to details makes for an unsinkable boat with a rock-solid ride even in nasty slop, Flood said. I'd have to take his word for it since never a whiff of challenge came from the slick calm Eastern Bay. It was like riding a thoroughbred in a ring. So I made our own seas by crisscrossing our own and other boats' wakes (at a very safe distance) at speeds approaching 50 miles per hour. Not even a wobble. The 325cc turns smoothly, backs down nicely for an outboard, and with the Yamaha 350s pinned, it gets on a plane not so much like a rocket but more like your grampa's deVille. And the ride was as dry as a desert. Everglades 325cc is as fishing-functional as it is beautiful. Overall, Everglades lists the cockpit area at 131 square feet. It seems bigger. The tuna door, located on the starboard side at the stern, is plenty wide enough for a monster bigeye tuna. Built into the transom is a huge fish cooler (129 gallons) and next to that is the 34-gallon livewell with blue walls to calm anxious baitfish, and keep them alive longer before they're sacrificed. There are two smaller fish boxes on the forward deck. The rigging station/tackle storage is behind the ridiculously comfortable helm seats, and has eight drawers. Want rod holders? You got 'em, and then some. I counted a total of 32, though I might have missed a few. They are everywhere: T-Top, transom, washboards, leaning post. And while it may be overkill for my fishing style, I understand the need from the bluewater angler perspective. The telescoping outriggers are of first-rate quality and deploy easily from beneath the T-Top. Flood said a second station (he didn't like my term "mini tower") was an option. Well-thought out touches include the retractable windshield of tempered glass, adequate space under the helm seats for a Yeti 75 cooler, and overhead lifejacket storage with easy zipper access. There are four JL Audio speakers for jamming tunes during a slow bite, and the Rigid LED aft spreader lights should illuminate any overnight swordfish trip. Port and starboard grab rails run from the console to the bow, so passenger safety is again enhanced. The fatigue mat will keep your dogs from barking and is a must have. Hatches and doors are well sealed, and access to the bilge is very easy with copious space below. In fact, I could lie down and easily reach any hose or seacock without busting a knuckle. Step down into the head and shower (in the center console) and you're greeted with lots of room and a sense of airiness, not cramped as on some boats. In the category of luxury family fishing boats, Everglades is not just a standout player; it's an All Star. The company's mantra of innovative design meets unmatched comfort and fishability isn't just a PR slogan. It's the real deal on the Everglades 325cc.
Specifications:
LOA w/Engine:
34'8"
Beam:
10'8"
Draft (Hull Only):
24"
Draft Engine Down:
37"
Deadrise at Transom:
25 degrees
Deadrise Average:
41 degrees
Transom Height:
30"
Weight (no engine approx):
9,500 lbs
Max HP Capacity:
700
Max Persons Capacity:
14
Max Weight Capacity:
5,200 lbs
Fuel Capacity:
306 gal
Water Capacity:
35 gal
Waste Capacity:
9.5 gal
Bridge Clearance w/Hardtop:
8'9"
by Capt. Chris D. Dollar