Every kind of water, every kind of weather.
Imagine a boat trip of less than 400 miles that includes five states and most every kind of water to be found on the U.S. East Coast: ocean, bay, river, creek, and canal, salt and fresh. That was our experience in May when Captain Bill Madison and I delivered a 31-foot Mainship (1994) from tidewater Virginia to Albany, NY, for a fishing enthusiast who had just purchased her.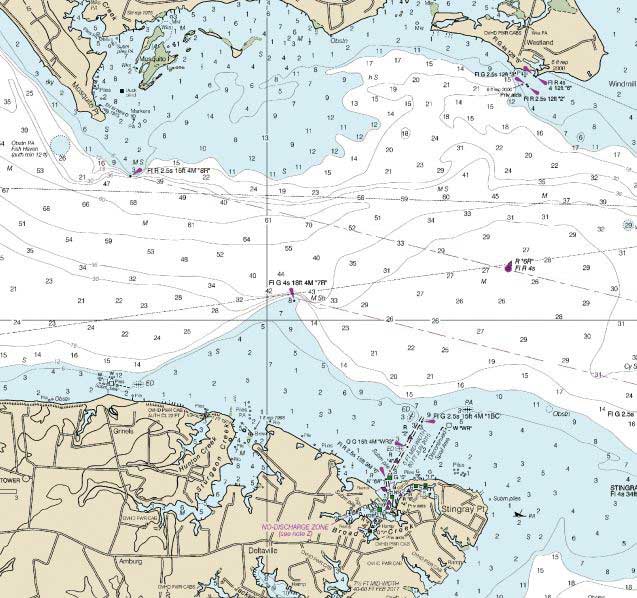 The beginning of an inland trip
Because the Mainship 31 is a relatively small motorboat, this was going to be mostly an inland trip up the Chesapeake, through the Delaware and Chesapeake (D&C) Canal, down the Delaware, outside the New Jersey coast, up into New York Bay and the Hudson River, and up the river to Albany. The sticky part would be the journey up the outside of the New Jersey coast, where the weather can be rough. There are not enough places to duck in in bad weather, especially in May, an unsettled time of year. At the same time, the Chesapeake can be rough, so can lower Delaware Bay and certainly New York Bay; so, we knew that we were going to have to time the various legs of the trip to suit the prevailing weather forecast.
Quite early on, Bill and I discovered a few things about this 23-year old boat that pleased us that someone else had bought her. "Would you want to own this boat?" is a commonplace question among delivery captains. "I wouldn't want this thing even if it were given to me," Bill sputtered a few times during the trip. 
Why? The boat was essentially a fiberglass wedge driven through the water by two gas-guzzling 350s and could not be comfortable in anything more than a four-inch sea. Any chop higher than a half a foot and she shuddered, slapped, and rattled, especially at her top speed of about 15 knots. She couldn't pass much on the water beyond a cruising sailboat and certainly never a fuel dock. Her twin gas tanks held 100 gallons of pricey marine gas each, and those 200 gallons, traveling at cruising speed, would get us 108 nautical miles, the last eight being on fumes, as Bill said. That limited our daily range to about 100 miles before we needed fuel. 
Also, it meant that we couldn't do the Jersey coast in one shot, between Cape May and Sandy Hook; somewhere along the way, we would need to stop for fuel, such as ducking into Barnegat, and waste precious time. We might even end up having to stay over in Barnegat or Manasquan, depending on how much time the refueling cost us. Our boat was a slow gas hog, costing nearly $400 USD per fill-up. 
It was also the first boat of its size that I have ever known to be fitted with what I might term a 'Demitasse' holding tank, that had no overboard release option and thus needed a marina pump-out every 30 hours, on average, with just the two of us to fill it.
Unlike ocean deliveries to Bermuda and the Caribbean that I've done, where you're sailing 24/7, on an inland trip, you must stop every night. Night-time navigation on inland waterways is risky, and besides, after 6 p.m., there's no one around on the docks to pump gas; so we docked her, gassed her, plugged in the shore power cables, went ashore to eat, and slept on the boat. Captain Bill has done this route back and forth many times, and apart from the upper Hudson (where neither of us had ventured before), he knew all the marinas and stop-off places where a night on quiet water could be found. This was a tremendous advantage, and I used it to seek out local pubs and seafood in the evening.
Fixing, fueling, and food
We got a late start on the first day out of Deltaville due to things that needed fixing and supplies brought aboard. The boat was bare of everything except for flares and fire extinguishers. At the day's end we stopped at Solomons Island. Fueling up was tough; there was a strict fueling protocol recently instituted by the marina, probably because an old wooden gas boat had blown up at the dock a week earlier and burned to the waterline (nobody hurt). The partially melted, sooty gas pump still stood uncovered on the dock like a weird tragic trophy.
After the fueling dance and then tie-up, I discovered the adjacent Blue Fish Bar where I enjoyed their signature specialty, crabmeat-stuffed potato skins. They were a first for me; I confess to a passion for crab, and I was in the heart of crab country. In the morning, in sleepy Solomons, there was not a cup of coffee to be had at any price within walking distance. The town was asleep.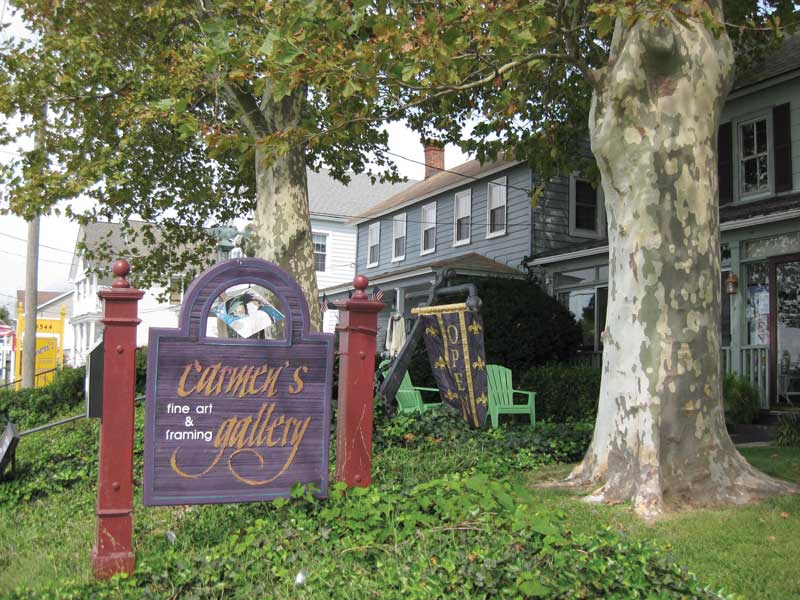 Underway again, the morning and afternoon passed by; near the end of the day we had traveled through what I felt was the most beautiful part of the Chesapeake, the upper end near the entrance to the C&D Canal. I noted that the green, wooded shores were much closer; the glassy waters in late afternoon had a different, sweet scent, tantalizing, the mingling of fresh and brackish waters. It felt like camping somewhere on a northern lake. The countryside was pretty, not heavily developed. I longed to come back and explore the Sassafras, Elk, and Bohemia rivers in a small boat someday. 
Once into the canal, we stopped and refueled at Schaefer's Canal House near Chesapeake City. A large, attractive waterfront restaurant beckoned. Bill would have none of it. "Fancy place, expensive," he growled. But we had not eaten all day, and as we pulled away from the dock, I had a sense of foreboding (and hunger) in the pit of my stomach. We ended up at a marina over the border in Delaware where there were no services or stores for miles. The docks were rotting, and big, black, baleful turkey vultures, ubiquitous in Delaware, stood gloomily about on the dock railings, staring at us dispassionately as though they were waiting for us to die of starvation. I made a dinner of a bag of stale pita chips.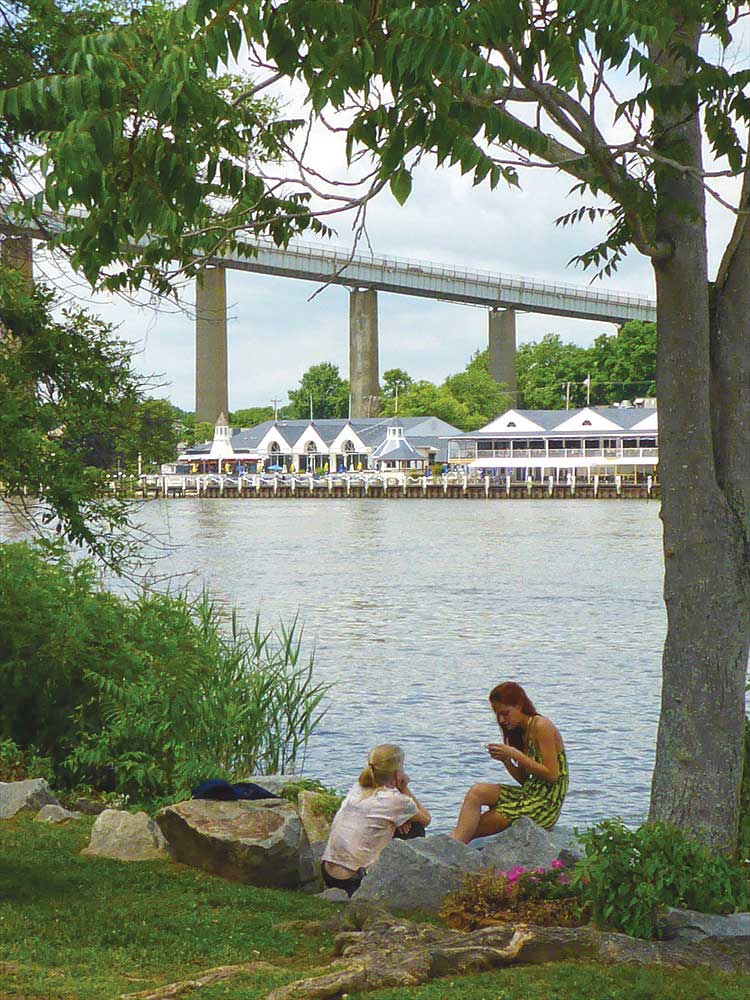 Steep seas and strong winds
The next gray morning found us emerging in Delaware Bay in calm seas, but as we passed dark, rocky, forbidding Ship John Shoal on our way south, I began to feel that something wasn't right, even though we were making great time running downstream with the current. Within a half hour the wind came up, unpredicted, out of the east and northeast, and we were battling steep six-foot seas at short intervals and strong winds, taking a terrible pounding as we clawed our way across shallow lower Delaware Bay toward the mouth of the Cape May canal. We made it, but we took a bruising. Unknown to us, the forward hatch seal was broken, and water over the bow came in to soak mattresses and bedding in the forward cabin, and even through a broken port into Bill's cabin, soaking the top bunk. Luckily for him, he slept in the bottom bunk.
With our weather window gone and a nor'easter building off the coast, we had to moor the boat at South Jersey Marina in Cape May for nearly a week and rent a car to drive home. This caused the boat owner much grief, as he had a virtual cost-meter running in his head, but there was nothing we could do. Other boats were also stuck at the marina for days; until the weather broke, nobody was going anywhere on the outside. But SJM is a great place, and they took kind care of us with such comforts as a laundry room, clean showers, and bathrooms, a little restaurant, and a well-stocked ship's store. Dockmaster Chris Booth and his team watched over the boat while we were away waiting for the return of good weather.
Since I hadn't eaten a solid dinner since Deltaville, on the evening of our arrival, I trotted over to the beloved Lobster House restaurant for a dinner of Cape May 'salts,' local oysters on the half shell and sautéed soft shell crabs.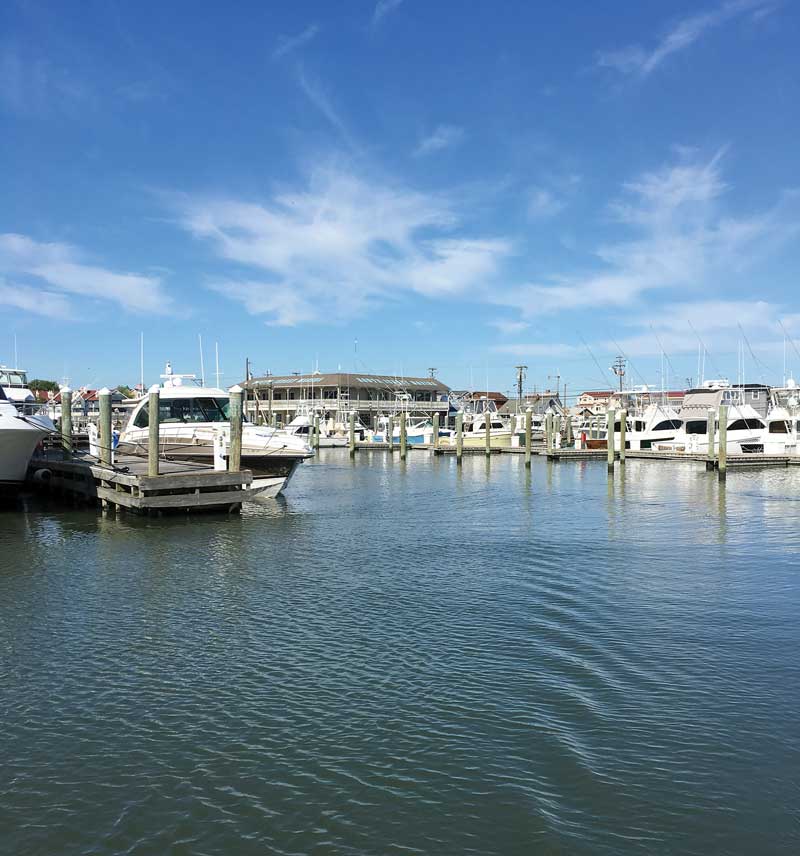 Feast and famine
When we returned days later to finish the voyage, we had chosen our weather-days carefully, and we set out on a bright blue morning, up the Jersey coast, past Atlantic City, arriving by late afternoon into Barnegat, just as the weather was turning cold and nasty out of the east again. We ducked in to moor and refueled at The Lighthouse Marina, finding ourselves in the comfortable and reassuring company of commercial fishermen all around, and prudently decided to stay the night.
The little village, off-season, was empty and desolate, but once again, trusting to my native instincts, I found an excellent tavern near the Coast Guard station, a lively place named Kubel's. Warm, wood-paneled, friendly, with plenty to eat and drink and a huge stone fireplace, I could have easily dropped anchor there for a good spell and curled up in a corner like a cat. The rambling building stood out like an island in the middle of cold, windy, empty Barnegat, a lighthouse of sorts of its own.
Due to our hectic schedule and variability in the places that we stayed, we seemed to alternate between feast and famine. The times when I had the opportunity to enjoy oysters and crabs at the Lobster House were offset by mornings when, at a marina of some Delaware or Hudson canal or dock with no facilities about, we had Folger's coffee teabags, zapped in the microwave in a foam cup, and no real food. On the Hudson, Captain Bill ate the rest of a big block of cornbread that he had brought on the initial trip. He had left it in a locker during our week hiatus, and resumed eating once we returned to Cape May, as there was no evidence of mold on it. And in all truth, although the contract with the boat owner makes provision for grub on the trip, I considered this limited to simple sustenance and necessities. When I treat myself to oysters and specialties in port, I pay for that out of my own pocket, as a point of honor, because I can have what I want with a clear conscience.
Lying at the pier in Barnegat, I slept like a sailor; that is, never fully asleep and past the point of even slight awareness. Bill told me later that he did the same, for all night the wind blew fitfully out of the east, a place from where it was not supposed to be coming from, and a bad direction for a trip up the coast. We knew it; I heard it sigh around the boat in my sleep, coming in off the cold Atlantic, and in my subconscious mind I worried.
It was not blowing hard yet, just constantly, so at first light, Bill was up, firing up the engines. "No time for the coffeeshop this morning," he said, as I rubbed my eyes. "Let's get out of here." I cast off and stowed the lines. We rounded the lighthouse at sunrise and nosed out into the choppy channel between the jetties, the water steel blue under early morning skies, ready for a rough ride, travelling on empty stomachs.
Up the Hudson into a different world
We ran hard, on full fuel tanks, and as we rounded Sandy Hook and headed towards the New York skyline, the wind surprisingly began to moderate until it was nearly calm. Up under the bridges we went, past Lady Liberty, past tall Manhattan, and past ships and ferries. The sun came out. We passed Weehawken, where Hamilton took his fatal pistol-ball from Burr; finally stopping for fuel and the generous gift of coffee at a tiny marina north of the George Washington Bridge.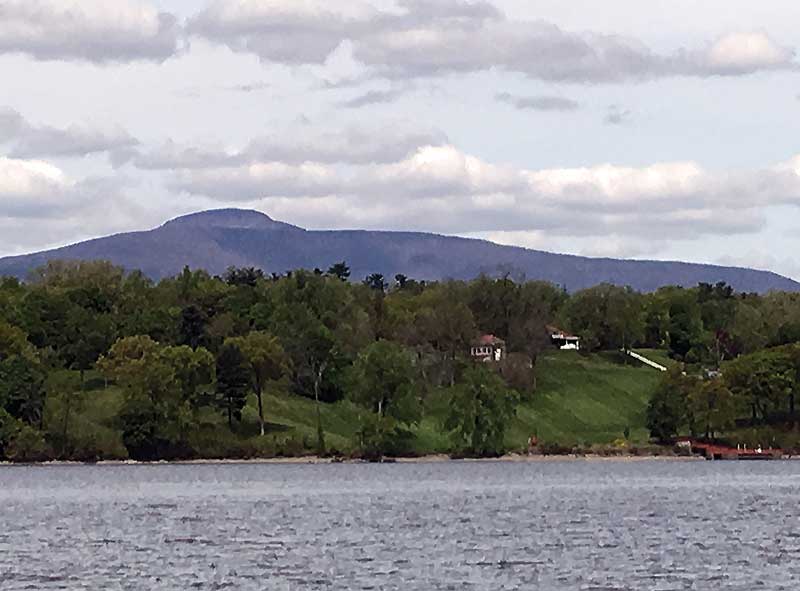 Our remaining trip up the Hudson to Albany took another day and was uneventful. It was cold, but picturesque, with the Palisades towering to port and green mountains on either side as we zoomed north toward the Catskills. It was a whole different world from the Atlantic and the Jersey coast. Best of all, we were on smooth water, something I welcomed at long last. The boat rode smoothly and comfortably now. 
The high point of this part of the trip was our fuel stop in the village of Kingston, NY, a quarter mile or so up Rondout Creek. A grand old brick lighthouse marks the entrance to the creek, and the village, complete with restaurants, a museum, pubs, and a pretty waterfront with classic boats, is apparently a favorite of "Loopers," folks who spend a couple of years cruising the inland waterway 'Loop' and taking their time about it. This two-day trip up the river was incredibly different from the saltwater part of the voyage, and I began to think of what a neat thing it might be to travel that loop myself someday in a shoal-draft motorsailer! 
About the Author: Capt. Mike Martel holds a 100-ton Master's license and is a lifelong boating and marine industry enthusiast, ex-US Coast Guard seaman, and boat owner with extensive offshore experience. He has teamed up with Capt. Bill Madison and other friends and crew to form DeliveryPassagemakers.com.