Question, what happens when an offshore fisherman buys a 41-foot trawler? Answer: you bet he's taking it offshore. Previously I wrote about my solo delivery of my trawler Pelican from Deltaville to Chincoteague, VA, over a two-day trip with a stop in Cape Charles (published in the September issue of PropTalk). That was just the sea trial - this was my bluewater cruising adventure.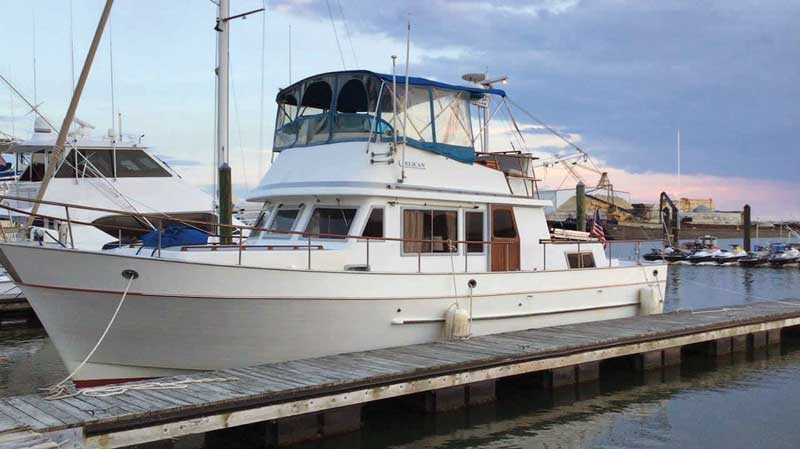 I am a navy chief, and I took an assignment to Groton, CT, for two years. With housing and rental prices where they are, I found it was more economical to buy a trawler to live on at the base marina with my dog. The only issue was getting the boat from Chincoteague to Groton in a timely manner. So, I asked three of my best friends—Manny, Jesse, and Jim—to help. Manny is a navy corpsman, so we were covered in case of a medical emergency. Jesse is a retired navy cook, who was very helpful in planning our menu for the trip. Jim is a younger guy working for Daisy Island Tours who holds a six-pack license, and I am a machinist mate who's been fighting with the Coast Guard over what "qualifying" sea time means for getting a 100-ton license. 
The week prior to departure I serviced the engine and believed that I fixed the generator. Thursday, July 14, my friends and I did our grocery shopping and drove down to Chincoteague from Middletown, DE (shout-out to my other friend Mike for driving us down and bringing the car back to Delaware). We took on 250 gallons of fuel from PEP-UP for $4.18/gal. and were underway from Chincoteague Fisheries by 0930.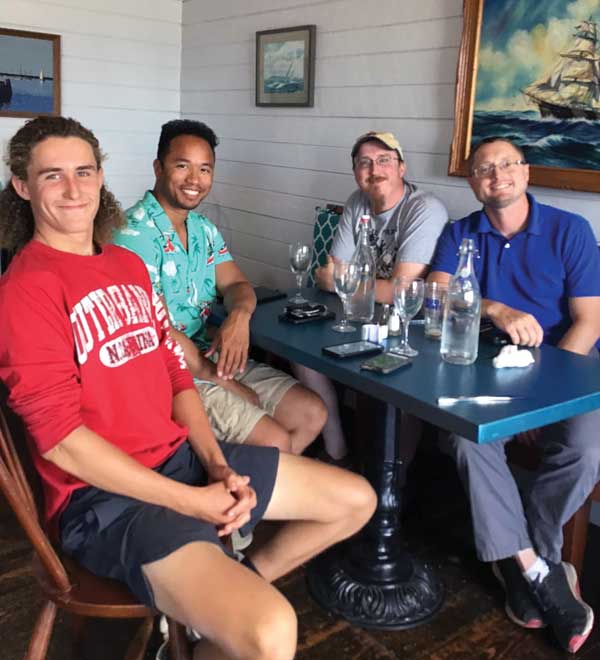 Once we cleared Chincoteague Inlet, we set a course aiming for the Hudson Canyon and set out four trolling lines. We caught two Spanish Mackerel fairly quickly; however, the generator lasted 10 minutes before cutting out. So we were without AC, microwave, stove, and oven.  Luckily we brought two camp stoves and so were still able to cook. Jim had first watch, and we couldn't ask for a better weather window for this trip. Winds were less than 10 knots with a south easterly swell. At 1600 rpm, we made about six to seven knots. Dinner was a sausage and vegetable stew made by Jesse, and the one rule was no alcohol eight hours before or while on watch. 
Being the owner, it was difficult to sleep because it's my boat and I was hyper-alert for any issues. I did get a couple of hours down before my watch from 8 p.m. to 4 a.m. I watched the sunset, stars come out, and the moonrise. Watching a moonrise offshore is one of the most majestic experiences one can see. I saw a cruise ship and played chicken with a commercial fishing boat (I couldn't make out the boat's running lights with its outrigger lights on). At about 2 a.m. I was starting to fade, so I woke up Manny to take my last couple of hours before Jesse woke up.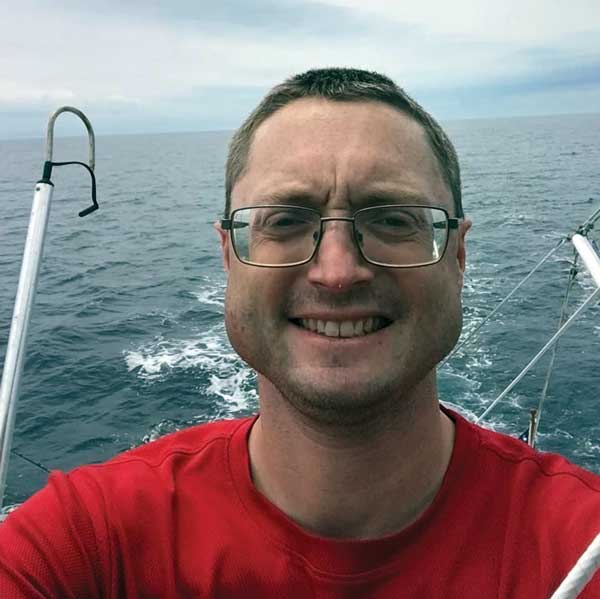 Saturday morning, we cooked scrambled eggs over the camp stove. We caught a small Yellowfin Tuna which became Poke in 20 minutes. Poor Manny was out for the count with seasickness the entire day, and Jesse also was seasick, but still functional. Even I was a bit seasick at times, with the way we rolled with the southeast swell on the flybridge. Jim was a rock though. With Manny out for the count, I took his watch from noon to 8 p.m. We reached the Hudson Canyon around 2 p.m. and I got my deep drop gear out, made a couple of drops in 600 feet, and caught three small golden tilefish. We also took a couple of minutes to check the running gear and scrape off any growth on the rudder and prop, which made a difference on our fuel consumption. We set our course for Montauk, Jesse took the bridge watch, and I made a fish stew with the Tilefish over the camp stove. We had an escort of dolphins throughout the rest of the afternoon and into the evening. Jim had the 8 p.m. to 4 a.m. watch, and I was woken up twice for the autopilot wanting to do a "Crazy Ivan" (a U.S. Navy term for a Soviet submarine maneuver, characterized by any number of sudden and sharp turns).
Sunday morning, Jim had a hard time waking me up. But once I was on the bridge, I could already see Block Island and Montauk lighthouses. We started to fight an outgoing current from Block Island sound coming around Montauk and there were a lot of fishing boats around the rip. The water temperature had also dropped from the high 60s at the canyon to 55 degrees. Getting through the fishing fleet, I realized that put a steering wheel in a New Yorker's hand, and they are pre-programmed to just be jerks whether on land or sea. Mind you that we're only going six to seven knots, but several boats crossed in close proximity to our bow as we puttered along.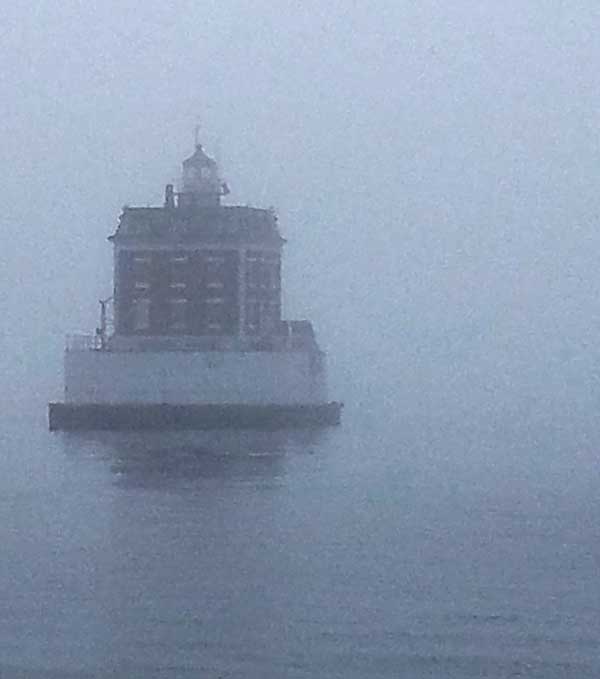 Once we cleared Montauk, our speed picked up, but we were soon fast approaching the "Race," a deep-water channel where water is exchanged from Long Island sound, Fisher's Island Sound, and Block Island Sound. Depths in this stretch of water can be as deep as 300 feet, and the current going through is wicked strong. To make matters more complicated, there was a fog bank that made pea soup look thin that morning. Manny and Jim were on the bow trying to spot anything that might be in front of us; we could hear fog signals from Fisher's Island lighthouse, ferries, and any other boats in the vicinity, and I was sounding my horn about every two minutes or in response to any horns I heard close by. With visibility maybe 50 yards, I had to navigate by my radar charts, and prayer. We passed by a little skiff which we didn't see until we were maybe 50 feet from them. 
The prayer worked because we came upon the Thames River Entrance buoys dead center, and there were two Navy escort boats waiting for a submarine to come into port. The fog lifted once we were past Pine Island Marina, and we were able to see Thames Yacht Club, Pfizer, Electric Boat, and the 95 bridge. It felt nostalgic passing by all these places that I hadn't seen in 13 years. There was hardly any wind docking at the Thames View Marina at the base, and we docked around 10 a.m. A 49-hour trip with only minor issues. Once we had water and electric hooked up, we got cleaned up, and a fellow chief gave us a ride to the New London Train station for our ride back to Delaware where Manny and Jesse live, and I still had a couple of things to finish packing in Chincoteague.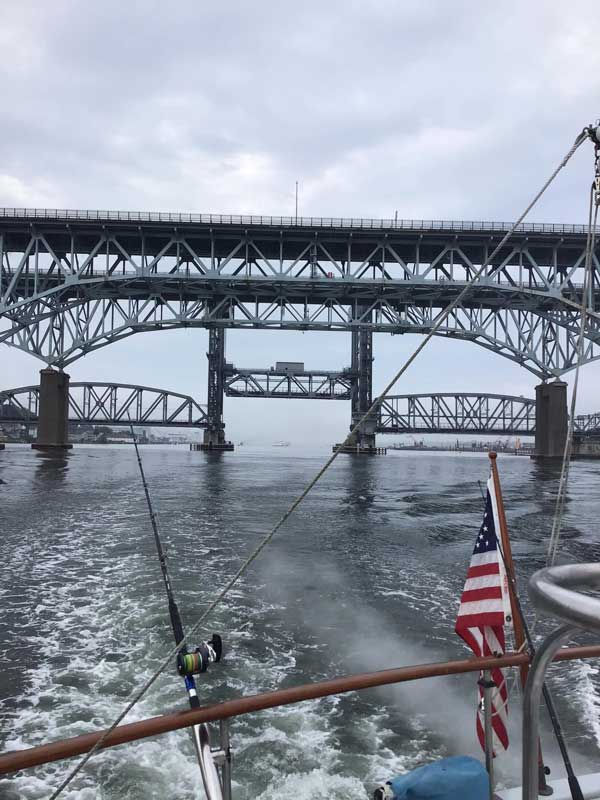 Would I do this again? Absolutely! If I had the time off, I would help my new neighbor sail from Groton to Summit Bridge Marina. A couple of things I would do differently would be to get the generator and water system issues fixed. According to my Flowscan, the fuel burn for the trip was 230 gallons, which seems a bit high, but I have determined that my boat is about two inches overpitched. 
To others who may be cruising to New England from Norfolk or Cape May and would consider offshore versus hugging the coast, consider the different stress factors. Yes, being offshore has that constant worry that you are several hours from help if you have an issue. However, you can mitigate that with ensuring your boat is well maintained and by watching the weather. On the flipside I didn't want to hug the coast and go through New York and into Long Island Sound because it would have taken longer, there would have been more shipping and boat traffic, and I am not familiar with the channels getting through the East River. Finally, I had a crew, and I paid for their food and transportation back to Delaware.
Happy cruising!         
By Joe Roberts