As a native Mainer, many are surprised when I tell them this spring will only be my third season on the water. While I did not grow up in a boating family, I did occasionally find myself operating friends' boats over the years, but was never bitten by the boating bug. Fast forward to 2009, when I relocated to Washington, DC, after graduating from college: I found myself yearning to be outdoors and realized I had taken my outdoor-centric Maine upbringing for granted.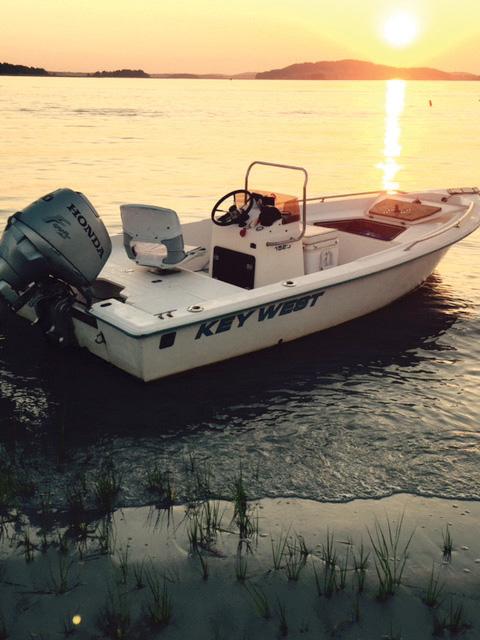 Now living as a city dweller in the nation's capital, I had to come up with new and creative ways to get outdoors. I began hiking, camping, skiing, biking, and shore fishing. These were all fine and great, but something was missing; an internal combustion engine. I had never owned a boat before and wasn't really sure what to expect. While visiting my parents in Florida in 2014, I was having a conversation with my father about potentially getting into boating. After a few beers and cigar or two, a plan had formed to buy a boat with my father.
After my visit, I chalked up the boat buying scheme as a flight of fantasy. A few months later, my father and I were chatting on the phone, and the conversation was about to end. My father said, "It was great talking to you. Oh, and by the way, I bought a boat, and you owe me half. Bye." He hung up. I thought to myself, 'what the hell just happened? Do I own half a boat?'
As it turns out, he got a very good deal on a 1998 Key West 1520 with a dependable and efficient four-stroke engine. This new purchase was exciting but raised a very important question: How would we both get to enjoy the boat when he would be using it in Florida and I'd be using it on the Chesapeake? Luckily for my family, long car trips are not uncommon and are often a source of relaxation. The boat would live in Florida from the fall until the spring and then be trailered to DC until the following fall, when it would return to Florida.
The trip is roughly 1000 miles one way and takes about 16 hours with a boat in tow. My wife refuses to join my father and me on these annual pilgrimages because she knows it will be 16 hours of cigar smoke, minimal conversation, and National Public Radio on repeat. She opts for a plane.
2016 was the first year that the boat was splashed in the Chesapeake. At the time, my wife and I only had a sedan between the two of us that was not sufficient to tow the boat. Keeping the boat in a wet slip was the best option to ensure it was used often. If the boat were on a trailer and had to be launched each time, that would have killed my motivation. So with a wet slip in mind, I set out to find the perfect marina.
The biggest factor in selecting a marina was proximity to my house in DC. I wanted to spend as little time as possible sitting in my car and as much time as possible on the water. On a cold February day in 2016, I went to scope out marinas. I was immediately taken back by the vast price differences and the difficulty in obtaining a quote. The only quotes I was able to obtain were in person. For keeping my boat in a wet slip, I received quotes ranging from $550 to $3200. The amenities, personnel, price, and location all played a role in making a final decision. In the end, I went with the most cost effective marina that was closest to my house (40 minutes), Mayo Ridge Marina.
Choosing the right marina was my first big hurdle to getting on the Chesapeake. I still feel confident in my marina choice because it fits my lifestyle and budget. The manager and fellow slip holders have been very welcoming and are pretty good company for cocktails when the weather keeps us at the dock.
by John Lockwood