Pontoon boats have been one of the fastest growing segments of the boat market for several years. Once you get on a modern pontoon, the reasons why they've become so popular are obvious: modern pontoon boats are more comfortable, designed better, can run faster, and are far more seaworthy than their predecessors. And these days, you can find pontoons that have everything from full galleys to wakeboarding tow-towers.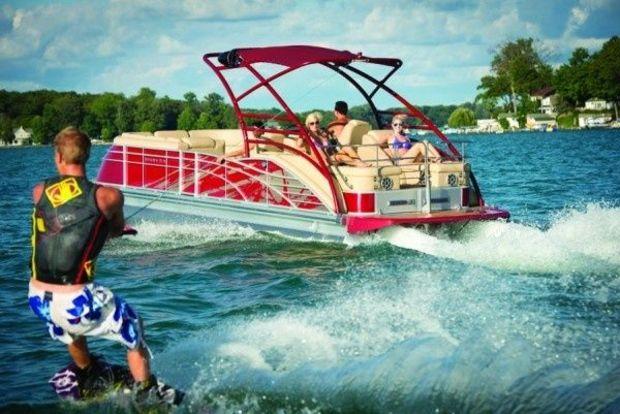 Are they prime for running across the Bay when it's blowing 20 knots? Not unless you enjoy getting very, very wet and tossed around a bit. But that said, if you enjoy watersports, picnicking, or just zooming around in Chesapeake tributaries, coastal bays, or open waters on calm afternoons, pontoon boats are tough to beat. One that's exceedingly tough to beat is the new Bennington 30, a juiced-up 'toon that can carry 600 horses and blast off to over 50 miles per hour.
How do you get this much power on a pontoon? A pair of twin Yamaha F300 outboards do the trick, and Bennington makes it possible by starting out with a three-tube design. The side pontoons are normal 25-inch diameter "logs," but performance foils and splash fins are added. The center tube is a 32-inch diameter elliptical log, with lifting strakes. Cross-channels are three inches tall (the industry norm is two inches), .125 inches thick, and are beefed up to .250 inches at the bow and stern.
All these pieces/parts are attached with extruded M-brackets and elevator bolts instead of the usual screws. Wiring includes waterproof Duetsch connectors. Cleats and hardware are stainless-steel. Rails are welded on all four sides instead of on only two sides. And the elevated helm station is molded fiberglass. In other words, the 30 is built significantly stronger—and smarter—than the average pontoon. What does the un-traditional tube design get you when you're sitting at the helm? Performance that's more akin to that of a V-hull than that of a party barge. Crank the wheel over at high speeds, and the boat doesn't bank outwards but instead grabs the water and carves. Crank it back the other way, and the boat doesn't slide or bleed off too much speed, nor does the prop ventilate. Handling is downright sporty.
Construction and design aside, the immediate benefit of boating on a platform like this is that you get gobs and gobs of elbow room. With an LOA over 30 feet and a beam of 10 feet packaged into the boxlike pontoon boat footprint, there's enough space for up to five loungers, a pop-up changing room, the helm station, and a full wet bar. You could easily entertain a dozen people aboard this boat, and its official maximum capacity is 21 people. Wow. These will be thoroughly entertained people, too.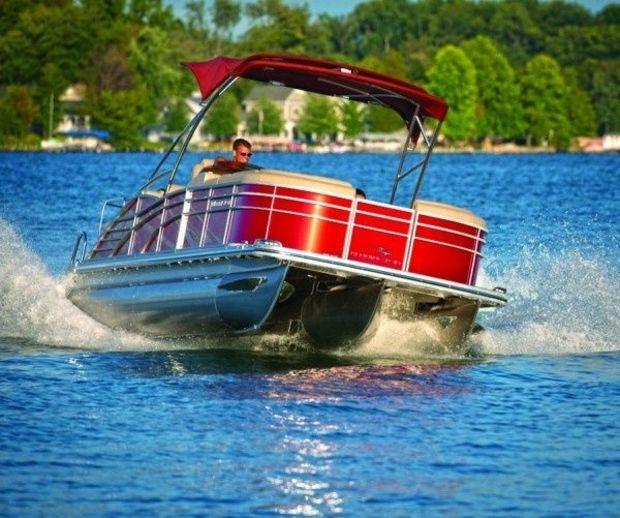 Filler cushions can transform the entire aft port quarter of the boat into a huge sunpad. Fabrics feel like butter, and the cushions are as comfy as they come. There are fold-out arm rests and removable drink holders, and the galley and/or wet bar can be fitted out with perks such as a refrigerator, a grill, and LED accent lighting. Beyond all these goodies, you can opt to add a coffee table here, put a stowage compartment down there, or change a seat anywhere. And that brings us to another huge advantage pontoons like this hold over molded fiberglass boats: since everything above deck level is modular, you can arrange the things a zillion different ways when ordering one of these boats. You want a wet bar over here, and an entertainment center over there? No problem. You'd rather have additional seating and serve the drinks from your cooler? Piece of cake. Adding a towing bit, sport tower, or camper enclosure strikes you as a good idea? Just say the word. But try asking for that kind of customization on a V-hull boat, and they'll laugh you right out of the showroom.
Before you get too excited, as with all boats, there is of course a downside. And in this case you've probably already guessed it: price. Traditional pontoon boats tend to be a bit less expensive than their fiberglass counterparts, but when you make them this big and bodacious, yeah, the numbers build quickly. Base pricing with power starts at about $75,000 and the fully rigged, ready, and pimped-out model I saw at the Miami International Boat Show broke three figures. Ouch. On the other hand, have you looked at 30-foot runabouts lately? They aren't exactly cheap either. And with the Bennington 30, you're getting a lot more deck space than you'd get with those runabouts. As usual, whether or not this is the right boat for you comes down to priorities. And in this case, if your priorities are maximizing the number of people you can entertain in maximum comfort—without minimizing things when it comes to performance—then the Bennington 30 is one pontoon boat that might just make a better choice than any molded-glass boat on the water.
Bennington 30 Specifications:
LOA: 31 feet, 3 inches
Beam: 10 feet, 0 inches
Draft: N/A
Disp: 5187 pounds
Max HP: 600
Fuel Cap: 83 gallons
by Lenny Rudow