Tony Kime plainly enjoys taking visitors on a tour of his newest venture: a maritime antiques store in the older part of Eastport. The two-room establishment is chock-full of furniture made from Liberty Ship hatch covers and nautical collectibles, from old-time binnacles, compasses, lights, and blocks to an old-style fore-and-aft naval officer's cap. Oh, and don't forget the authentic dugout canoes and hand-carved figureheads from South Asia.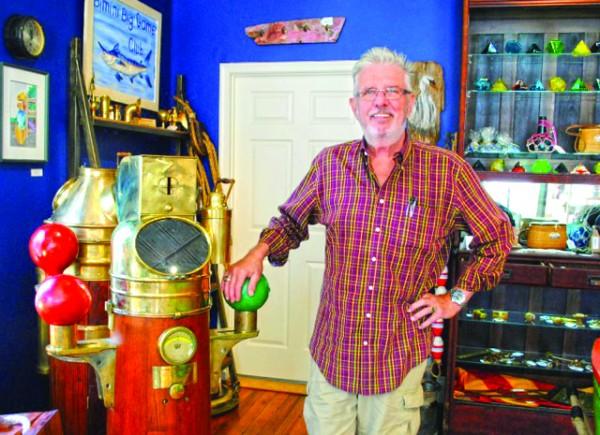 "This is really the first retail establishment [besides restaurants] in the old part of Eastport," Kime says, marveling at the fact as he repeats it. Opening the store in the community's original residential area was "a huge risk to take — especially in a niche business," he muses. "But," he adds confidently, "this is a nautical town."
Kime himself isn't an antique yet; he'll turn a young 72 this coming November. He's had a lifetime of experience with ships and the sea. Born in New York, he enlisted in the Navy at 17, spent nine years as a radar operator, seven more as a sonar systems technician for a defense contractor, and 18 years as a supervisor at the U.S. Naval Shipyard in Portsmouth, ME, where he helped oversee a new program that dramatically cut the time and cost of overhauling a nuclear submarine. In between, he earned bachelor's and master's degrees (in management and business) and joined the Coast Guard Reserve as an officer. In 1995, he retired as a GS-15 and a Coast Guard Reserve commander and took an executive job at Booz Allen Hamilton, a consulting firm. He retired from that in 2010, but he didn't spend much time relaxing.
"I got bored with it in the first 30 days," he said of his retirement. That was when Kime unexpectedly got hooked on nautical antiques. He was at a memorial service when he saw an unusual table made from a refinished Liberty Ship hatch cover in the lounge. Kime was enchanted, but the funeral director declined to part with it. So Kime scoured the market and stumbled on William Harlan, an Annapolis maritime antiques collector who was refinishing the old hatch covers and selling them. Harlan had 449 other hatch covers, along with 150 oars from lifeboats, and an assortment of blocks, anchor lights, signal lamps, and other items that he had acquired at super-low prices from two about-to-be-scuttled World War II-era cargo vessels: a Liberty Ship and a Victory Ship. As it turned out, he also was ready to get out of the business. Seeing an opportunity, Kime bought the entire inventory.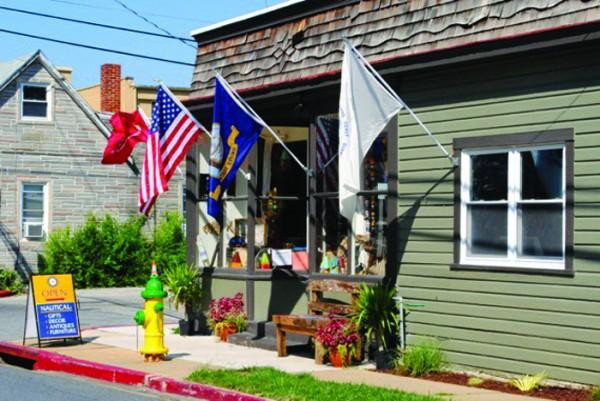 Starting his own business involved more good luck and a sharp eye. Driving around Shady Side, MD, where he lived, Kime spotted a large, abandoned shed owned by a former Navy engineman, who agreed to rent it out for use as a workshop and to let Kime renovate it as he liked. But the place wasn't suitable to serve as a showroom, so Kime built a website (annapolismaritimeantiques.com), as Harlan had done.
Three years later, the shed owner sold the workshop property. Kime was back to square one. That was when he ran across the owner of Dome Charter, an Annapolis shipping brokerage, whom he met when the man bought an old-fashioned engine-order telegraph through Kime's website. "Why don't you move to Annapolis?" the man asked and offered to rent Kime an historic house in Eastport that abutted Dome Charter's current headquarters. Kime snapped it up, gutted the interior, refurbished the place, moved in some antiques and collectibles, and opened his retail store in mid-July. (The house had been the factory of the Annapolis Glass Company from 1886 to 1903.)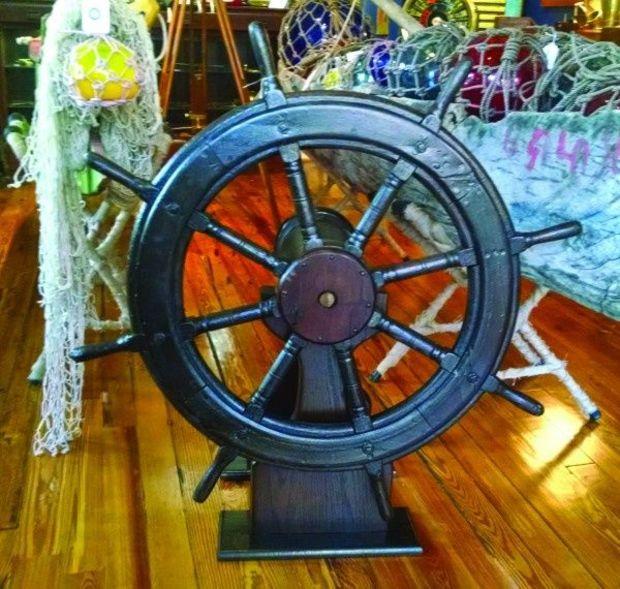 For now, Kime's core business centers on crafting custom-made furniture (from hatch-covers and other materials) as well as selling nautical antiques and decorative items (such as floats, signs, and dugout canoes) and offering maritime-themed paintings by local artists, old ship's provision-lists, and paraphrenalia on consignment from hopeful sellers. Customers so far have included curious locals, tourists, and maritime antique buffs. Kime wants them all.
Despite the varied clientele, he's trying to keep the place neighborhood-friendly. (The handcarved mermaid figureheads he sells sport staff-sewn bikini tops to ward off questions from elementary school kids.) But he's also hoping to earn a reputation among fashion-conscious companies such as Ralph Lauren and Nautica as "the place where they buy the nautical items that they need." (Ralph Lauren agents recently bought an antique ship's spyglass to use as a prop in the company's advertising.)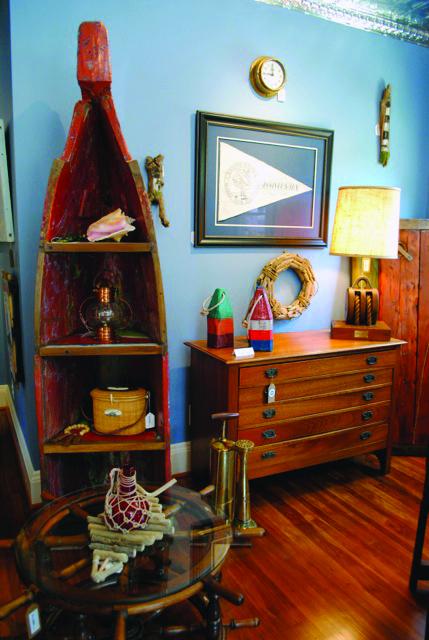 A tall, blunt-spoken man who wears a grown-out 1950s-style crew cut and a gray, just-longer-than-stubble beard, Kime comes across as focused and all-business — until you get him talking about the Navy, the Coast Guard, merchant shipping, and now, maritime antiques. He has two adult sons, a daughter, and four grandchildren, and he and his significant other, Claudia, live in a ranch house on a three-acre lot in Lothian, MD. The place has a workshop, of course. The couple has two dogs, both of them variations of terriers, and a serious garden. Still interested in being out on the water, Kime holds a 100-ton master's license (with a towing endorsement) and owns a 1983 43-foot President trawler, though he hasn't had time to use it in almost a year. No one ever said starting a small business was easy, especially, as Kime would say, in a niche market.
By Captain Art Pine