After nearly 30 years at the helm of MathewsBros, builders of boats in the true Chesapeake tradition, Pete Mathews knows the long hours and dedication it takes to build a strong team and a loyal client base. He's done both while forging a thriving business that builds, maintains, and stores custom-made boats in Denton, MD. Now, as he prepares to sell his company, Pete and his wife, Annie, imagine the next phase of life, a time in which they unplug and go cruising.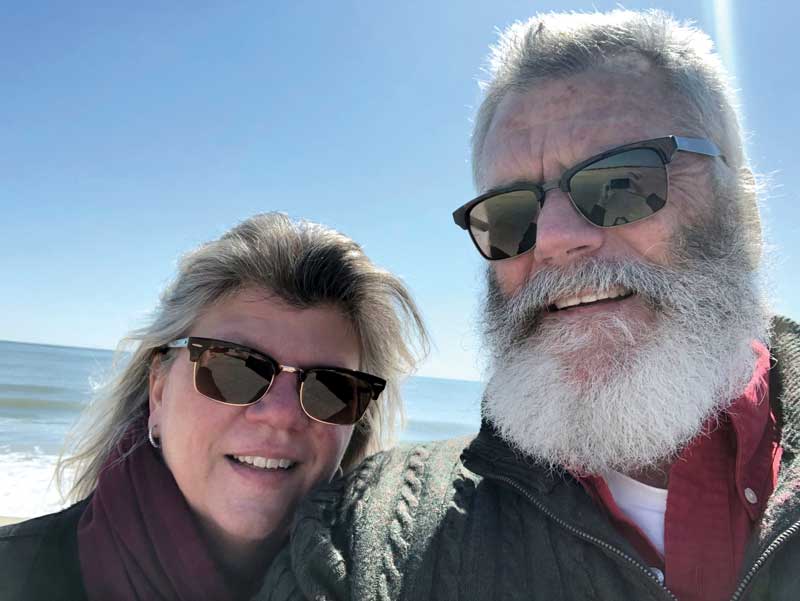 Tell us about your introduction to boating and the type of boating you currently do.
My first boating experience was sailing aboard my father's Contest 30, which had a home base on the Tred Avon and sailed in and around the Chesapeake Bay. 
Today we have a Mathews 18 that we've had for years. Over the years we've owned several boats. In the 1980s we had an old Hobie 16, bought a 22-foot Anacapri, and had a 24-foot Sea Ray. We even lived aboard on a Cheoy Lee 48 in 1988, but found living aboard was more than we were up for. We've also had a few project boats before MathewsBros, but now we have the 18, a couple of runabouts, and we are working on a new Mathews 24 model. In addition, we have ideas of joining the trawler fleet later in life. 
For the most part anymore, to me boating means spending time with friends and customers and moving boats for work-related purposes. I enjoy boating on all bodies of water, even when it is work related, and I love fall boating the best!
MathewsBros
We hung out our shingle in 1995 when my brother, Bob, and I started MathewsBros. Annie, my wife, has been involved since day one. In the beginning she was part-time and helped on the shop floor. We had one other employee that first year. Today we are still small, but we have 14 full-time incredible people with three young people working part-time, two of whom are second generation. 
Annie has been very instrumental in getting the business to where it is today. She has the position of back-office support—really the CFO, CEO, and just a magnificent team player. We have two children who are now parents themselves, and we have five beautiful grandchildren. Our son, Spencer, has worked in the shop from a very young age. He has worked in the business on a full-time basis since he returned from the Air Force. He has amassed quite a bit of boat-related knowledge and is strong in customer relations and sales. Our daughter, Kerry, is an elementary school teacher, and has helped out on a part-time basis through the years.
Tell us about the artistry, attention to style, form, and detail in a MathewsBros boat.
In this business we start as artisans. From the beginning it has all been about function with heavy emphasis on form and style. We won't build an ugly boat just to build one; it's not in our makeup. Fortunately, our customers and our team agree on what constitutes a good-looking boat. As in a lot of different things in life, one must try and find a job they love to do. I am grateful to say I've loved doing this. Rewards come from seeing this incredible team create what they do. I still enjoy watching these boats of all sizes grow from the shop floor and know that this crew is dedicated to continuing the exceptional standards and reputation we all work tirelessly to maintain.
Of the boats MathewBros has built, do you or your customers have a favorite? 
No favorites; I have enjoyed being part of all of them in some aspect. The most popular has been our 29-foot Patriot and Blackwater models. Based on the very popular Cecil Robbins workboat hull, we are currently building our 30th 29-foot boat. Right now, we are building four boats—a 40, 29, 24 and 18, which will bring us to 90 boats built. This includes 19 Hampton One Design sailboats and a couple others built for other companies.
Why is it important for your customers to be involved during the building process? 
For most of our customers, one of the reasons we believe that they come to us is that we are really building more than just a boat. Being part of the build, as much or as little as they like, lets them learn their boat before they take possession. We also find that the relationship built along the way between customer and crew tends to grow year after year as the boats return for storage and maintenance. A new boat owner is welcomed into the MathewsBros family and is treated like family. 
Learn more about MathewsBros and its boats at mathewsboats.com.